WW1: Task Group 38.1.
Scope and contents.
The source materials for the Group were War Diaries, Deck Logs, Dispatches, Aircraft Action Reports, Action Reports of Ships, Task Force, Group and Unit Commanders' Reports, captured enemy documents, and interrogations of prisoners of war. The bulk of this Record Group is made up of photocopies and transcripts of this material with some original documents.
Conditions Governing Access
Access is open to all researchers, unless otherwise specified.
Language of Materials
From the Record Group: English
Physical Storage Information
Box: 45 (Mixed Materials)
Repository Details
Part of the Naval War College Archives Repository
Collection organization
WW1: Task Group 38.1., RG-23, Box: 45. World War II Battle Evaluation Group records, RG-23. Naval War College Archives.
Cite Item Description
WW1: Task Group 38.1., RG-23, Box: 45. World War II Battle Evaluation Group records, RG-23. Naval War College Archives. https://www.usnwcarchives.org/repositories/2/archival_objects/22422 Accessed November 16, 2023.
U.S. Naval War College Archives
U.S. Naval War College
686 Cushing Rd., Newport, RI 02841
Quick Links
NWC Archives FAQ
Eccles Library Catalog
NWC Digital Commons
Research Databases A-Z
Naval War College
Battle off Cape Engaño
American forces.
Task Group 38.1
VADM J. S. McCain
25 x SB2C-3
11 x TBM-1C
17 x TBM-1C
30 x SB2C-3
12 x SB2C-3E
18 x TBM-1C
Cruiser Division 6
RADM C. T. Joy
Wichita (CA-45) Commanding officer: CAPT D. A. Spencer Notes: To Task Group 58.4 on October 21.
Cruiser Division 10
RADM L. J. Wiltsie
Boston (CA-69) Commanding officer: CAPT E. E. Herrmann
Canberra (CA-70) Commanding officer: CAPT A. R. Early Notes: Damaged; detached October 15.
Houston (CL-81) Commanding officer: CAPT W. W. Behrens Notes: Damaged; detached October 15.
San Diego (CL-53) Commanding officer: CAPT W. E. Mullan
Oakland (CL-95) Commanding officer: CAPT K. S. Reed
Cruiser Division 5
Cruiser Division 5 and Destroyer Squadron 4 formed Task Group 30.2 on October 6 and joined Task Group 38.1 on October 16.
RADM A. E. Smith
Pensacola (CA-24) Commanding officer: CAPT A. P. Mullinnix
Salt Lake City (CA-25) Commanding officer: CAPT L. W. Busbey
Chester (CA-27) Commanding officer: CAPT H. Hartley
Destroyer Squadron 46
CAPT C. F. Espe
Izard (DD-589) Commanding officer: CDR M. T. Dayton
Charrette (DD-581) Commanding officer: LCDR G. P. Joyce
Conner (DD-582) Commanding officer: CDR W. E. Kaitner
Bell (DD-587) Commanding officer: CDR J. S. C. Gabbert
Burns (DD-588) Commanding officer: CDR J. T. Bullen
Cogswell (DD-651) Commanding officer: CDRR. E. Lockwood
Caperton (DD-650) Commanding officer: CDR G. K. Carmichael
Ingersoll (DD-652) Commanding officer: CDR A. C. Veasey
Knapp (DD-653) Commanding officer: CDR W. B. Brown
Boyd (DD-544) Commanding officer: CDR U. S. G. Sharp
Cowell (DD-547) Commanding officer: CDR C. W. Parker
Brown (DD-546) Commanding officer: CDR T. H. Copeman
Destroyer Squadron 12
CAPT W. P. Buford
McCalla (DD-488) Commanding officer: LCDR E. Vinock
Grayson (DD-435) Commanding officer: CDR W. V. Pratt
Woodworth (DD-460) Commanding officer: CDR C. R. Stephan
Destroyer Squadron 4
CAPT H. P. Smith
Dunlap (DD-384) Commanding officer: LCDR C. R. Welte
Fanning (DD-385) Commanding officer: CDR J. C. Bentley
Case (DD-370) Commanding officer: LCDR R. S. Willey
Cummings (DD-365) Commanding officer: LCDR W. J. Collum
Cassin (DD-372) Commanding officer: CDR V. J. Meola
Downes (DD-375) Commanding officer: CDR R. S. Fahle
Task Group 38.2
RADM G. F. Bogan
28 x SB2C-3
17 x SB2C-1C
14 x F6F-5N
Battleship Division 7
RADM O. C. Badger
Iowa (BB-61) Commanding officer: CAPT A. R. McCann
New Jersey (BB-62) Commanding officer: CAPT C. F. Holden
Cruiser Division 14
RADM F. E. M. Whiting
Vincennes (CL-64) Commanding officer: CAPT A. D. Brown
Miami (CL-89) Commanding officer: CAPT J. G. Crawford
Destroyer Squadron 52
CAPT J. P. Womble
Owen (DD-536) Commanding officer: CDR C. B. Jones
Miller (DD-535) Commanding officer: LCDR D. L. Johnson
The Sullivans (DD-537) Commanding officer: CDR R. J. Baum
Stephen Potter (DD-538) Commanding officer: CDR L. W. Pancoast
Tingey (DD-539) Commanding officer: CDR J. O. Miner
Destroyer Squadron 104
CAPT W. T. Kenny
Hickox (DD-673) Commanding officer: LCDR J. H. Wesson
Hunt (DD-674) Commanding officer: CDR H. A. Knoertzer
Lewis Hancock (DD-675) Commanding officer: CDR W. M. Searles
Marshall (DD-676) Commanding officer: CDR J. D. McKinney
Destroyer Squadron 50
CAPT H. B. Jarrett
Halsey Powell (DD-686) Commanding officer: CDR S. D. B. Merrill
Cushing (DD-797) Commanding officer: CDR F. L. Volk
Colahan (DD-658) Commanding officer: CDR D. T. Wilber
Uhlmann (DD-687) Commanding officer: CDR S. G. Hooper
Benham (DD-796) Commanding officer: CDR F. S. Keeler
Destroyer Squadron 106
CAPT B. F. Tompkins
Stockham (DD-683) Commanding officer: CDR E. P. Holmes
Wedderburn (DD-684) Commanding officer: CDR C. H. Kendall
Twining (DD-540) Commanding officer: CDR E. K. Wakefield
Yarnall (DD-541) Commanding officer: CDR J. H. Hogg
Task Group 38.3
RADM F. C. Sherman
15 x TBF-1C
Flagship of Commander, Battleships, Pacific Fleet
VADM W. A. Lee Position: Commander, Battleships, Pacific Fleet; Commander, Task Force 34 (when formed)
Washington (BB-56) Commanding officer: CAPT T. R. Cooley Notes: To Task Group 38.4 on October 23.
Battleship Division 8
RADM G. B. Davis
Massachusetts (BB-59) Commanding officer: CAPT W. W. Warlick
Battleship Division 9
RADM E. W. Hanson
South Dakota (BB-57) Commanding officer: CAPT C. B. Momsen Notes: To Task Group 38.4 on October 28.
Alabama (BB-60) Commanding officer: CAPT V. R. Murphy Notes: To Task Group 38.4 on October 23.
Cruiser Division 13
RADM L. T. DuBose
Santa Fe (CL-60) Commanding officer: CAPT J. Wright
Mobile (CL-63) Commanding officer: CAPT C. C. Miller
Reno (CL-96) Commanding officer: CAPT R. C. Alexander
CAPT C. R. Todd
Clarence K. Bronson (DD-668) Commanding officer: CDR G. Scull
Cotton (DD-669) Commanding officer: CDR P. W. Winston
Dortch (DD-670) Commanding officer: CDR R. E. Myers
Gatling (DD-671) Commanding officer: CDR A. F. Richardson Notes: Detached on October 24.
Healy (DD-672) Commanding officer: CDR J. C. Atkeson
Destroyer Squadron 55
CAPT A. E. Jarrell
Porterfield (DD-682) Commanding officer: LCDR D. W. Wulzen
Callaghan (DD-792) Commanding officer: LCDR C. M. Berthof
Cassin Young (DD-793) Commanding officer: CDR E. T. Schrieber
Irwin (DD-794) Commanding officer: CDR D. B. Miller Notes: To Task Group 38.4 on October 23.
Preston (DD-795) Commanding officer: CDR G. S. Patrick
Destroyer Division 110
To Task Group 38.4 on October 23.
CDR M. Van Metre
Laws (DD-558) Commanding officer: CDR L. O. Wood
Longshaw (DD-559) Commanding officer: CDR R. H. Speck
Morrison (DD-560) Commanding officer: CDR W. H. Price
Prichett (DD-561) Commanding officer: CDR C. T. Caulfield
Task Group 38.4
Rear Admiral R. E. Davison
31 x SB2C-3
34 x SB2C-3
19 x TBM-1C
New Orleans (CA-32) Commanding officer: CAPT J. E. Hurf
Biloxi (CL-80) Commanding officer: CAPT P. R. Heineman Notes: To Task Group 38.2 on October 22.
Destroyer Squadron 6
CAPT V. D. Long
Maury (DD-401) Commanding officer: CDR J. W. Koenig
Gridley (DD-380) Commanding officer: CDR P. D. Quirk
Helm (DD-388) Commanding officer: CDR S. K. Santmyers
McCall (DD-400) Commanding officer: LCDR J. B. Carroll
Destroyer Division 12
CAPT K. F. Poehlman
Mugford (DD-389) Commanding officer: CDR M. A. Shellabarger
Bagley (DD-386) Commanding officer: CDR W. H. Shea
Patterson (DD-392) Commanding officer: LCDR W. A. Hering
Ralph Talbot (DD-390) Commanding officer: L CDR W. S. Brown
Destroyer Division 24
CAPT A. J. Greenacre
Wilkes (DD-441) Commanding officer: LCDR F. E. McEntire
Nicholson (DD-442) Commanding officer: CDR W. C. Bennett
Swanson (DD-443) Commanding officer: LCDR W. K. Ratliff
Ships Designated for Task Force 34
These ships were to form Task Force 34 according to ADM Halsey a message sent 0240 25 October. They were thought by some to be guarding San Bernardino Strait.
Battleships
Massachusetts
South Dakota
New Orleans
Light Cruisers
Clarence K. Bronson
Porterfield
Ships Involved in "Bull's Run"
The Sullivans
Lewis Hancock
Surface Actions Executed By Task Group 30.3
Japanese Forces
Carrier Division 3
Carrier division 4.
No aircraft embarked.
Escort Squadron 31
Destroyer Division 61
CAPT Shigetaka Amano † (killed)
DD Wakatsuki Commanding officer: CDR Yasuatsu Suzuki
Destroyer Division 41
Destroyer Division 43
Second supply force.
DD Akikaze Commanding officer: LCDR Nitaro Yamazaki
Escort Vessel 22
Escort Vessel 29
Escort Vessel 31
Escort Vessel 33
Escort Vessel 43
Escort Vessel 132
AO Takane Maru
History of U. S. Naval Operations in WW II: Vol 12, Leyte by S. E. Morison
The Battle of Leyte Gulf by C. Vann Woodward
The Fast Carriers by C. G. Reynolds
Admiral Halsey's Story by W. F. Halsey and J. Bryan
Battle History of the Imperial Japanese Navy by Paul S. Dull
Nihon Kaigun website
Japanese Cruisers of the Pacific War by Lacroix and Wells
Please enter at least 3 characters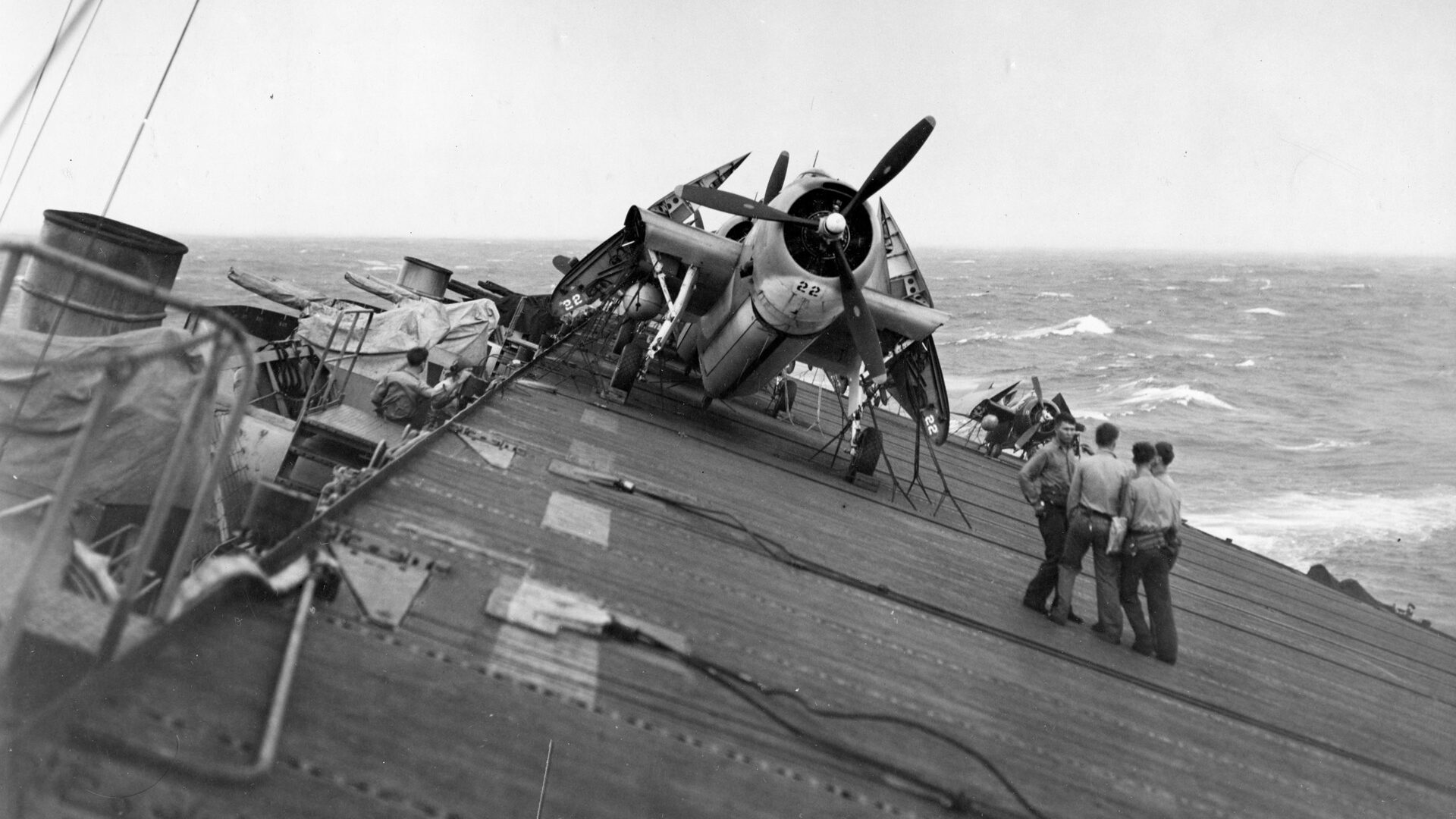 Two Typhoons Crippled Bull Halsey's Task Force 38
A powerful typhoon wreaked havoc with the U.S. Navy's task force 38 in December 1944. It would be followed shortly after by a second.
This article appears in: August 2015
By Michael D. Hull
After two grueling months of action in the Pacific, Vice Admiral John S. "Slew" McCain's powerful Task Force 38 retired in late November 1944 to the big Caroline Islands base of Ulithi Atoll for a 10-day breather.
No one needed a break more than Admiral William F. "Bull" Halsey, the feisty, hard-drinking commander of the U.S. Third Fleet, who had come under fire for leaving San Bernardino Strait unguarded during the great Battle of Leyte Gulf on October 23-26, 1944. Pacing while "blue with rage," Admiral Ernest J. King, chief of naval operations, had told Fleet Admiral Chester W. Nimitz, commander of the Pacific Fleet, that Halsey should be given a "rest." General Douglas A. MacArthur, supreme commander of the Southwest Pacific Area, called for Halsey's relief.
On the tiny northernmost island of Mogmog, Ulithi's recreation center, McCain's bluejackets joyfully swam, played baseball and basketball, pitched horseshoes, and swigged soft drinks and beer. Halsey, meanwhile, visited wounded sailors. He joked and shook hands with them, but it was an ordeal because he was torn by the suffering of his men. He tried to console himself at a wardroom party attended by hospital ship nurses. The event became well oiled and rowdy, climaxing when an officer doused a wastebasket fire with a bottle of carbon dioxide and then squirted a nurse between the legs. She screamed as the dry ice burned.
The Ulithi respite was soon over, and by Thanksgiving Day Halsey and Task Force 38 were dodging Japanese kamikaze assaults off the Philippines. Three aircraft carriers were damaged, including the veteran USS Intrepid . The volatile "Patton of the Pacific" had initially dismissed the suicide planes as "a sort of token terror, a tissue-paper dragon." But his disdain gave way to anxiety as he watched his flattops burn. Halsey's fortunes worsened by mid-December, but his next ordeal was not to come at the hands of the Japanese.
"Tropical Storm, Very Weak,"
Task Force 38 embarked from Ulithi on December 11, 1944. The fast carrier fleet had replenished, and its defensive tactics had been revised because of the increasing kamikaze threat. The armada comprised Task Group 38.1 commanded by Rear Admiral Alfred E. Montgomery, Task Group 38.2 led by Rear Admiral Gerald F. "Jerry" Bogan, and Task Group 38.3 commanded by Rear Admiral Forrest C. Sherman. Ninety ships set sail, including 13 carriers, eight battleships, three heavy cruisers, seven light cruisers, three antiaircraft cruisers, and 56 destroyers. McCain was aboard the carrier USS Hancock , and Halsey was in his flagship, the 45,000-ton battleship New Jersey . Both vessels were part of Task Group 38.2.
Plans called for the flattops to hit Luzon to support General MacArthur's imminent invasion of Mindoro and then to make an unprecedented foray into the South China Sea to sever Japan's remaining shipping lanes to the East Indies. The latter operation had long been sought by Halsey, but it was delayed because of the need for air support in the invasion of Leyte.
On December 13, the fast carriers topped off from their shadowing oilers and headed in toward the Luzon coast. Fighter sweeps started at dawn on the 14th and continued for three days. When the flattops withdrew on December 16, their fighters and dive bombers had destroyed 269 Japanese aircraft, sunk merchant ships, and blasted airfields and railroads. Twenty-seven American planes were lost. Enemy air opposition to the Mindoro landings was minimal, and none of the fast carriers were attacked.
Admiral Halsey planned to refuel his ships at sea on Sunday, December 17, and commence another three-day fighter strike on the 19th. Early on the morning of the 17th, TF-38 rendezvoused with 12 fleet oilers escorted by destroyers, destroyer escorts, and five escort carriers about 500 miles east of Luzon. Three days of high-speed operations had left many of the task force's ships critically low on fuel.
The vessels began refueling on schedule at 10 am on the 17th, but a 20-30-knot wind and a cross swell made the operation difficult. "The wind," said Admiral Robert B. "Mick" Carney, Halsey's chief of staff, "was across the sea and it was impossible to find a course which would prevent yawing and surging." On the previous day, Commander George F. Kosco, the Third Fleet aerologist, had received reports from Ulithi and Pearl Harbor of a "tropical storm, very weak," and had informed Halsey and Carney. Kosco could not pinpoint the storm, but he did not think it would be anything serious.
An Erratic Storm
At 11:07 am on December 17, the destroyer USS Spence eased alongside the New Jersey to start fueling. When Halsey and his staff sat for lunch in the flag mess, they were alarmed to see the Spence rolling excessively on the starboard side, and it seemed that she might be slammed against the flagship. "She was riding up ahead," reported Halsey later, "and she'd drop well astern and charge ahead and drop astern…. She was pitching and rolling heavily."
Commander Kosco calculated that the "tropical storm" was coming closer to the fleet than he had estimated and was increasing in intensity. The swells mounted, and at 11:27 am the fueling hoses parted on the Spence. Disturbing reports came in from task group commanders. The destroyers Healy and The Sullivans experienced steering problems, and hoses parted aboard the Collett, Stephen Potter, L.K. Swenson, Preston, Thatcher, and Manatee. A seaman on the Caperton fractured his leg when seas smashed over the forecastle.
At 12:51 pm, when the storm's center was 120 miles southeast of the task force's position, Halsey ordered a halt to the fueling operations, planning to resume them at 6 the next morning. "No warning of the typhoon was received up to this point from any outside source," he said later. "The storm followed an erratic course, different … and contrary to available history of December typhoons."
Halsey called a conference in the flag mess, where lunch dishes were cleared and maps and charts spread out. Kosco placed in front of the admiral his morning's weather map, which indicated a storm center 400 miles southeast of the task force and moving toward it. He expected that the "tropical disturbance" would merge with a weak cold front and veer off to the northeast. Aboard the carrier Lexington , however, Admiral Bogan was sure that a severe storm was approaching, while Captain Jasper T. Acuff, commander of the TF-38 replenishment group, was the first to make the correct guess as to the storm's position and course. He and two escort carrier skippers agreed that the fueling rendezvous set for 6 am on December 18 would be directly in the storm's path. Captain Michael H. Kernodle of the carrier San Jacinto had received storm warnings for 24 hours, but the information was not passed on to Kosco.
The weather continued to worsen as Halsey and his aides pored tensely over their maps, struggling to make a course toward calmer water. The assignment to support MacArthur on the 19th meant that TF-38 must refuel no later than the morning of the 18th. During the evening of December 17, the task force and its oilers butted steadily westward through mounting seas. At midnight, Halsey ordered a change of course from due west to due south, hoping to reach smoother water. Unwittingly, he was taking the armada directly into the path of the approaching typhoon.
"We Were Completely Cornered"
At dawn on Monday, December 18, Halsey realized that fueling would be even more difficult than on the previous day. But it had to be attempted because of the Luzon combat commitment and for the safety of the smaller vessels in the task force. With their fuel tanks almost empty, the destroyers were riding higher in the water and becoming unseaworthy. But prevailing conditions made the operation impossible. Halsey had no choice but to halt the fueling just after 8 am and send a dispatch to General MacArthur saying that TF-38 would not be able to support him the next day.
The storm soon assailed the task force and its support ships with howling winds and blinding rain. The fleet was by then 180 miles northeast of Samar in the eastern Philippines. The sea heaved, foam sloshed across decks, and vessels canted sickeningly, wallowing under tons of water. Some ships lost steering control, and sailors were reported washed overboard. Few men in the fleet had seen anything like the storm's fury.
The fleet and "jeep" carriers rolled heavily. Planes were swept from the flight decks, while others broke loose in their hangar decks, slamming against bulkheads and catching fire. Efficient firefighting was impossible. The carrier Monterey lost steerage way, the carrier Independence lost two men overboard, and the escort carrier Kwajalein temporarily lost steering control. The carrier Cowpens lost seven planes, the Monterey 18, and the San Jacinto eight. Nineteen floatplanes were blown off the battleships and cruisers, and a total of 146 aircraft were lost during the storm.
"We were completely cornered," Halsey reported. "The consideration then was the fastest way to get out of the dangerous semicircle and to get to a position where our destroyers could be fueled." He sent a warning to all ships and weather stations at 9:14 am. "We didn't think that we were dealing with a storm as severe as a typhoon until we were within 100 miles of it," said Commander Kosco. Admiral McCain ordered changes in course and advised ships to disregard formation keeping and take the best courses and speeds for security.
As the barometer fell rapidly, the wind velocity rose sharply to 73 knots while 70-foot waves battered the ships from all sides. Some destroyers heeled over on their beam ends with their funnels almost horizontal. Water surged into their intakes and ventilators, shorting circuits, killing power, and leaving them adrift.
The ships rose and fell in the mountainous seas. The mighty New Jersey hung in the troughs and then slowly righted herself, lurching and laboring to the tops of swells. "No one who has not been through a typhoon can conceive its fury," reported Halsey. "The 70-foot seas smash you from all sides. The rain and the scud are blinding; they drive you flat-out, until you can't tell the ocean from the air…. At broad noon, I couldn't see the bow of my ship, 350 feet from the bridge…. This typhoon tossed our enormous ship as if she were a canoe…. We ourselves were buffeted from one bulkhead to another; we could not hear our own voices above the uproar." Admiral Carney voiced "grave doubts" that the battlewagon would survive, while Halsey feared for the fate of the destroyers. "What it was like on a destroyer one-twentieth the New Jersey 's size I can only imagine," he said.
He was right. The smaller ships were the worst hit, and the destroyer crews underwent a nightmare as the rising winds and seas tossed their craft around like toys. Caught near the storm center, the Hull , Spence , and Monaghan capsized and sank with practically all hands.
Surviving the Sinking Ships
Water Tender Second Class Joseph C. McCrane was one of only six survivors of the USS Monaghan , which had rammed and sunk a Japanese midget submarine at Pearl Harbor on December 7, 1941, and fought in the Aleutians. He reported, "The storm broke in all its fury. We started to roll, heaving to the starboard, and everyone was holding on to something and praying as hard as he could. We knew that we had lost our power and were dead in the water…. We must have taken about seven or eight rolls to the starboard before she went over on her side."
It was later believed that the three destroyers went down because their oil and ballast were out of trim as a result of the interrupted refueling operation. Though damaged, the destroyer escort Tabberer managed to rescue 41 Hull survivors and 14 from the Spence.
The typhoon raged on, with the ships—now strewn across about 2,500 square miles—tossing, heeling over, and drifting with no way to escape. The storm reached its height between noon and 2 pm. The wind increased to 83 knots with gusts reaching 93 knots.
Many of the Third Fleet ships suffered varying degrees of damage. They included the carriers Cowpens , Monterey , San Jacinto , Kwajalein , Cabot , Altamaha , Nehenta Bay , and Cape Esperance ; the light cruiser Miami ; the destroyers Dewey , Aylwin , Buchanan , Dyson , Hickox , Maddox , and Benham ; the destroyer escorts Tabberer , Melvin R. Nawman , and Waterman ; the oiler Nantahala , and the fleet tug Jicarilla .
An estimated 790 officers and men were lost or killed, and scores of others injured. Task Force 38 was as severely battered as if it had been in a major battle.
Thankfully, the winds abated and the skies cleared late in the afternoon of that harrowing Monday. Halsey promptly dispatched ships and planes to search for survivors, and the operation lasted for three days. Lone swimmers were picked up, and sometimes raft loads. Destroyers rescued 54 men who had been aboard the Hull , 24 from the Spence , and 16 from the Monaghan . The search, said Halsey, was "the most exhaustive in naval history."
The shaken Third Fleet regrouped and finally fueled on December 19, and then steamed westward toward Luzon the following day. Predawn air strikes in support of MacArthur's invasion were planned on the 21st, but the seas became increasingly heavy and the typhoon was then passing over Luzon. Halsey and his staff agreed that the operation could not be conducted successfully, so MacArthur and Nimitz were notified. Early on December 24, the ships entered Ulithi harbor. The weary crews were allowed some much needed rest while a service squadron started repairing the damaged vessels.
Investigating the Loss of Halsey's Ships
Nimitz, who had been promoted to fleet admiral 10 days before, was hosted by Halsey at a festive Christmas Eve dinner aboard the New Jersey . The admirals and their staffs then spent much of Christmas Day in conference. Nimitz, meanwhile, had appointed a court of inquiry to investigate the loss of the Hull , Spence , and Monaghan , and to find out why Halsey's fleet had been caught by the typhoon.
Comprising Vice Admirals John H. Hoover and George D. Murray and Rear Admiral Glenn B. Davis, the court of inquiry convened aboard the destroyer tender USS Cascade , anchored in Ulithi harbor, in the last week of December 1944. The witnesses included Halsey, McCain, Bogan, Sherman, and Kosco, and the testimony was lengthy and complex. Halsey was blamed for the damage and ship losses, but no negligence was found, only the "stress of war operations" and "a commendable desire to meet military commitments."
Halsey stressed that he had received no "timely warning" of the typhoon and strongly criticized the Pacific Fleet's meteorological system. The court put the "preponderance of responsibility" on Halsey and cited his "large errors" made in predicting the location and path of the storm, but it concluded that the "aerological talent" assisting him was "inadequate in practical experience and service background in view of the importance of the services to be expected and required."
The court of inquiry recommended action to "impress upon all commanders the necessity of giving full consideration to adverse weather likely to be met in the Western Pacific, especially the … formation and movements of typhoons." Nimitz promptly approved the court's findings, and Admiral King concurred. At the court's suggestion, Nimitz called for three weather ships to be stationed in the Western Pacific, the deployment of weather reconnaissance planes, and for the Bureau of Naval Personnel to make more experienced aerological officers available to the Pacific Fleet. The Navy improved its weather service.
Admiral Nimitz also sent a letter to his fleet stressing the need for safety at sea, with much advice for dealing with severe weather conditions. "The time for taking all measures for a ship's safety is while still able to do so," he wrote. "Nothing is more dangerous than for a seaman to be grudging in taking precautions lest they turn out to have been unnecessary. Safety at sea for a thousand years has depended on exactly the opposite philosophy."
The typhoon was to provide the climactic sequence in Herman Wouk's blockbuster 1951 novel, The Caine Mutiny , and the 1954 film masterpiece directed by Edward Dmytryk and starring Humphrey Bogart, Fred MacMurray, Van Johnson, Robert Francis, Jose Ferrer, E.G. Marshall, and Arthur Franz.
Typhoon Connie: Halsey's Second Storm
Halsey characteristically wasted no time in December 1944 commiserating over the tarnishing of his outstanding service record and got busy with the plans for air strikes against Formosa, Okinawa, and Luzon in support of MacArthur's invasion at Lingayen Gulf on January 9, 1945. The admiral did not mention the court of inquiry to his staff except in a series of proposals for improving the weather reporting service and did not refer to it in his 1947 autobiography, although he recounted the typhoon. To him it was just "water over the dam."
Hewing to his motto, "Hit hard, hit fast, hit often," Halsey led his mighty Third Fleet in harm's way during the first half of 1945 as Allied naval, ground, and air forces relentlessly pushed the Japanese back toward their home islands. After supporting MacArthur's operations on Leyte, Luzon, and throughout the Philippine area, the fleet made a broad sweep through the South China Sea on January 10-20 and destroyed huge amounts of enemy shipping. In May, Halsey began planning operations against the Japanese homeland. His hatred of the enemy had not dimmed. "Before we're through with them," he had remarked, "the Japanese language will be spoken only in hell."
But, in his last campaign of the war, the costly April 1-June 22, 1945, battle to capture Okinawa, Halsey would again fall victim ironically to the fearsome enemy he had faced six months before—another typhoon. After hoisting his flag in the 45,000-ton battleship USS Missouri at Guam on May 18, Halsey headed for Okinawa to relieve Admiral Raymond A. Spruance's Fifth Fleet. On the barren, 60-mile-long island, soldiers and Marines of Lt. Gen. Simon Bolivar Buckner's U.S. Tenth Army were struggling to overcome fierce Japanese resistance while naval units offshore withstood many kamikaze attacks. Aerial support was provided by McCain's Task Force 38, which comprised Task Group 38.1 commanded by Rear Admiral Joseph J. Clark; Sherman's Task Group 38.3, and Task Group 38.4 led by Rear Admiral Arthur W. Radford. McCain flew his flag in the carrier Shangri-La .
After sending Sherman's group to Leyte for a rest period, Halsey ordered Radford's force northward on June 2 to strike the airfields on Kyushu, the southernmost Japanese main island. Halsey and McCain remained with Clark's group off Okinawa. When Radford returned on the afternoon of June 3, Halsey sent Task Group 38.1 southeast to rendezvous with Rear Admiral Donald B. Beary's Service Squadron 6. Ships and search planes, meanwhile, reported a tropical storm moving up from the south.
The Missouri and Shangri-La headed southeast with Radford's group, and Halsey ordered the amphibious command ship Ancon to monitor the storm. On the evening of June 4, Task Group 38.4 joined Clark's force and Beary's fueling squadron, and they all headed east-southeast. At this time, radar operators aboard the Ancon sighted the typhoon, but the ship's report did not reach Halsey until 1 the next morning. Later reports indicated that the typhoon was heading rapidly northeast, almost directly toward the Third Fleet.
Course changes were made, and there was much feverish plotting aboard the Missouri and other ships through the night and into the early hours of Tuesday, June 5. Halsey did not want his fleet scattered as before, and he hoped to find better weather so that his flattops could fend off kamikaze attacks. But the barometer was falling, and the howling typhoon closed in. While Radford's group steamed through fairly calm seas 15 miles to the north, Task Group 38.1 was sucked into a maelstrom of high winds and mountainous waves. Clark ordered his ships to stop their engines and heave to.
Beary's fueling group, meanwhile, struggled against 75-foot waves and wind gusts up to 127 knots as it passed through the eye of the typhoon. His 48 ships were "riding very heavily," he reported, yet only four—two jeep carriers, a tanker, and a destroyer escort—received serious damage. Clark's group passed through the eye half an hour after Beary's, and almost all of his 33 ships suffered some damage. But none were sunk. The cruiser Pittsburgh had 110 feet of her bow section torn off, and Clark's four carriers—the San Jacinto, Hornet, Bennington, and Belleau Wood—were battered. Clark and Beary lost six men killed or swept overboard and four seriously injured. Seventy-six planes were lost.
The other TF-38 ships damaged in the typhoon included the battleships Missouri , Massachusetts , Indiana , and Alabama ; the escort carriers Windham Bay , Salamaua , Bougainville , and Attu ; the cruisers Baltimore , Quincy , Detroit , San Juan , Duluth , and Atlanta ; 11 destroyers; three destroyer escorts; two oilers, and an ammunition ship.
Challenging Halsey's "Extremely Ill Advised" Change of Course
Aware that he would have to face another court of inquiry, Halsey took the offensive. In an angry message to Admiral Nimitz, he complained that early-warning messages were garbled, that weather estimates conflicted, and that coding regulations critically delayed the Ancon's message. The Third Fleet, meanwhile, soon went back into action. On June 6, 1945, Clark's and Radford's groups again provided air support off Okinawa, and Radford's carriers resumed strikes against Kyushu on the 8th. U.S. troops gained the upper hand on Okinawa, the kamikaze attacks tapered off, and TF-38 retired to Leyte Gulf on June 13 after 92 wearying days at sea.
Admirals Halsey, McCain, Clark, and Beary were ordered to appear before a court of inquiry aboard the aging battleship USS New Mexico anchored in San Pedro Bay, a Leyte Gulf inlet. Presided over again by the harsh Admiral Hoover, the tribunal convened on June 15 and deliberated for eight days. Blame was placed squarely on Halsey and McCain, with the court concluding that the main cause of the Third Fleet's damage was Halsey's "extremely ill advised" change of course from 110 to 300 degrees at 1:34 am on June 5. McCain, Clark, and Beary were indicted because "they continued on courses and at speeds which eventually led their task groups into dangerous weather, although their better judgment dictated a course of action which would have taken them fairly clear of the typhoon path."
Hoover recommended the reassignment of Halsey and McCain, and Navy Secretary James V. Forrestal was reportedly ready to retire Halsey. When the court's finding reached the Navy Department, Admiral King agreed that the two officers had been inept and, with the weather data available to them, should have avoided the typhoon. But Halsey was a national hero, and King had no wish to humiliate him. It would tarnish the Navy's triumph in the Pacific. King decided to take no action, and Forrestal agreed.
McCain, however, received no such consideration. Nimitz had long doubted his competence, and it was decided that it was time for him to go. He was ordered by the Navy Department on July 15 to hand over command of Task Force 38 to Admiral John H. Towers and, after a furlough, become deputy head of the Veterans Administration. But McCain, worn out and emaciated, died of a heart attack on the day after he returned to his Coronado, California, home.
Halsey, meanwhile, sailed back to America and was greeted in San Francisco and Los Angeles by blaring bands, sirens, whistles, and cheering thousands. His reputation had been tarnished, yet he emerged from the war as a fighting admiral revered by the men who served under him.
Back to the issue this appears in
Join The Conversation
8 thoughts on " two typhoons crippled bull halsey's task force 38 ".
That picture of the Langley rolling to port. Wrong. That's to starboard
In the old photos, the Langley's bridge appears to be on the port side after she was converted to a seaplane tender in 1937, so she would be coming toward the camera, rolling to port in that picture from 1944.
The Langley in this picture is CVL-27. She is rolling to starboard. USS Langley CV-1 in your reference was scuttled and sunk in Feb 1942.
Poorly written full of questionable language. Obvious desire to denigrate Admiral Halsey. An admiral in a battle situation does not do all jobs and does not make single autonomous decisions. King seems to have made all the correct decisions in his career as a commanding admiral but then King never sent men in to combat or battle with little assurance of a positive outcome. Fletcher's problems originated with indecision and a desire to be slow and methodical. Other commanders were slow and methodical but not many were fighters. Spruance scored in Midway but spent the rest of the war quiet and roaming the sidelines as it were. Weather was unpredictable and not much of a science in WW. II.
I'm not sure what language you found questionable, but I am certain the author did not intend to denigrate Halsey. Did you read the last sentence of the story? "His reputation had been tarnished, yet he emerged from the war as a fighting admiral revered by the men who served under him."
Halsey proved to be impulsive and impatient to the point of recklessness at times. Leaving the Leyte invasion force unguarded while not knowing the intentions of the Japanese center force was a serious error. The invasion force was saved only by the courage and tenacity of the smaller forces left behind and the Japanese commander losing his nerve. I've often wondered how Midway would have played out had he been in command. I fear not as well as it did with Spruance. He likely would have charged right into Yamamoto's main force lying in wait behind the attack force. Anyway, I have read that King and McArthur wanted him relieved after the typhoon incidents but his old friend Nimitz protested due to their close friendship and for past support.
Also, though Halsey is not a meteorologist he is ultimately responsible for all operations of the task force. They saw the storm on radar from a distance, so how is it possible they steamed right through the middle of it. Some very questionable seamanship at best.
And the beat goes on. With the passage of another decade or two, the role of Halsey will continue to be debated. I am not yet convinced that the irrepressible admiral was professionally qualified nor could he be expected to make sound sound judgements about adverse weather when the science of meteorology in 1945 had not yet recognized the existence of the jet stream. If you will ask any long resident in Florida about the anticipated course of an approaching hurricane 24 hours in advance, they will likely tell you, it is too soon to know. And they would be correct.
Leave a Reply Cancel reply
You must be logged in to post a comment.
Share This Article
via= " class="share-btn twitter">
Related Articles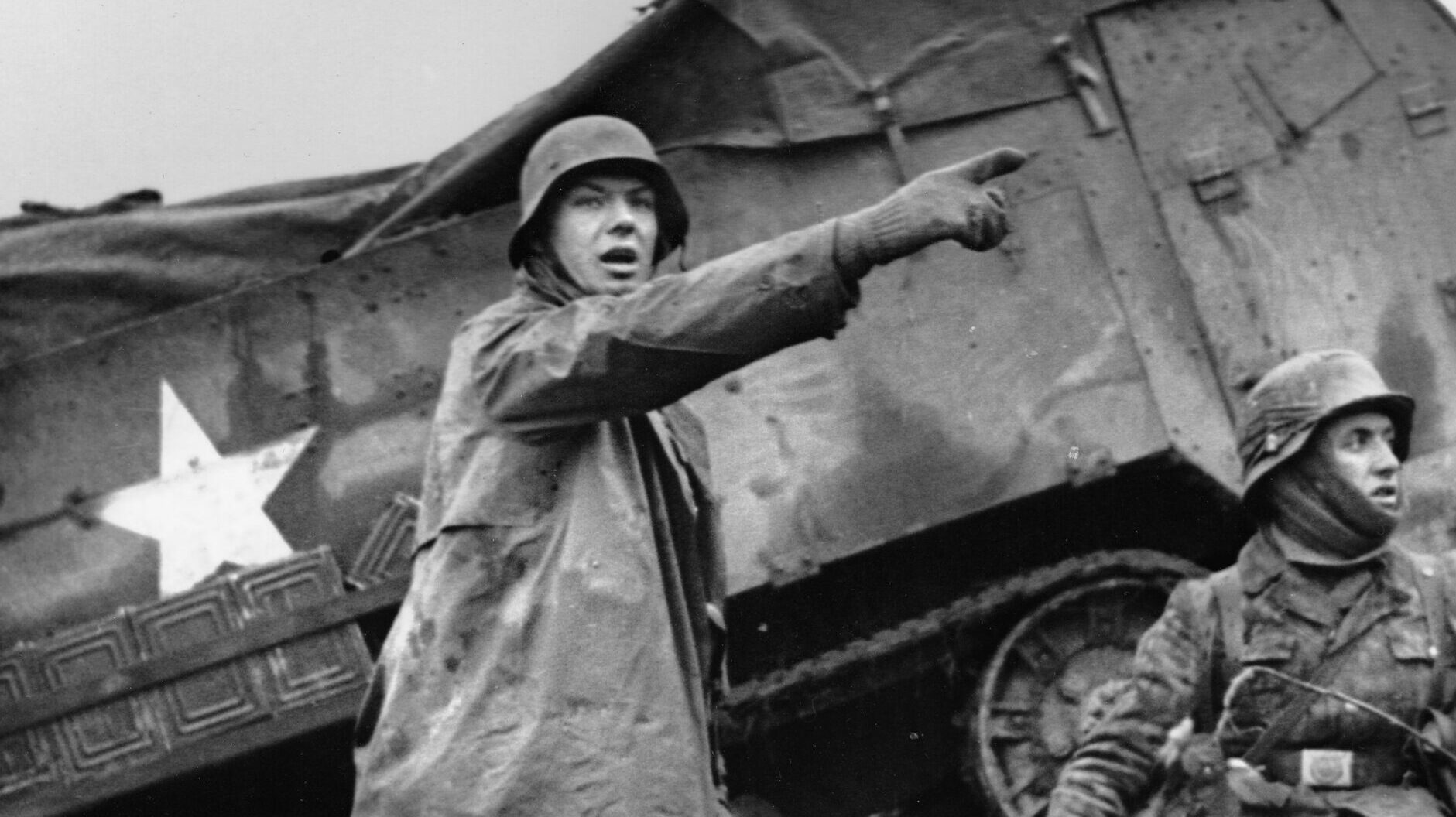 Voices of the Bulge, Part II
Why America Participated in the Allied Bombing of France in WWII
Heinz Guderian: Author of the Blitzkrieg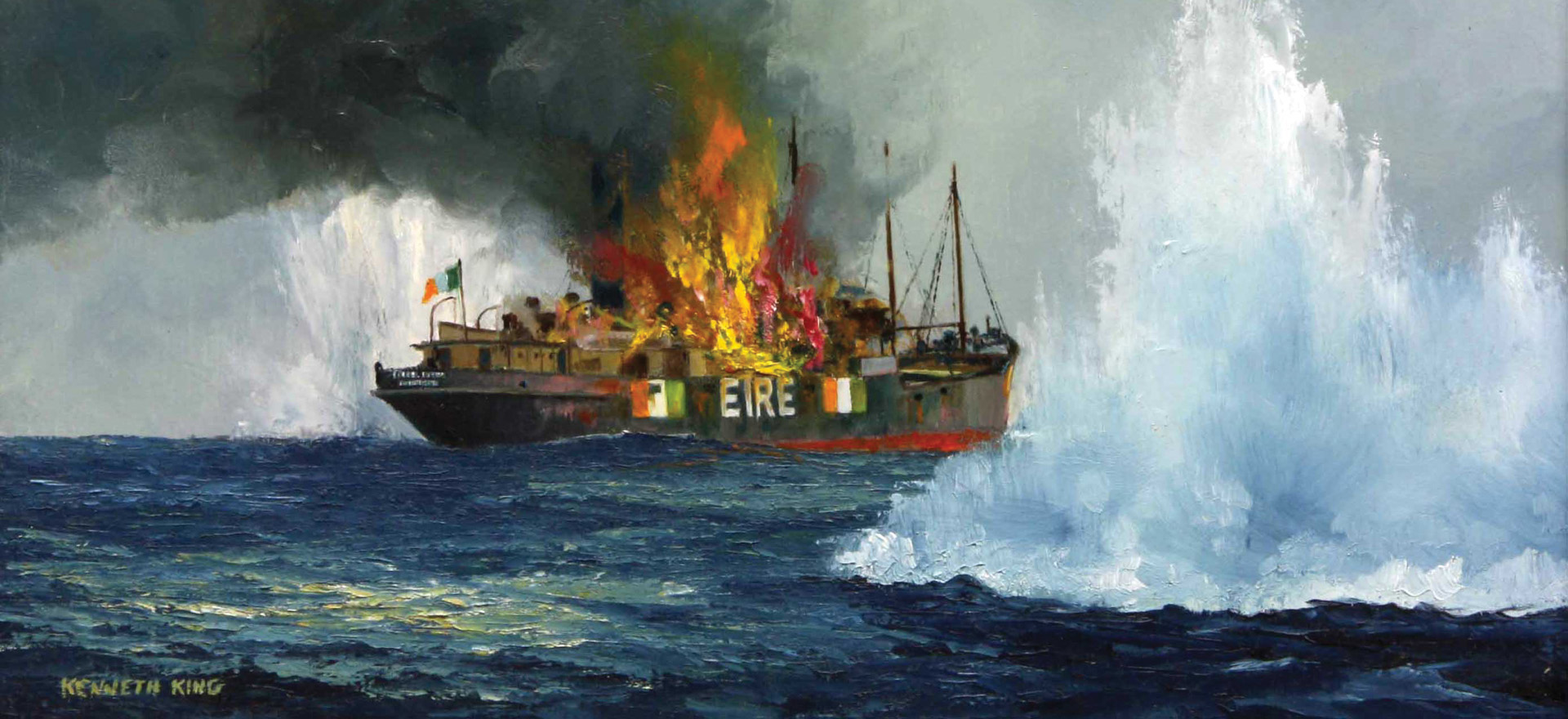 Ireland's Quixotic Neutrality
From around the network.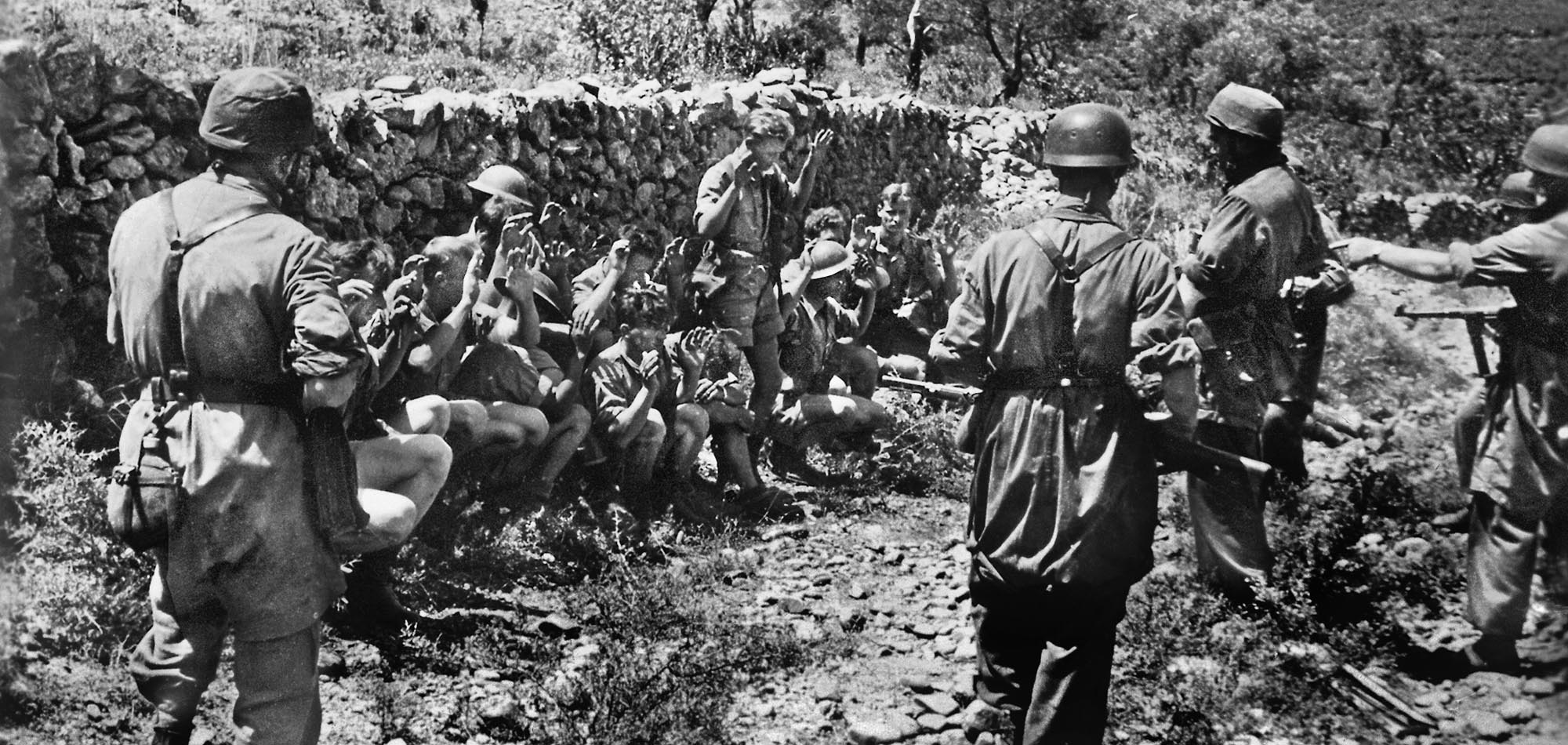 ANZACs at Maleme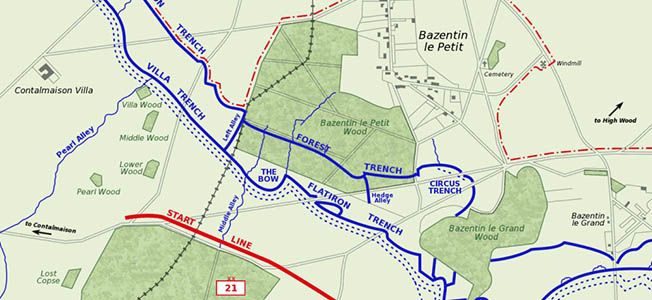 Military History
World War I's Battle of the Somme: New Photographs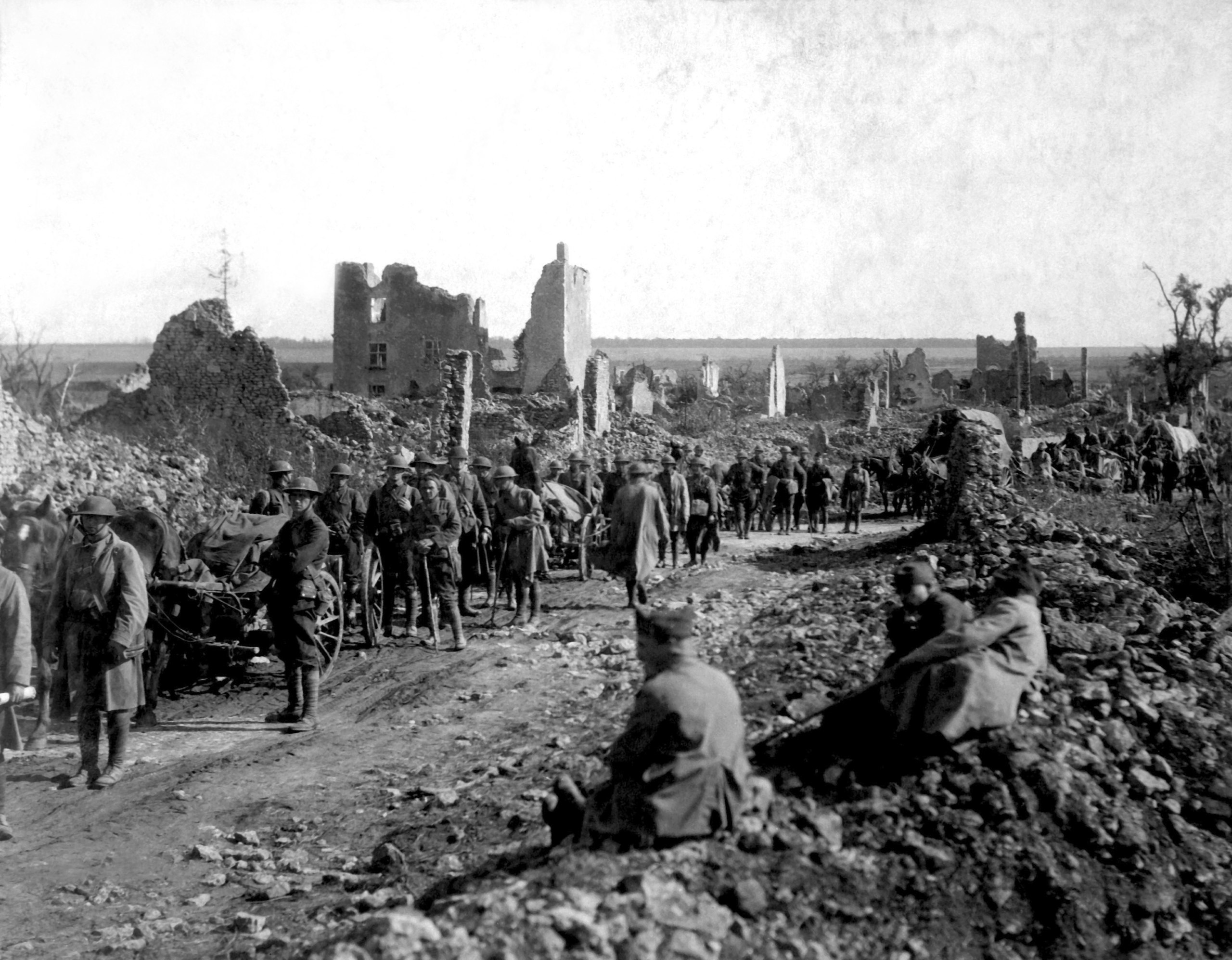 Book Reviews
Chris Emmett's 'Give Way to the Right: Serving with the A.E.F.'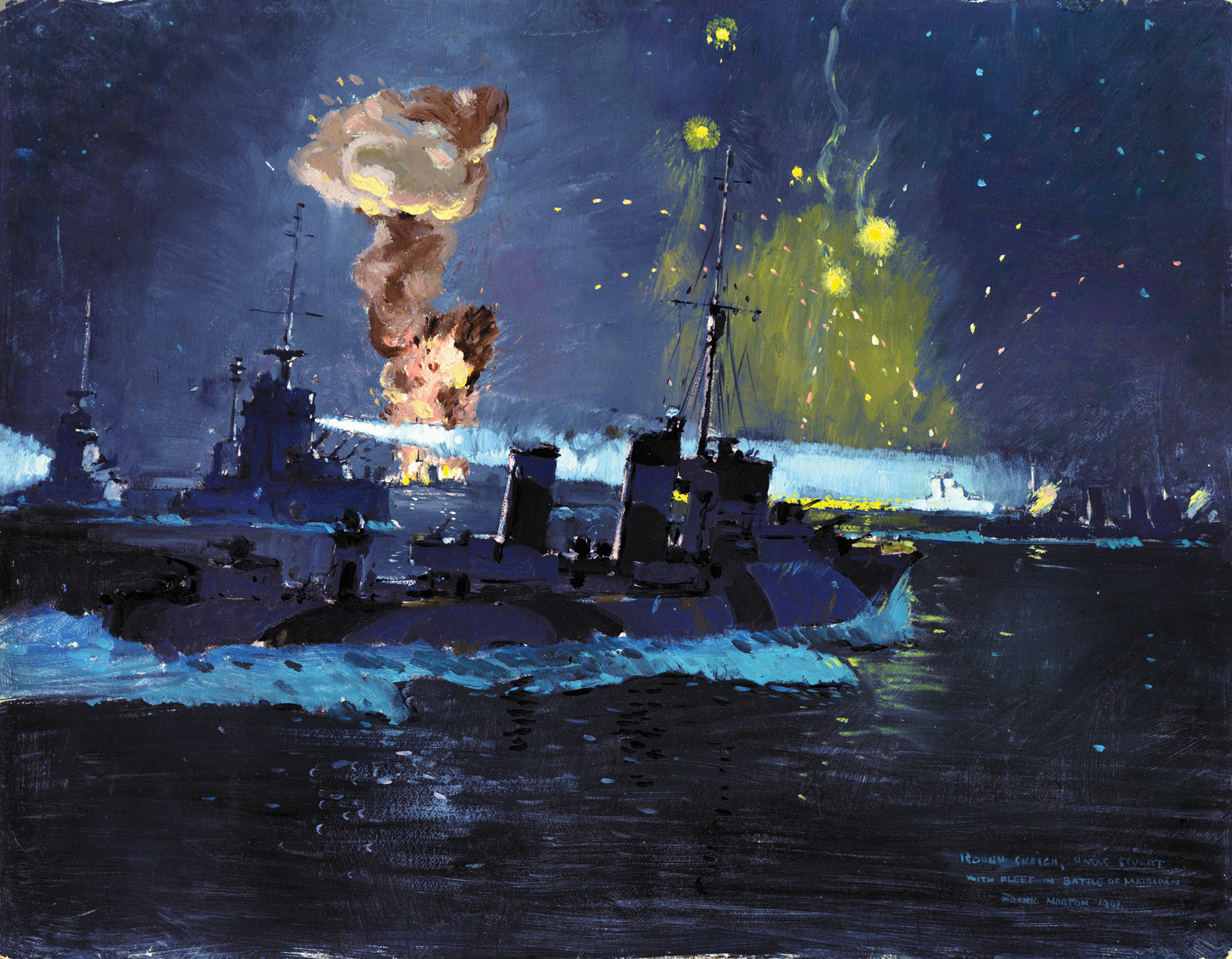 European Theater
Prince Philip's War
The most comprehensive and authoritative history site on the Internet.
How the Navy's Fast Carrier Task Force Swept the Pacific
The United States was inexorably drawn into the Pacific War, and indeed World War II, by Japan's Dec. 7, 1941, surprise attack on Pearl Harbor, Hawaii. Well-trained Japanese naval aviators from the carriers Akagi, Kaga, Soryu, Hiryu, Shokaku and Zuikaku attacked in two waves, sending four battleships to the bottom, sinking or damaging many other ships, destroying or damaging more than 300 aircraft and killing some 2,400 American servicemen. The attack demonstrated the combat range of modern aircraft carriers and the vulnerability of traditional surface warships. Within days Britain's vaunted Royal Navy lost its newest battleship, Prince of Wales , and its consort battlecruiser, Repulse, to Japanese air attacks off the coast of Malaya.
The lessons of such actions were not lost on Rear Adm. Chester Nimitz, whom President Franklin D. Roosevelt quickly promoted to admiral and appointed to command the U.S. Pacific Fleet. Nimitz reorganized the fleet into four task forces centered on the carriers Lexington, Enterprise, Hornet and Yorktown. The admiral then planned counteroffensive carrier raids against the Japanese, the most dramatic of which was the April 18, 1942, bomber strike on the Japanese home islands by 16 B-25s launched one-way at extreme long range from Hornet.
Hornet's commander, Capt. Marc. A. "Pete" Mitscher, was a pioneering Navy flier and aggressive fighter who went on to command Task Force 38/58, arguably the most powerful armada in military history.
Despite such proof of aircraft carriers' effectiveness, senior American naval officers remained generally convinced the battleship was the dominant weapon at sea. Its adherents were known as the "gun club." The sea power doctrine of naval strategist Alfred Thayer Mahan dominated 20th century military thinking at the U.S. Naval Academy in Annapolis, Md., and the Naval War College, in Newport, R.I. The conflict between the "battleship admirals" and the generally younger generation of "aviation admirals" continued for the duration of the war.
Facing the Imperial Japanese Navy (IJN) in the Pacific, the U.S. Navy initially played a weak hand. Fielding just four serviceable carriers with inferior aircraft, with the battleships damaged in Hawaii months from being serviceable, the Navy had few opportunities to mount an effective offense while waiting for American industry to produce ships, aircraft and weaponry. Still, the Navy had important assets. One was its cryptology department at Pearl Harbor, known as "Station Hypo," which despite being understaffed and underfunded had been deciphering the IJN's main communications code, JN-25, since 1940. Driven hard by Hypo's director, Lt. Cmdr. Joseph J. Rochefort, the code breakers were able to unravel enough Japanese transmissions to furnish key intelligence to Navy brass by early 1942.
The import of their work was proved in the Battle of the Coral Sea , southeast of New Guinea. In April Adm. Ernest J. King, commander in chief of the U.S. Fleet and chief of Naval Operations, requested an assessment of Japanese strategic intentions. Rochefort responded that an enemy attack on Port Moresby, in Papua, New Guinea, was likely imminent. Nimitz responded by sending Yorktown and Lexington to the Coral Sea. The ensuing fight, in early May, was history's first carrier-on-carrier engagement and was riddled with mishaps. Each side lost a carrier— Lexington and Shoho —leaving the outcome something of a draw.
Giving up their attempt to take Port Moresby, the Japanese focused on tiny Midway, the westernmost of the inhabited Hawaiian Islands. Admiral Isoroku Yamamoto, commander of the IJN's Combined Fleet, was determined to destroy the remnants of the U.S. Pacific Fleet that had escaped destruction at Pearl, especially the aircraft carriers. Hoping to lure those carriers into a fatal trap, he devised a surprise attack on the American base at Midway with a strike force centered on four of the carriers— Akagi, Kaga, Hiryu and Soryu —that had attacked Pearl Harbor.
An avid poker player, Yamamoto went into action believing he held all the aces, but things did not go his way. Rochefort's cryptanalysts learned the target and approximate date of the attack, the complete Japanese order of battle and the likely location of the attacking fleet. On June 3 the pilot of a Consolidated PBY Catalina scout plane spotted the approaching enemy invasion fleet.
The news galvanized Nimitz, who dispatched his three carriers—Enterprise, Hornet and Yorktown—to an assembly point northeast of Midway. With Vice Adm. William "Bull" Halsey hospitalized at Pearl with an infection, Nimitz put Rear Adm. Raymond Spruance in charge of Enterprise and Hornet, with Rear Adm. Frank Fletcher over Yorktown and in overall command.
The approaching Japanese fleet under Vice Adm. Chuichi Nagumo was unaware of the proximity of the American carriers and launched more than 100 aircraft to attack Midway early on June 4. Simultaneously the Midway forces dispatched all available combat planes to attack the Japanese. In the ensuing aerial melee most of those attackers were shot down. While Nagumo's fliers did moderate damage to island installations, they lost 11 aircraft and sustained heavy damage to scores of others from the intense antiaircraft fire. To wreak a more destructive raid, Nagumo ordered his carrier commanders to rearm and change armaments on the Japanese planes—a time-consuming task.
Meanwhile, Fletcher had Enterprise and Hornet steam in the direction of the Japanese fleet to reduce distance to the targets. In consultation with Halsey's chief of staff, Capt. Miles Browning, Spruance ordered an all-out launch while still at long range from Nagumo's carriers, and Fletcher soon followed suit from Yorktown. Browning figured there was a good chance of catching the Japanese rearming and refueling, and he was right. Three squadrons of obsolete Douglas TBD Devastator torpedo bombers were shot down or turned back without scoring a single hit before the task force's Douglas SBD Dauntless dive bombers saved the day. Striking when the Japanese decks were jammed with aircraft, bombs, torpedoes and fuel lines, the SBDs hit and mortally damaged Akagi, Soryu and Kaga.
Hours later another two dozen dive bombers converged on and pummeled Hiryu , which eventually sank. In one afternoon the U.S. Navy's three-carrier strike force had changed the course of the Pacific War. Japan lost four of its fleet carriers, a heavy cruiser, some 250 attack aircraft and many of its best aircrews at the cost of Yorktown. Yamamoto ordered a retreat that night. The withdrawal marked the effective end of his drive to deliver a knockout blow to the U.S. Navy, leaving the IJN to face a naval war of attrition against the aroused industrial might of the United States.
this article first appeared in Military History magazine
The American victory at Midway had other consequences. The first was an urgent drive to upgrade all carrier aircraft, including the introduction of fighters able to best Japan's A6M Zero. Grumman responded within months by rolling out the first production model F6F Hellcat. It could outrun, outclimb and outshoot the Zero, reach a higher operational ceiling, and it better protected pilots with armor and a self-sealing gas tank. The first combat-ready F6Fs reached the Pacific Fleet in February 1943. It proved the best carrier-based fighter of the war. Grumman also produced an exemplary carrier-based torpedo bomber, the TBF-1 Avenger.
While the dependable Dauntless remained the mainstay dive-bomber, Curtiss-Wright launched a more powerful carrier-based bomber, the SB2C Helldiver, though it was plagued with early problems and did not reach operational status until late 1943.
At the outset of the war Congress had appropriated funds to build additional aircraft carriers, resulting in the construction and launching of 13 Essex-class flattops, the 27,100-ton workhorses of the soon to be overpowering Pacific task forces. These were to be accompanied by dozens of escort (or "Jeep") carriers carrying smaller complements of aircraft.
After Midway combat in the Pacific devolved into a series of skirmishes as each side built up its surface fleets and aerial forces. In early August 1942 a surprise amphibious landing by the 1st Marine Division at Guadalcanal, Tulagi and neighboring islands in the Solomons sparked weeks of hard fighting on land and sea with heavy losses. The sea battle—which involved the carriers Wasp (struck by three Japanese torpedoes, abandoned and scuttled), Saratoga and Enterprise (both heavily damaged and sent to Pearl for repairs)—was costly on both sides. For a time the newly arrived Hornet was the lone operational U.S. fleet carrier in the Pacific, before it too was sunk, leaving the soon repaired Enterprise as the sole operational American fleet carrier. The Japanese nearly recaptured Guadalcanal, but it ultimately remained in U.S. hands.
In 1943 the balance of naval power shifted to the Americans as the Essex-class carriers and their improved aircraft arrived in the Central Pacific under Nimitz's command. Major U.S. shipyards worked around the clock, launching some Essex-class flattops in only 16 months. Six were commissioned in 1943 and seven more in 1944. The new carriers featured improved radar and communications. Each bore 36 fighters, 36 dive bombers and 18 torpedo bombers. The carriers also bristled with antiaircraft guns: a dozen turret-mounted 5-inch guns with a range of 10 miles, as many as 18 quad-mounted 40 mm Bofors guns and upward of fifty-five 20 mm Oerlikon cannons. In this industrial/weapons race, it was already clear in 1943 that Japan could not keep pace with U.S. shipbuilding. Moreover, given the nature of its extensive pilot training, Japan would be unable to replace its hemorrhaging losses of thousands of first-rate pilots.
In 1943 a new American doctrine of carrier-based warfare split naval assets in the Pacific into two large fleets: the Third (in the South Pacific under Halsey) and the Seventh (in the Southwest Pacific under General Douglas MacArthur). In 1944 the Third formed the basis of the Fifth Fleet (in the Central Pacific under Spruance), the fleet designation and command toggling back and forth between Spruance and Halsey. Most new fleet carriers and Independence-class light carriers were assigned to the Central Pacific. That summer Essex and the new Yorktown and Lexington arrived at Pearl Harbor along with the light carriers Independence, Princeton and Belleau Wood . Here began the multicarrier task groups that, as naval historian Clark G. Reynolds explained in his definitive 1968 book The Fast Carriers , formed the "principal offensive element" that would attack the Japanese-held Gilbert and Marshall islands.
Recognizing the vulnerability of a task force built around one or two carriers, the new doctrine posited deploying three to six fleet carriers at the center of a circular formation, ringed by cruisers and destroyers bristling with antiaircraft guns, and escort carriers, each carrying 30 attack aircraft, accompanied by the newest fast battleships with speed to match the carriers. The main offensive weapon of these task forces was their 500-1,100 attack aircraft, able to range out to 1,500 miles.
The innovative offensive doctrine under which the new fast carrier task groups would operate was essentially created by then Vice Adm. Marc Mitscher. In late January 1944 Mitscher prepared to launch Operation Flintlock, the battle to take the Japanese stronghold of Kwajalein in the Marshalls. By then his fleet was operating as Task Force 58 (TF 58) and comprised a dozen carriers in four task groups of three carriers each, with a combined complement of 650 attack aircraft.
The Battle of Kwajalein began on January 31 with aerial assaults and the bombardment of its defenses by battleships and destroyers. By noon the carrier fighters had cleared the skies of Japanese aircraft. Marine and Army forces landed on February 1. After three days of fighting and relentless air attacks the island was in American hands. So too was the vast anchorage at adjacent Majuro Atoll, which became the new forward base for the Central Pacific fleet.
From Majuro TF 58 moved in mid-February to attack Truk, the heavily fortified "Gibraltar of the Pacific" and capital of the Carolines.
As Reynolds wrote in The Fast Carriers :
" A predawn-launched 72-plane fighter sweep on 17 February opened the air attack against "impregnable" Truk.…About 80 Japanese planes and heavy, inaccurate flak challenged Mitscher's sweep, but only half the Zeros sought to engage. For most of the morning the air battle raged, resulting in the loss of 50 Zeros and four Hellcats.…The carrier planes then strafed the parked aircraft on three strips and destroyed or damaged about 150 in all, leaving another 100 undamaged.…The bombers went directly to work and had a field day. Before Task Force 58 left Truk, about 140,000 tons of enemy shipping lay sunken or piled up on the beach.…One aviator who observed this handiwork pointed out: "This is how we can win battles in the future. Teamwork is the answer."
Indeed, the Truk attacks served as prototypes for TF 58's 1944 and '45 victories over Japanese air forces and their many island bases. Key American advantages enabled those wins. Surprise was often a factor, thanks to the task force's unprecedented mobility—and thanks to the fact the Japanese never realized their naval code had been broken. Japanese pilots diminished in proficiency, as many of their initial elite flyers were lost by 1944, and their substitutes were no match for veteran American pilots.
As a growing number of U.S. carriers and battleships arrived in the Pacific, the Navy's success in neutralizing Japanese strongholds in the Marshalls and Carolinas opened the way to all-out attacks on the Marianas—Tinian, Saipan, Guam and Rota. That island group's strategic importance loomed large: American air bases on those islands would enable the Boeing B-29 Superfortress bomber—with its 3,250-mile range and ability to carry up to 10 tons of bombs—to rain destruction on the Japanese home islands.
Code-named Operation Forager, the 1944 assault on the Marianas proved decisive, and its chief weapon was TF 58. It was at that point King split the fleet into two commands—one to strike, the other to plan. The same powerful fast carrier task force known as TF 58 in the Fifth Fleet under Spruance and Mitscher was called TF 38 in the Third Fleet under Halsey and Vice Adm. John McCain. The flip-flopping designation understandably confused the Japanese. In June TF 58 steamed toward the Marianas with 15 flattops carrying more than 900 aircraft, seven battleships, 20-odd cruisers and dozens of destroyers. The Americans would employ that mighty armada just in the preparation of the Marianas landings. The total didn't include the scores of ships that would transport nearly 130,000 Marine and Army troops to the beaches.
Mitscher kicked off Forager on June 11 by sending some 200 F6F Hellcats to ravage Japanese air bases on Saipan. That strike kicked off a week of carrier-based raids, followed by a two-day bombardment. The initial landing took place on June 15, some 20,000 Marines making it ashore that day.
Desperate to hang on to the Marianas, Japanese Vice Adm. Jisaburo Ozawa mustered his entire 1st Mobile Fleet—five battleships and nine carriers, including the newly launched Taiho , Ozawa's flagship—to counterattack in what is remembered as the Battle of the Philippine Sea, the largest carrier-on-carrier engagement of the war. Mitscher and Ozawa each perceived it as an opportunity to destroy his enemy's main Pacific fleet.
As the Japanese fleet approached Saipan from the west, U.S. submarines tracked and reported its progress. Ozawa opened the fight around 10 a.m. on June 19, launching the first of four waves of 373 carrier-based aircraft. American radar operators spotted them 100 miles out, and Mitscher sent every Hellcat he had—nearly 300—screaming into the air.
The Japanese pilots were outmatched, and the greatest naval air battle of the war was a slaughter, dubbed by one jubilant American flier as "an old-time turkey shoot."
It was over by 3 p.m. Ozawa lost two-thirds of his aircraft. Mitscher lost 20 Hellcats.
That same day U.S. submarines made the victory even more lopsided by torpedoing and sinking two Japanese fleet carriers, Shokaku and Taiho . It was a portent of things to come in the Pacific. American submarines armed with improved torpedoes played a growing role in destroying not only IJN assets but also merchant ships carrying oil and other strategic materials.
The summer of 1944 was characterized by a series of raids and invasions of minor islands in the Marianas and elsewhere. The next major battle, for the Leyte Gulf in late October, marked the opening of the MacArthur-driven campaign to liberate the Philippines. Leyte proved history's last battleship-on-battleship fight, as well as the largest naval battle in modern history in numbers of warships engaged—more than 280, including the ships of Halsey's Third Fleet. It also marked the end of the IJN as an offensive fighting force.
Ominously, the Battle of Leyte Gulf also saw the first organized attacks by Japanese kamikaze ("divine wind") aircraft. As most of their veteran aircrews had perished, the IJN instead trained its young green pilots to crash into Allied warships. In the fight for the Philippines the kamikazes represented a serious threat, sinking the escort carrier St. Lo and damaging the fleet carriers Essex, Franklin, Hancock, Intrepid and Lexington , the light carriers Belleau Wood and Cabot , and more than a half dozen escort carriers, all of which retired for repairs. The only real defense against such attacks was accurate and relentless antiaircraft fire—but against dozens, even hundreds, of kamikazes it would never be 100 percent effective.
With the Marianas in American hands by year's end, and the battle to liberate the Philippines well underway, the next islands to be contested were Iwo Jima, in the Bonin Islands, and Okinawa, in the Ryukyus. The Americans invaded the former in February 1945, the latter in April. Iwo Jima lay some 760 miles south of Tokyo, close enough to enable land-based fighter planes to escort squadrons of B-29s.
Both Iwo Jima and Okinawa are volcanic in origin, with rugged mountainous topography, and were desperately defended by fanatical Japanese troops for whom there would be no going home. Task Force 58, then at its peak in strength and experience, committed to prolonged aerial assaults on both islands and took the brunt of swarming kamikaze attacks. Those attacks proved more deadly and damaging than encounters with the carriers and battleships of the IJN, which by then was essentially toothless.
En route to Iwo Jima on February 16 and 17 Spruance was granted his long-standing wish to strike the Japanese home islands and launched more than 1,000 aircraft from TF 58 to attack enemy air bases, factories and other installations and engage any remaining combat aircraft. The attacks were a success, inflicting widespread damage, sinking several ships and downing some 500 Japanese planes at a cost of 88 U.S. fighters, 60 of those in combat.
At Iwo Jima TF 58 provided pre-landing bombardment support and aerial attacks through late February while continuing raids against the home islands. On February 21 kamikazes severely damaged Saratoga and sank the escort carrier Bismarck Sea. The invasion cost the lives of nearly 7,000 Marines and more than 500 sailors with another 20,000 wounded. On the Japanese side the 21,000-man garrison was all but wiped out.
Once in American hands Iwo Jima served as a valuable emergency haven for damaged B-29s and a base for fighter escorts assigned to bomber strikes on the home islands.
Coming on the heels of Iwo Jima, the April 1 invasion of Okinawa proved the bloodiest single battle of the Pacific. As at Iwo Jima, Task Force 58 provided pre-landing bombardment support and aerial attacks against Okinawa while fending off repeated kamikaze attacks by more than 300 planes in just the first week of battle. A protracted series of kamikaze attacks stretched through May, costing the Japanese at least 1,500 aircraft (and pilots) and the Americans a dozen lost destroyers and hundreds of damaged ships. Through war's end kamikazes managed to cripple the fleet carriers Bunker Hill, Enterprise, Hancock, Intrepid and Wasp.
Among the desperate Japanese measures to hold Okinawa was a task force centered on the new outsize battleship Yamato, dispatched to disrupt the U.S. invasion. Mitscher launched nearly 400 carrier-based aircraft to intercept the formation. The massive Yamato finally capsized and sank after hits from at least 11 torpedoes and a half dozen bombs.
Altogether Allied naval forces lost more than 30 ships and more than 760 carrier-based aircraft in the Okinawa campaign. Nearly 5,000 U.S. sailors were killed, as were some 7,600 soldiers and Marines. Japan lost an estimated 110,000 soldiers and Okinawan conscripts by the time fighting there ended on June 21.
Task force raids on Japan then complemented the ongoing incendiary B-29 devastation wrought by U.S. Army Air Forces Maj. Gen. Curtis LeMay's XXI Bomber Command. Throughout the summer of 1945, as Allied planners prepared for the invasion of Japan (Operation Downfall), air and sea attacks on the home islands mounted.
The final curtain was about to fall on the Pacific War, which it did abruptly with the dropping of the two atomic bombs. Only on August 15, when Emperor Hirohito declared Japan's unconditional surrender , did Nimitz halt all combat operations of the storied fast carrier task groups. MH
Related stories
Portfolio: Images of War as Landscape
Whether they produced battlefield images of the dead or daguerreotype portraits of common soldiers, […]
Jerrie Mock: Record-Breaking American Female Pilot
In 1964 an Ohio woman took up the challenge that had led to Amelia Earhart's disappearance.
How Did Land Mine Warfare Work in Vietnam?
Land mines were used by both sides during the Vietnam War and caused severe casualties.
George Washington Needed to Keep His Spies Hidden. So He Financed a Secret Lab For Invisible Ink.
How patriot spies—and their commander—used a secret "medicine" factory to send coded messages during the American Revolution.
Pacific Ocean theatre of World War II
Military units and formations of the United States in World War II
Fast Carrier Task Force
The Fast Carrier Task Force was the main striking force of the United States Navy in the Pacific Ocean theatre of World War II from January 1944 through the end of the war in August 1945. The task force was made up of four separate task groups. Each task group was built around three to four aircraft carriers and their supporting vessels. The support vessels were screening destroyers, cruisers, and the newly built and faster battleships. [1]
1 Carrier Based Naval Warfare
3 Fast Carriers in Action
5 References
6 External links
Carrier Based Naval Warfare [ ]
Ships of Task Group 38.3 operating off Okinawa during May 1945
The Task Force was designed with the new realities of naval warfare since Pearl Harbor and Midway in mind. The primary striking power of the fleet was no longer huge battleships as in the past but aircraft carriers and their planes. The battleships (and all other non carrier ships) were there primarily to support the carriers, for example to provide them with an impenetrable wall of anti-aircraft fire. The ships of each task group sailed in a circle formation centered around the carriers. By concentrating the carriers together, the numbers of aircraft available to protect any one carrier was greater. The supporting ships sailed relatively close by, and added their anti-aircraft fire to that of the carriers to help ward off attacking aircraft. When under attack by torpedo aircraft, the task group would turn in toward the oncoming aircraft to limit attack angles. [2] Other than this measure, the carriers in the task group would not take evasive action from their attackers. This made for more stable platforms for the antiaircraft fire of all the ships in the task group and allowed the ships in the group to sail more closely together. The primary defense of the group against air attack was the group's own fighter cover.
Admirals [ ]
Admiral Marc Mitscher aboard the USS Lexington
The individual primarily responsible for the development and operations of the task force was Admiral Marc Mitscher . [3] [4] [N 1] The overall command of the Task Force alternated between two very different admirals: Raymond Spruance and William "Bull" Halsey . Halsey was aggressive and a risk taker. Spruance was calculating, professional and cautious. Most higher-ranking officers preferred to serve under Spruance; most common sailors were proud to serve under Halsey. [5] Their commander was Admiral Chester Nimitz .
When the force was part of Admiral Raymond Spruance's Fifth Fleet , it bore the designation Task Force (TF) 58. When led by Admiral William Halsey as part of the Third Fleet , its designation was Task Force (TF) 38. Planning for upcoming operations was completed when each admiral and his staff rotated out of active command. This allowed the Navy to perform at a higher operational tempo, while giving the Japanese the general impression of naval assets greater than what were actually available.[5]
Fast Carriers in Action [ ]
Ships of the Fifth Fleet move together under the cover of a combat air patrol.
The Fast Carrier Task Force took part in all the US Navy Pacific battles in the last two years of the war. Each task group could operate independently or combine with the others as needs dictated. For small operations such as raids groups would branch off. For major battles such as Leyte Gulf and Iwo Jima they would combine into one huge naval force. The fleet designation also changed with each command change, with Third Fleet being the designation used for the fleet when under the command of Halsey, and the Fifth Fleet being used when Spruance held command. The fleet itself was made up of the Fast Carrier Task Force, the much larger Amphibious Force, and the hundreds of support vessels of the Service Squadron which resupplied and maintained the fleet. [6] When under the umbrella of Fifth Fleet, the invasion force was called the Fifth Amphibious Force. When Halsey had command of the fleet, Third Amphibious Force was the designation. By the time of the Battle of Iwo Jima in early 1945, the Task Force included eighteen aircraft carriers, eight battleships and two battlecruisers, along with numerous cruisers and destroyers. TF 58 alone commanded more firepower than any navy in history. [7]
TF 38 came into existence in August 1943, built around USS Saratoga , and under the command of Rear Admiral Frederick C. Sherman . TF 58 was created on 6 January 1944 with Rear Admiral Marc Mitscher commanding, [8] serving under the fleet command of Admiral Spruance in the Fifth Fleet. TF 38 continued to exist, but as a command structure only.
As Task Force 38, the carriers maneuver off the Japanese coast, 17 August 1945.
With command change from Spruance to Halsey on 26 August 1944, all units changed designations again. Mitscher, who was an aviator from early training and had a masterful command of the airgroups, requested he retain command of the Fast Carrier Task Force until his replacement, Admiral John McCain , could have proper time to become more familiar with the handling of a carrier task force. [3] King and Nimitz concurred. [9] Fleet Admiral Halsey, like Spruance before him, sailed with the Fast Carrier Task Force. The force grew to nine CVs and eight CVLs in preparation for the landings on Leyte. Task Force 38 was composed of four task groups: Task Group 38.1 was commanded by Admiral McCain, with its previous commander, Admiral Joseph "Jocko" Clark , remaining on as advisor, Task Group 38.2 was under the command of Admiral Gerald Bogan , Task Group 38.3 was led by Admiral Frederick Sherman , and Task Group 38.4 was under the command of Admiral Ralph Davison. [10]
Task Force 38 at Ulithi , December 1944
Following the Battle of Leyte Gulf , Mitscher went on shore leave and planning duty, and Vice Admiral McCain took over as commanding officer of TF 38, which continued under Halsey and the Third Fleet.
On 26 January 1945, Halsey and McCain went on shore leave and planning duty, while Spruance and Mitscher returned to their previous commands. Third Fleet became Fifth Fleet, and TF 38 became TF 58. They led the fleet through the battles of Iwo Jima and Okinawa , facing sustained attacks from land-based Japanese kamikaze aircraft. As the Okinawa campaign dragged into its second month, the presence of the carriers was still required to provide close air support to the soldiers on the island as the Army and its Air Corps were not as adept as the Marine Corps at quickly establishing airfields over newly occupied territory. At the end of April, Admiral Nimitz came out to review the situation. After two months operating off the coast of Okinawa in support of Army forces engaged in battle on the island, the command staff was exhausted from the continuous pressure of fending off kamikaze attacks. On his return to Pearl Harbor, he notified Halsey that he would have to take over command from Spruance in thirty days, whether or not the mission was completed. [11] On 28 May 1945, Halsey arrived aboard Missouri , his new flagship, whereupon he relieved Spruance, while McCain relieved Mitscher. Spruance and Mitscher returned to Pearl. Fifth Fleet once again became Third Fleet, and Task Force 58 became Task Force 38. Halsey remained in command until the Japanese surrender ended the war on 2 September 1945.
↑ At the end of the war Admiral Nimitz said the following of Mitscher: "He is the most experienced and most able officer in the handling of fast carrier task forces who has yet been developed. It is doubtful if any officer has made more important contributions than he toward extinction of the enemy fleet."
References [ ]
↑ Taylor p. 170
↑ Potter p. 123
↑ 3.0 3.1 Taylor p. 304
↑ Reynolds p.
↑ Tuohy, William (2007). America's Fighting Admirals:Winning the War at Sea in World War II . Zenith Press. p. 323. ISBN  978-0-7603-2985-6 .  
↑ Potter p. 184
↑ Willmott p. 180
↑ "Video: Carriers Hit Tokyo! 1945/03/19 (1945)" . Universal Newsreel. 1945 . http://www.archive.org/details/1945-03-19_Carriers_Hit_Tokyo . Retrieved February 22, 2012 .  
↑ Potter p. 183
↑ Taylor p. 248
↑ Potter pp. 257–258
Potter, E. B. (2005). Admiral Arliegh Burke . U.S. Naval Institute Press. ISBN  978-1-59114-692-6 .  
Reynonds, Clark (1968). The Fast Carriers . U.S. Naval Institute Press. ISBN  1557507015 .  
Taylor, Theodore (1954). The Magnificent Mitscher . Naval Institute Press. ISBN  1-59114-850-2 .  
Willmott, H.P. (1984). June, 1944 . Blandford Press. ISBN  0-7137-1446-8 .  
External links [ ]
Details of TF 38 ships and campaigns
Details of TF 58 ships and campaigns
Task Force 58 / 38
Operation king ii.
OPERATION KING II    8/26/44 – 10/31/44
The PHILIPPINES
SECOND BATTLE OF THE PHILIPPINE SEA (INCLUDES LEYTE LANDING )
Task Group 38.1 CARRIERS (CV): Wasp II, Hornet II, Yorktown II, Hancock (CVL): Cowpens, Monterey CRUISERS (CA): Chester (CruDiv5), Salt Lake City, Pensacola, Wichita, Boston (CruDiv10), Canberra (CL): San Diego, Oakland, Houston DESTROYERS Tingey, Miller DesRon4: Fanning, Case, Cummings, Cassin, Downes Dunlap DesRon12: McCalla, Farenholt, Woodworth, Grayson DesRon46: DesDiv91: Izard, Conner, Bell, Charette, Burns; DesDiv92: Boyd, Brown, Cowell DesRon50: DesDiv100: Caperton, Cogswell, Ingersoll, Knapp
Task Group 38.2 CARRIERS (CV): Intrepid, Bunker Hill, Hancock (CVL): Cabot, Independence BATTLESHIPS (BB): Iowa (BatDiv7), New Jersey CRUISERS (CL): Vicennes II (CruDiv14), Oakland, Miami, San Diego DESTROYERS DesRon52: DesDiv103: the Sullivans, Owen, Stephen Potter, Tingey, Miller; DesDiv104: Lewis Hancock, Marshall, Hickox, Hunt DesRon53: DesDiv105: Colahan, Cushing II, Uhlmann, Halsey Powell, Benham II; DesDiv106: Twining, Wedderburn, Stockham, Yarnall
Task Group 38.3 CARRIERS (CV): Lexington II, Essex, Ticonderoga (CVL): Langley II, Princeton BATTLESHIPS (BB): Washington, Massachusetts (BatDiv8), Indiana; South Dakota (BatDiv9), Alabama CRUISERS (CL): Santa Fe (CruDiv13), Mobile, Reno, Birmingham DESTROYERS DesRon50: DesDiv99: Cotton, Dortch, Gatling, Healy, Porterfield, Clarence Bronson DesRon55: DesDiv109: Callaghan, Cassin Young, Callaghan, Preston II, Irwin; (DesDiv110) Longshaw, Morrison, Pritchett, Laws
Task Group 38.4 CARRIERS (CV): Enterprise, Franklin (CVL): San Jacinto, Belleau Wood BATTLESHIPS (BB): Washington, Alabama, South Dakota CRUISERS (CA): New Orleans (CruDiv6), Wichita (from 10/21) (CL): Biloxi DESTROYERS DesDiv26: Wilkes, Nicholson, Swanson, Marshall, Miller DesRon6: DesDiv11: Maury, Gridley, McCall, Helm, Craven; DesDiv12: Ralph Talbot, Mugford, Patterson, Bagley
Sources:  History of United States Naval Operations in World War II by Samuel Eliot Morison;  and   http://pacific.valka.cz/forces/tf58.htm (excerpted) (kudos to that great site. we especially like their organization of destroyers into Squadrons and Divisions.)
The Big Blue Fleet in WWII
Battle Experience: Battle of Leyte Gulf Preface This account is based on many and extensive sources. Necessarily there are conflicts in accounts as to the details of time and nature of events. All times indicated are zone minus nine. Every effort has been made to present the essential features of the Second battle of the PHILIPPINES Sea accurately with the information at hand. Allied invasion of the PHILIPPINES forced the hand of the Japanese High Command. It was evidently decided to make an all-out effort to drive U.S. forces from the PHILIPPINES, even at the risk of a major action. The enemy's audacity was probably bolstered by exaggerated damage claims of Japanese aviators who managed to reach home from strikes on U.S. FORCES engaged in aerial attacks on OKINAWA, FORMOSA and LUZON (10-19 October 1944). The Japanese aviators reported an amazing victory, and Tokyo was quick to claim -- for the fifth or sixth time -- that the naval strength of the United States had been rendered puny. The Japanese may have been sincere in their belief, as it is often difficult if not impossible accurately to estimate damage to distant ships. For example, during the action off FORMOSA, a false impression was made on one of our Task Group Commanders who had seen a Japanese plane fall and make an apparent cloud cover of smoke on one of his distant ships, which caused him to inquire concerning the extent of the ship's damage and possible speed. The reply came back that this was a near miss, the ship had no damage, and could make full power. These neutralization air attacks by Task Force 38 on Japanese airfields, and strikes against aircraft, surface craft and military installations commenced at dawn on 10 October 1944 on OKINAWA. This Task Force caught the Japanese completely off guard. No serious opposition was encountered and at dawn on 12 October the attack on FORMOSA was commenced. (See Photographic Section I ). On October 12 and 13, successful strikes were carried out. Day and night fighters and own ships' anti-aircraft fire succeeded in preventing serious damage to our surface forces until the evening of October 13. The enemy's offensive effort attained respectable proportions on this evening in the form of air attacks on the task groups. Task Group 38.2, being on the northern flank, absorbed most of the effort and the USS Canberra was torpedoed, resulting in the flooding of both engine rooms. During the following evening, Houston was damaged by a similar attack. On 16 October, while under tow, the Houston received a second aircraft torpedo hit, but both ships reached ULITHI. A series of naval engagements and, in terms of victory, ones which may turn out to be among the decisive battles of modern times, were won by our forces against a three-pronged attack by the Japanese in an attempt to land reinforcements on LEYTE Island and wipe out our covering forces. The various factors and steps in our success were brought about. Behind each there was a reason. It is particularly gratifying to see in these actions how each arm of our naval force -- the submarine, aircraft carrier, battleship, cruiser, destroyer, destroyer escort on down to the PT boats -- was coordinated and contributed magnificently in the defeat of the enemy. In these engagements our surface ships slugged it out with the enemy and our carrier-borne aircraft both intercepted and pursued enemy ships with conspicuous success. Our submarines detected, reported, and effectively attacked approaching and retreating enemy warships. When Allied troops went ashore at LEYTE ("A" Day, 20 October 1944), reports now indicate that most Japanese heavy surface units were in the Southwest area, and that the carrier fleet was in the Empire. The enemy apparently had decided to join these forces in the Central PHILIPPINES at the earliest practicable moment. Maximum use was to be made of shore-based air. the over-all picture is now fairly clear from sightings, photographs and information at hand. the entire group of Japanese heavy surface units arrived BRUNEI Bay (NW BORNEO) 21 October 1944 and fueled. Upon departing BRUNEI Bay, this combined force separated into two forces; namely, one force heading northeast detected west of PALAWAN Island, hereinafter called the Central Force, and the other force heading east detected in the SULU Sea, hereinafter called the Southern Force. The Central Force was composed of 5 BBs, 10 CA, 2 CLs
and 11-12 DDs. This is the Force, minus casualties, which transited SAN BERNARDINO Strait on the night of 24-25 October and attacked our CVEs east of SAMAR. The Southern Force was composed of 2 BBs, 2 CAs, 7 DDs and 2 possible CLs. This is the force which was engaged by Seventh Fleet units, covering force, in SURIGAO Strait in the very early morning of the 25th. Evidently at approximately the same time as the Central and Southern Forces departed from BRUNEI Bay, a Northern Force (Carrier Force) sortied southward from the Empire. This force, in two groups, probably consisted of 1 CV, 3 CVLs, 2 XCV-BBs, 5 CAs-CLs, and 10 DDs. This is the force which was spotted for the first time on the evening of the 24th by planes of the Third Fleet, Supporting Force. The Central and Southern Forces had been under heavy aerial attacks by planes of TASK FORCE 38 and indications were that both Forces were heavily damaged, but this new Northern Force contact by two different reports constituted a fresh threat of undetermined strength. The Northern Force was engaged by planes, cruisers and destroyers of the Third fleet on the morning of the 25th. Two track charts follow: (1) "Japanese Fleet Approaches, 22-24 October 1944", indicates that the ensuing engagements were to be timely, closely-coordinated attacks (page 4); (2) "Three-Pronged Battle of Philippines Sea, 25-26 October 1944:, shows general locations of the Battles of SURIGAO Strait, East of SAMAR (with retiring enemy units under air attack), and East of LUZON (page 5). Composition of Forces A. (Battle of Surigao Strait) OWN FORCES T.G. 77.2 (R. Ad. Oldendorf, OTC, in Louisville Battle Line (R. Ad. Weyler in Mississippi ) (a) T.U. 77.2.1 (R. Ad. Weyler) Mississippi (F) (OBB) Maryland (OBB) (b) T.U. 77.2.2 Tennessee (OBB) California (OBB) Pennsylvania (OBB) DesDiv Xray (6 DDs) Left Flank Force (R. Ad. Oldendorf) Louisville (F) (CA) Portland (CA) Minneapolis (CA) Denver (CL) Columbia (CL) DesRon 56 (9 DDs) Right Flank Force (R. Ad. BERKEY) Phoenix (F) (CL) Boise (CL) HMAS Shropshire (CA) DesDiv 47 plus HMAS Arunta (6 DDs) ENEMY FORCES (Probable) Southern Force (V. Ad. Shapi Nishimura) First Group: BatDiv 2 Fuso (BB) Yamashiro (BB) Mogami (CA-XCV) DesDiv 4 Michishio ? (DD) Yamagumo ? (DD) Asagumo ? (DD) Shigure ? (DD) 4 miles astern of above: Second Group : Ashigara ? (CA) Kiso ? (CL) Kinu or Isuzu ? (CL) Unidentified (3-6 DDs)
Japanese Fleet Approaches--October 22-24, 1944
Three-Prong Battle of Philippines Sea October 25-26, 1944
Composition of Forces (Cont'd) B. (Battle East of Samar) OWN FORCES T.G. 77.4 (R. Ad. T.L. Sprague) Northernmost Station CarGrp (R. Ad. C.A.F. Sprague) T.U. 77.4.3 T.U. 77.4.31 (R. Ad. C.A.F. Sprague) Fanshaw Bay (F) (CVE) St. Lo (CVE) Kalinin Bay (CVE) White Plains (CVE) T.U. 77.4.32 (R. Ad. Ofstie) Kitkun Bay (F) (CVE) Gambier Bay (CVE) T.U. 77.4.33 (Screen) 3 DDs 4 DEs Central Station CarGrp (R. Ad. T.L. Sprague) T.U. 77.4.1 T.U. 77.4.11 (R. Ad. T.L. Sprague) Sangamon (F) (CVE) Suwannee (CVE) Chenango (CVE) Santee (CVE) T.U. 77.4.12 (R. Ad. G.R. Henderson) Saginaw Bay (F) (CVE) Petrof Bay (CVE) T.U. 77.4.13 (Screen) 3 DDs 5 DEs Southernmost Station CarGrp (R. Ad. Stump) T.U. 77.4.2 T.U. 77.4.21 (R. Ad. Stump) Natoma Bay (F) (CVE) Manila Bay (CVE) T.U. 77.4.22 (R. Ad. Sample) Marcus Island (F) (CVE) Kadashan Bay (CVE) Savo Island (CVE) Ommaney Bay (CVE) T.U. 77.4.23 (Screen) 3 DDs 5 DEs ENEMY FORCES (Probable) Central Force (CinC Second Fleet) (Succeeded in passing SAN BERNARDINO STRAIT) BatDiv 1 Yamato (BB) Nagato (BB) BatDiv 3 Haruna (BB) Kongo (BB) CruDiv 5 Myoko (CA) Haguro (CA) CruDiv 7 Suzuya (CA) Chikuma (CA) Tone (CA) Noshiro or Yahagi (CL) DesRons 2 and 10 Unidentified (11 DDs) Planes of TG 38.1 arrived over the retreating enemy at about 1330I/25 and delivered their first attack about 1400I/25.
Composition of Forces (Cont'd) C. (Battle East of Luzon) OWN FORCES ComTHIRD Fleet -- Ad. W.F. Halsey, Jr. T.F. 38 (V. Ad. M.A. Mitscher in Lexington T.G. 38.2 -- R. Ad. Bogan Intrepid (F) (CV) Cabot (CVL) Independence (CVL) Iowa (BB) New Jersey (FFF) (BB) Biloxi (CL) Vincennes (CL) Miami (CL) 16 DDs 25 Oct: Iowa, New Jersey, Biloxi, Vincennes, Miami, DesRon 52 (less 1) detached at 0240 I. 25 Oct: Iowa, New Jersey, Washington, Alabama, Massachusetts, South Dakota, Biloxi, Miami, Vincennes, DesRon 52 (less 1) joined 1055 I. 25 Oct: Iowa, New Jersey, Biloxi, Miami, Vincennes, DesRon 52 (less 1) detached 1600 I. TG 38.3 -- R. Ad. Sherman Essex (F) (CV) Lexington (FF) (CV) Langley (CVL) Massachusetts (BB) South Dakota (BB) Santa Fe (CL) Mobile (CL) Reno (CL) 10 DDs 25 Oct: Massachusetts, South Dakota, Santa Fe, Mobile, 4 DDs detached 0240 I. Santa Fe, Mobile, 8 DDs joined 1055 I. T.G. 38.4 -- R. Ad. Davison Franklin (F) (CV) Enterprise (CV) San Jacinto (CVL) Belleau Wood (CVL) Washington (BB) Alabama (BB) New Orleans (CA) Wichita (CA) 25 Oct: Washington, Alabama, Wichita, New Orleans, 6 DDs detached 0240 I. Wichita, New Orleans, 2 DDs joined 1055 I. TF. 34 -- V. Ad. Lee 25 Oct: Formed at 0240 I. Washington (BB) Iowa (BB) New Jersey (BB) Massachusetts (BB) South Dakota (BB) Alabama (BB) Wichita (CA) New Orleans (CA) Santa Fe (CL) Mobile (CL) Biloxi (CL) Vincennes (CL) Miami (CL) 18 DDs 25 Oct: Dissolved at 1055 I. T.G. 34.5 -- R. Ad. Badger Iowa (BB) New Jersey (BB) Biloxi (CL) Vincennes (CL) Miami (CL) 8 DDs (Dissolved at 0700 I, 27 Oct.) ENEMY FORCES (Probable) Northern Force Zuikaku (CV) Cardiv 3 Chitose (CVL) Chiyoda (CVL) Zuiho (CVL) CarDiv 4 Ise (XCV-BB) Hyuga (XCV-BB) Nachi ? (CA) Tama (CL) Kiso (CL) Abukuma (CL) Oyodo ? (CL) 6-10 DDs
Results of Battle OWN FORCES ENEMY FORCES Surigao Strait Sunk Damaged Sunk Damaged None 1 DD - A.W. Grant 2 BBs - 1 CA - 5 DDs - Fuso Yamashiro Mogami (XCVS) Michishio Shigure (or Nowake ) Yamagumo Asagumo (Unidentified) 1 CA - 1 CL - 2 DDs - Ashigara Kinu (or Isuzu ) (Unidentified) East of Samar Sunk Damaged Sunk Damaged 2 CVEs - 2 DDs - 1 DE - Gambier Bay St. Lo Hoel Johnston Roberts 6 CVEs - 1 DD - 1 DE - Kalinin Bay Fanshaw Bay White Plains Sangamon Suwannee Santee Heermann Dennis 3 CAs - 3 CAs (by SS) 1 CL - 1 DD - Suzuya Chikuma Kumano Atago Maya 10/23 Haguro 10/24 (or Myoko ) Noshiro 10/26 (or Yahagi ) Unidentified 4 BBs - 4 CAs - 1 CL - 6 DDs - Yamato Musashi (sunk?) Kongo Nagato Takao Chokai Tone Aoba Unidentified Unidentified East of Luzon Sunk Damaged Sunk Damaged None 1 CV - 1 CVL - Franklin Belleau Wood 1 CV - 3 CVLs - 1 CL - 2 DDs - Zuikaku Chitose Chiyoda Zuiho Nagara (by SS) Unidentified 2 BBs - 1 CA - 3 CLs - 3 DDs - Ise (or Hyuga (XCV) Unidentified (XCV) Unidentified Oyodo Unidentified (sunk?) Unidentified (sunk?) Unidentified
Box Score Japanese ships from all forces estimated sunk in the PHILIPPINES action 23-27 October 1944. Ship Action BB Fuso Sunk 10/25 in SURIGAO STS. BB Yamashiro Sunk 10/25 in SURIGAO STS. CV Zuikaku Sunk 10/25 east of LUZON CVL Chitose Sunk 10/25 east of LUZON CVL Chiyoda Sunk 10/25 east of LUZON CVL Zuiho Sunk 10/25 east of LUZON CA Atago Sunk 10/23 by Sub CA Maya Sunk 10/23 by Sub CA Haguro Sunk 10/24 in SIBUYAN SEA CA Mogami Sunk 10/25 in SURIGAO STS. CA Suzuya Sunk 10/25 east of SAMAR CA Chikuma Sunk 10/25 east of SAMAR *CL Noshiro Sunk 10/26 in SIBUYAN SEA *CL Nagara Sunk 10/25 by Sub DD Michishio Sunk 10/25 in SURIGAO STS. DD Shigure or Nowake Sunk 10/25 in SURIGAO STS. DD Yamagumo Sunk 10/25 in SURIGAO STS. DD Asagumo Sunk 10/25 in SURIGAO STS. * Ships of the class are known to have been sunk, but the identification of the units is subject to question. Time Table 23-27 October 1944 23 October (Between 0630-0730) Enemy Central Force attacked by submarines off PALAWAN. (CAs Atago, : Maya sunk; Takao turned back.) 24 October Enemy Central Force, minus 3 CAs, entered SIBUYAN Sea, attacked by 3rd Fleet carrier-based aircraft. ( Musashi (BB) damaged; Haguro (CA) sunk.) Heavy Enemy land-based air attack on 3rd Fleet. (USS Princeton (CVL) sunk.) 25 October (Morning) At 0500 Enemy Southern Force met by 7th Fleet in SURIGAO STRAIT. (Eight enemy ships sunk.) At 0700 Enemy Central Force met by Light Forces of 7th Fleet, East of SAMAR ISLAND. (Two Enemy CAs sunk plus other damage. Our losses: 2 CVEs -- Gambier Bay and Saint Lo; 2 DDs -- Hoel, Johnston; 1 DE -- Roberts ) Enemy Carrier Force (Northern Force) met by units of 3rd Fleet East of Luzon. (All enemy carriers (4) destroyed.) 25 October (Afternoon and Evening) At 1300 Enemy Central Force under attack by 3rd Fleet aircraft East of SAMAR. (2 Enemy CAs sunk.) Late that night 3rd Fleet surface force sank crippled CL or DD in SAN BERNARDINO STRAIT. Late on 25th one of our subs sank a Natori Class Cruiser (possibly the Nagaro ) of the Enemy Carrier Force (Northern Force) retiring towards empire. 26 and 27 October Retiring Enemy (Central Force) under air attack by 3rd Fleet aircraft, after passing through SAN BERNARDINO STRAIT and scattering. (Believed Noshiro (CL) and probably one CA destroyed.)
Preliminary Events Commander Task Force 77 (Covering Force) Reports: 1. Some discussion of conditions preliminary to the joining in action of major naval forces is deemed necessary in order that the action may be viewed in proper perspective. During the month of September, carrier-based aircraft of the Third Fleet had made extensive raids on main enemy airbases throughout the PHILIPPINE ISLANDS, with the attacks concentrated on the group of airfields in the vicinity of MANILA, SAN FERNANDO, and LAOAG. These raids by the Third Fleet, under the command of Admiral HALSEY, were most effective in destroying large numbers of enemy aircraft. Starting about 10 October, and continuing through about 20 October, Third Fleet carrier forces delivered destructive and extensive raids on enemy airbases and shipping in the NORTHERN LUZON, FORMOSA, and LOOCHOO ISLAND [Ryukyu Islands] area. These Third Fleet raids, in addition to destroying large amounts of shipping, were effective in destroying large numbers of enemy aircraft and in drawing effective enemy aircraft strength away from the PHILIPPINE area and toward the FORMOSA area. 2. In the meantime, the Third and Seventh Amphibious Forces, covered by surface forces and carrier-based aircraft of the Seventh Fleet, moved north from NEW GUINEA bases to effect a landing on the island of LEYTE. The landing operations were initiated on 17 October when the outpost islands of SULUAN and HOMONHON were seized by a light amphibious group under the command of Rear Admiral STRUBLE, supported by a part of the CVEs and by battleships, cruisers, and destroyers of Task Group 77.2. Minesweeping was commenced immediately to clear the mine barrier thought to exist between DINAGAT ISLAND and HOMONHON ISLAND. The following day a landing was effected on DINAGAT ISLAND and the eastern entrance to LEYTE GULF was effectively secured. Minesweeping was continued and beach reconnaissance completed by underwater demolition teams by 19 October. 3. Early in the morning of 20 October, the amphibious forces moved through the swept channel between HOMONHON and DINAGAT ISLANDS and landed U.S. Army troops of the Tenth and twenty-fourth Corps in two beach areas -- one near TACLOBAN and one near DULAG -- under cover of heavy fire from our surface ships and air bombardment by aircraft from the CVEs of Task Group 77.4. The landings were made exactly on schedule at 1000 Item, 20 October, and progress ashore was satisfactory. Army troops ashore continued to advance for the next three days under strong air and surface ship support, making satisfactory progress against Japanese positions. By 20 October, the third Fleet, under Admiral HALSEY, had moved into supporting positions and his carrier Task Groups continued to bomb and strafe enemy bases in CENTRAL and SOUTHERN LUZON and the VISAYAS. There was no immediate enemy reaction, other than relatively light air attack, to our landing on the island of LEYTE. The enemy air attack, however, gradually increased in intensity despite continued bombardment of his air bases by our air forces. 4. In order that early warning might be had of the approach of any hostile naval forces, submarines had been stationed to guard BRUNEI BAY, BALABAC STRAIT, MINDORO STRAIT, VERDE ISLAND PASSAGE, and to the westward of LUZON off MANILA and northward thereof. Air search from MOROTAI ISLAND, extending from BALABAC STRAIT to VERDE ISLAND PASSAGE, were extended to a radius of 1000 miles, while carrier Task Forces of the Third Fleet and air searches by Central Pacific forces from PALAU and SAIPAN were depended upon to give early information of the approach of enemy forces east of the PHILIPPINES. 5. At 0200, I/23, a submarine reported a radar contact on three battleships southwestward of PALAWAN ISLAND on position latitude 08-20N, longitude 116-20E, course 040 degrees, speed 15 knots. At 0300, I/23, a submarine reported a force of 11 combat ships in position latitude 08-47N, longitude 116-37E on course 039, at speed of 15 knots. At 0340, I/23, the submarine Bream reported a force of at least two heavy cruisers and several destroyers in position latitude 14-05N, longitude 119-43E, speed 10 knots and on a course directed for the VERDE ISLAND PASSAGE, and reported one hit on an Aoba class heavy cruiser. At 0630, I/23, the submarine Darter in position latitude 09-24N, longitude 117-11E, reported 3 battleships, 4 CAs, and three other vessels, and also reported obtaining four torpedo hits in one Atago CA and damaging another Atago class CA. At 0700, I/23, the submarine Dace, in position latitude 9-29N, longitude 117-20E, reported a total of 11 ships, including 3 BB, 2 CA, one CV and many unidentified CA, CL, DD, and reported getting four hits in a Kongo class BB. It was later determined that the attack of these two submarines resulted in the sinking of the heavy cruisers Atago and Maya, and the damaging of the heavy cruiser Takao. The U.S.S. Darter, in the heat of pursuit, subsequently grounded on BOMBAY shoal and had to be abandoned.
6. From the foregoing reports it was realized that large Japanese naval forces were on the move and it was estimated that the Northern Force could arrive at CORON BAY about 2000, I/23, and the large force moving northeast through the PALAWAN PASSAGE could arrive at CORON BAY about 0100, I/24. It was believed that the Japanese might refuel in the vicinity of CORON BAY, and it was now felt fairly certain that they would attempt an attack on our naval forces off LEYTE, probably through SOUTHERN SURIGAO STRAIT. At 2130, I/23, the submarine Angler in position latitude 13-00N, longitude 119-30E, reported 15 to 20 ships, including three probable battleships, on an easterly course at a speed of 18 knots. 7. Presumably based on these excellent submarine reports, Commander third Fleet directed three reinforced air searches to be made by his fast carrier groups on the early morning of the 24th; one to cover the MANILA, VERDE ISLAND PASSAGE, and SIBUYAN SEA areas; one to cover SOUTHERN VISAYAS and CENTRAL SULU SEA area. these searches were successful in locating large enemy forces, and at 0840, I/24, an enemy force reported to consist of 4 BB, 8 CA, and 13 DD was reported just south of MINDORO ISLAND, moving northeastward into the TABLAS STRAIT. At 0904, I/24, aircraft reported a force consisting of 2 BB, 1 CA, and 4 DD in position latitude 08-55N, longitude 121-50E, course northeast, speed 15 knots, and claimed four bomb hits on each of the battleships and rocket hits on the DDs. These two enemy forces will henceforth be referred to as the Central Force and the Southern Force. 8. The Southern Force was again reported by aircraft and attacked at 1000, I/24, in approximately the same position and on the same course as before (See Photographic Section II .) At 1155, I/24, a MOROTAI search plane in position latitude 09-30N, longitude 120-30E, reported 3 CA, 4 DD on course southeast, at speed 10 knots. The morning attacks on the enemy Southern Force had been delivered by the reinforced search group of aircraft of Task Group 38.4, which shortly after 1000, I/24, stated it was moving north to effect concentration with the remainder of Task Force 38, northeast of SAN BERNARDINO STRAIT, and would be out of range of the Southern Force. 9. As reported by Third Fleet aircraft, the enemy's Central Force continued to move northeastward through TABLAS STRAIT and at 1200, I/24, a total of 25-27 combatant ships of this force were reported north to TABLAS ISLAND moving on a general easterly course. Aircraft from Task Force 38 struck at this enemy force between 1430 and 1500I in a position in the SIBUYAN SEA about 30 miles north of SIBUYAN ISLAND. (See Photographic Section III .) The force was reported to consist of a total of 4 BB, 8 to 9 CA, 2 CL, and 12 or 13 DD. Aircraft reports indicated that the enemy force had been severely damaged and was badly disorganized. Nevertheless, aircraft at 1925, I/24, reported substantially this same force moving on a course of 120 degrees towards the northern tip of MASBATE ISLAND and again at 2030, I/24, aircraft reported the same enemy force just north of MASBATE ISLAND on an easterly course, evidently bound for SAN BERNARDINO STRAIT. 10. Commencing with first light and throughout the day of the 24th, enemy aircraft attacked our naval forces off LEYTE at steadily increasing intensity. By morning of the 24th, it was evident that we were faced with two large Japanese naval forces. One, the Central Force, moving eastward towards SAN BERNARDINO STRAIT, and the other, the Southern Force, moving northeastward towards the MINDANAO SEA, while a third force, henceforth referred to as the Northern Force, consisting of 2 CV, 1 CVL, 1 BB-XCVS, 3 BB-CA, 5 CA-CL, and 6 DD, was reported by aircraft at 1640, I/24, in position 18-10N, 125-30E, course southwest, speed 15 knots. 11. By early afternoon of the 24th, it was felt definitely that the enemy intended to attack our naval forces covering the landing at LEYTE ISLAND, and disposition were made accordingly. Thirty PT boats in ten groups of three each were stationed as reconnaissance and attack groups as follows: three groups between SOUTHEAST BOHOL and CAMIGUIN ISLAND, and SIPACA POINT on MINDANAO. The remainder covered the southern entrance to SURIGAO STRAIT and JINATUAN PASSAGE, and the passage between MINDANAO and SOUTHERN DINAGAT ISLAND, with orders to remain south of latitude 10-10N and to report and attack enemy forces sighted. Task Group 77.2, under Rear Admiral OLDENDORF, consisting of 6 OBB, 4 CA, 4 CL, and 24 DD, took up initial station in latitude 10-34N, longitude 125-19E, in a position to guard both the southern and eastern entrances of LEYTE GULF, with orders to attack and destroy any enemy forces attempting to enter the gulf. The carriers of Task Group 77.4 with their escorts were disposed about fifty miles to the eastward of HOMONHON ISLAND in three Task Units within mutually supporting distance and from north to south as follows: 77.4.3; 77.4.1; 77.4.2. 12. In addition to these forces, destroyer pickets were stationed in the southern and eastern entrances to SURIGAO STRAITS to give early warning of enemy approaches. A late afternoon air search to the westward in the MINDANAO SEA to a
distance of about 100 miles from the southern entrance of SURIGAO STRAIT failed to disclose the presence of enemy forces. Searches by night Catalina over the MINDANAO SEA were not productive of reports of enemy sightings. Commander Task Group 73.7 (the Black Cats) was also ordered to conduct a night search to the northward of LEYTE GULF and eastward of SAMAR. Commander Task Group 77.4 was directed to run a search at daybreak for enemy surface ships to the northward covering sector 340 degrees to 030 degrees for distance of 135 miles, point of origin SULUAN ISLAND. Commander THIRD Fleet (Supporting Force) reports in part: 1. On 23 October 1944, from the multiplicity of sighting reports it was evident that the landings on LEYTE had provoked a violent reaction, and that the enemy was preparing to make a major stand of some sort in the PHILIPPINES. The enemy intent was not clear, but his reported naval movements on the 23rd definitely constituted an immediate threat. Commander Third Fleet decided to initiate carrier searches to obtain earliest information of any enemy movement toward LEYTE. 2. After nearly two weeks of intensive operations against OKINAWA, FORMOSA and LUZON, all of the carrier groups needed re-arming except for torpedoes and for the AP and SAP bombs habitually reserved for use against combatant ships. One group, Task Group 38.1, had been started toward ULITHI on 23 October; task groups 38.2, 38.3 and 38.4 were immediately available. 3. On the night of 23-24 October, Task Groups 38.2, 38.3 and 38.4 were moved in close to the PHILIPPINE coast preliminary to launching searches. Task Group 38.3 was placed east of POLILLLO ISLAND to cover the west coast of LUZON; Task Group 38.2 was placed close to SAN BERNARDINO STRAITS; and Task Group 38.4 was sent to the vicinity of SURIGAO STRAITS. 4. At dawn 24 October, search teams each consisting of Hellcats and Helldivers, were launched to cover the west coast of LUZON and the SULU SEA and its approaches. The weather was favorable for search and strike operations. At 0846 (24th) Task Group 38.1 was ordered to put about and proceed toward a fueling rendezvous with Task Units 30.8.4 and 30.8.8 in latitude 15N, longitude 130E at 0700 (25th). 5. At 0810 (24th), search planes from Task Group 38.2 sighted the Center Force in latitude 12-14N, longitude 121-32E on course 015, speed 18. This force was in 2 groups. The composition of the first group was reported as 2 BBs, 3 or 4 CAs or CLs, and 6 DDs. The second group was reported to contain 2 BBs, 3 or 4 CAs or CLs and 7 DDs. The Commander Third Fleet intercepted the search plane report on VHF search frequency, and at 0822 originated an urgent despatch to CTF 38, CTG 38.3 and CTF 38.4 and the usual information addressees, giving the contact, composition, course and speed. This was followed at 0827 by urgent despatch instructing Task Group 38.3 and Task Group 38.4 to concentrate toward Task Group 38.2 at best speed and to strike this force. 6. At 0905 (24th), the Task Group 38.4 search intercepted and attacked a force of 2 BBs, 1 CA, 4 DDs at latitude 08-55N, longitude 121-50E, southwest of NEGROS. The search team reported two bomb hits in each BB, rocket hits on CA and 2 DDs, and heavy strafing of 2 other DDs. It was decided to adhere to the decision to have Task Group 38.4 close Task Group 38.2 and to shift target to the Center Force on the assumption that SEVENTH Fleet forces could take care of the smaller Southern Force. 7. Analysis subsequent to the operation indicates that the Center Force contained 5 BBs, 7 CAs, 1 CL and 13 DDs. Reports of 2 to 3 additional CLs cannot be reconciled. 8. The enemy reacted by launching a vicious air attack against Task Group 38.3. Prior to the enemy attack, our forces shot down 40 planes. About 100 planes were shot down around task group 38.3, but the Princeton was hit hard. Task Group 38.3 was delayed in complying with the order to concentrate by recovery of search and attack groups and by efforts to assist the Princeton. Birmingham, Morrison, and Irwin, while assisting Princeton, were badly damaged when the Princeton's after magazines blew up. Later in the day, in order to be free to move toward the enemy Northern Force, Princeton was sunk (See Photographic Section IV .), and Birmingham, Morrison, Gatling and Irwin were sent to ULITHI for repairs and for hospitalization of the wounded. 9. At this time it was evident that the Japanese navy was making a major effort, whether for direct attack or transporting troops, or both, was not apparent. If this was to be an all-out attack by the Japanese fleet, there was one piece missing in the puzzle--the carriers. They were believed to have been in the Empire; and there had been sightings which indicated that replenishment measures might have been taken for some important movement from Empire waters. Although our submarines stationed in Empire waters had not reported a carrier force, it was felt that they were sure to be employed in some manner in any operation as great as that revealed on the morning of the 24th. Consequently, a search to the north by our carrier planes was ordered, and at 1640 (Item) a search plane from Task Group 38.3 reported a force at latitude 18-10N, longitude 125-30E, course 210, speed 15, (the Northern Force).
10. Amplifying reports of this Northern force varied. CTF 38 listed the force as 3 CVs, 3 to 4 CA and 6 DDs at latitude 18-10N longitude 125-20E, course 210, speed 15, and stated that one of the enemy carriers was an Ise class. Later CTF 38 reported that pilots who had had a good look reported 2 Shokaku CVs, 1 CVL, 3 CLs and 3 DDs on course 270, speed 15 at latitude 18-25N, longitude 125-28E at 1640 Item, while at latitude 18-10N, longitude 125-30E were 4 BBs or CAs, 5 cruisers, 6 DDs on course 210, speed 15 at 1540 (Item). One of the BBs was reported to have a flight deck aft. At 1600 (Item) 2 DDs were reported by a carrier search plane at latitude 19-40N, longitude 123-00E, course 240, speed 12. Commander Third Fleet concluded that the Northern Force was disposed in two groups, estimated to contain a total of at least 17 ships and possibly as many as 24 ships. 11. A curious point was apparent from the contact reports of the three forces: They were all proceeding at deliberate speed and it was inferred that there was a pre-determined focus of geographical location and time. The movements indicated that a carefully worked-out coordinated Japanese plan was in motion, with 25 October as the earliest date of concerted action. 12. Throughout the day (24th) carrier strikes had been launched against the Center Force and all reports indicated that the Center Force was being effective and heavily damaged. (See Photographic Section III .) In the face of these continued strikes the Center Force kept coming with a determination that commanded respect. By dusk the following damage had been reported: at least 4 and probably 5 DDs torpedoed and bombed, 1 probably sunk; a minimum of 3 CAs torpedoed, and other bombed; 1 CL sunk; 1 DD sunk; 1 DD probably sunk, and 4 damaged. 13. Task Group 38.2 made a total of 146 sorties, dropped 23 tons of bombs and 23 torpedoes, reporting the BB Yamato damaged by 3 torpedo hits; another Yamato BB (possibly same one) damaged by 1 torpedo hit and 2 bombs; 1 Nagato BB hit by torpedo and 1 bomb; 1 Kongo BB hit by 2 torpedoes and 6 bombs; 1 CA, Mogami, possibly sunk by torpedo hit; 1 CA, Nachi, hit by 1 torpedo; 1 CA, Tone, hit by 1 torpedo. Task Group 38.3 reported 1 BB badly hit, 2 others damaged, and 4 CAs and [?] CLs damaged in the Center Force. Task Group 38.4 reported 1 BB ( Musashi ?) hit by torpedo, on fire, down at the bow and probably sunk; 1 Yamato BB, 1 to 3 torpedoes, 2 bomb hits; 1 Kongo BB, 1 bomb hit; 1 cruiser damaged; 1 CL sunk; 1 DD sunk; 1 DD probably sunk; 4 DDs damaged. Some details of the foregoing information were not available at dusk but flash reports indicated beyond a doubt, that the Center Force had been badly mauled with all of its BBs and most of its CAs tremendously reduced in fighting power and life. 14. Although the Center Force continued to move forward, the Commander THIRD Fleet decided that this enemy force must be blindly obeying an Imperial command to do or die, but with battle efficiency greatly impaired by torpedo hits, bomb hits, topside damage, fires, and casualties. From long experience with the Japanese, their blind adherence to plan, and their inability to readjust disturbed plans, the Commander THIRD Fleet had long ago adopted a policy of attacking first. The Southern and Center Forces had been under heavy and persistent air attacks while proceeding through inland waters in daylight. Japanese doggedness was admitted, and Commander THIRD Fleet recognized the possibility that the Center Force might plod through SAN BERNARDINO STRAITS and on to attack LEYTE forces a la GUADALCANAL. The Commander THIRD Fleet was convinced that the Center Force was so heavily damaged that it could not win a decision, while the possible maximum strength of the Northern Force, as reported by CTF 38, constituted a fresh and powerful threat. It was decided that earliest possible attack on the powerful Northern (Carrier) Force was essential for breaking up the enemy plan and retaining the initiative. 15. The alternatives were to: Divide the forces, leaving TF 34 to block SAN BERNARDINO STRAITS while the carriers, with light screens, attacked the Northern Force; Maintain integrity of our own entire striking strength concentrated off SAN BERNARDINO STRAITS; Strike the Northern Force with all of our own striking strength concentrated. (a) was rejected; the potential strength of the undamaged Northern Force was too great to leave unmolested, and requiring TF 34 to engage the Center Force while at the same time exposed to attack by land-based and possibly carrier-based air attack was not sound. This alternative spread our strength and risked unprofitable damage in detail. (b) was rejected because it permitted the Northern Force to function as planned unmolested, and because destruction of Japanese carrier forces would mean much to future operations.
(c) was adopted; it maintained the integrity of the B LUE striking fleet; it afforded best possibility of surprise and destruction of enemy carrier force. It was particularly sound and necessary if the strength of the Northern Force proved to be the maximum reported. It was recognized that the Center Force might sortie and inflict some damage, but its fighting power was considered too seriously impaired to win a decision. Finally, it was calculated that THIRD Fleet forces could return in time to reverse any advantage that the Center Force might gain and Commander third Fleet was firmly convinced that (c) would contribute most to the over-all PHILIPPINES campaign even if a temporarily tight situation existed at LEYTE. 16. It was a hard decision to make, and having made it, Commander THIRD Fleet was gravely concerned until he received word that the Center Force had given up in the face of the valiant efforts of the SEVENTH Fleet CVE Groups. 17. At 2022 (24th) Task Groups 38.2, 38.3 and 38.4 were given orders to assemble and make night run toward Northern Force preparatory to dawn attack. The Japanese know how to shuttle from carrier-to-target-to-airfield and all of Commander THIRD Fleet plans had for weeks been predicated on denying the enemy that advantage by closing promptly. 18. At 2030 and 2145 (24th) the Center Force was snooped by an Independence VF(N) north of MASBATE on various course and trailing much oil. 19. During the run north care was taken not to over-run the daylight circle of the Northern Force, as to do so would place the Northern Force between Task Force 38 and LEYTE. By daylight, Task Force 34 was formed up ahead of the carrier groups to provide for coordinated air and surface attack on the Northern Force. 20. Dawn searches were launched and strike groups put in the air ready to hit as soon as contact was made. The Northern Force was located in latitude 18-37N, longitude 126-45E at 0730 (Item) on course 180, speed 20, and the first strikes proceeded at once. Plans BATTLE OF SURIGAO STRAIT CTG 77.2 comments: For a number of days prior to the SURIGAO STRAIT action many reports had been received concerning the movements of Japanese surface forces. It was understood that the Japanese were putting into effect a plan for the relief of the PHILIPPINES and that enemy surface forces were probably about to attack our forces in LEYTE GULF. Mindful of the Japanese activities in the VISAYAN AREA, Commander Task Group 77.2 had decided on 24 October that it would be wise to take precautionary dispositions in the vicinity of LEYTE GULF with particular emphasis on SURIGAO STRAIT, south, and had issued a directive to his forces directing them to take stations with light forces initially located on an east-west line four miles east of TAYTAY POINT, on course east, speed 5 knots, and with heavy forces plus destroyer screen located to the northwestward in Area DRUM south of latitude 10°-46'N. This was equivalent to a battle disposition of the A-1 type (see USF-10A). The directive for Task Group 77.2 to remain in area south of latitude 10°-46'N. Had come originally from Commander Task Force SEVENTY-SEVEN, who had evidently clearly visualized the enemy capabilities. Large enemy forces had been reported and bombed in the SIBUYAN SEA by THIRD Fleet on 24 October in late afternoon, and large enemy forces had been reported and bombed by Task Group 38.4 in the SULU SEA southwest of NEGROS the same day. It was apparent that either of these forces could, if it so desired, reach LEYTE GULF by early the next morning. At 1513 on 24 October, Commander Task Group 77.2 received the following orders from Commander Task Force SEVENTY-SEVEN: BE READY FOR NIGHT BATTLE. JAP FORCE ESTIMATED 2 BB, 4 CA, 4 CL, 10 DD REPORTED TO BE UNDER ATTACK IN EASTERN SULU SEA BY OUR CARRIER PLANES ON 24 OCT. JAPS ABLE TO ARRIVE LEYTE GULF TONIGHT. MAKE ALL READY FOR NIGHT BATTLE. CTG 77.2 REINFORCE BY TG 77.3. PTs IN MAXIMUM NUMBER FROM CTG 70.1 TO BE STATIONED LOWER SURIGAO STRAIT AND STAY SOUTH OF 10-10 NORTH DURING DARKNESS.
PRIOR TO DARKNESS PLACE BOATS IN SECTIONS OF 2 or 3 BOATS EACH AS FOLLOWS: PANAON - SW TIP. SOUTH OF MADILAO POINT. SOUTH OF LIMASAWA ISLAND. 2 OF THE SECTIONS WILL PATROL BETWEEN AGIO POINT BOHOL PAST CAMIGUIN ISLAND TO SEPAO POINT MINDANAO. IT IS IMPORTANT THAT EACH SECTION LEADER REPORTS CONTACTS. Wachapreague AND OTHER SECTION LEADERS MUST RELAY THESE REPORTS TO CODLIVER. FROM OYSTER BAY, 21 BOATS PLACED AS FOLLOWS: PANAON ISLAND - SE TIP. BELAA POINT MINDANAO. 6 SECTIONS IN SURIGAO STRAIT. ONE SECTION OFF SUMINON ISLAND. ONE MEDCHART OFF KANHATIC POINT DINAGAT ISLAND. 2
OFF KANIHAAN ISLAND. ONE SE AMAGUSAN POINT. Wachapreague WILL INFORM LCI-S LAST STATION. AFTER MAKING REPORT OF CONTACT, SECTIONS WILL ATTACK INDEPENDENTLY.
General Situation. Jap air and surface forces appear to be gathering westward in VISAYAS for offensive strike on area of LEYTE. Air attacks have been made all day on our surface forces in LEYTE GULF. Enemy striking group of at least 2 BB, 4 CA, 4 CL, 10 DD may attack tonight after 1900. General Plan. Our force will attack by torpedo and destroy by gunfire at moderate ranges Japan surface forces trying to enter LEYTE GULF thru SURIGAO STRAIT East or South. Battleline. Rear Adm. WEYLER Bat Div 3 less New Mexico, Idaho 4 less Colorado, 2 plus DDs as named repel or destroy Jap battleline by gunfire, fast closing to moderate range of from 17,000-20,000 yards. CruDivs 4 less Indianapolis plus Minneapolis, 12 less Cleveland and Montpelier plus DDs as named -- left flank forces -- defend left flank of own battleline. Strike battleline of enemy, Rear Adm. BERKEY CruDiv 15 less Nashville, Shropshire (R.N. Cruiser), DesDiv 47 -- Right Flank Force -- defend right flank of own battleline. Attack battleline of enemy. X-ray battle disposition used like A-2 in USG-10A. (See page 78-16 ). BBs in first station Lat 30-35 (E. of HUNTUNGAN POINT) Longitude 125-16E and steaming at 5 knots in easterly direction. BBs should turn at Longitude 125-27E and, unless otherwise directed, operate within these limits of longitude with DD screen as needed. Stations on battleline will be kept by flank forces. Before battleline engagement, torpedoes may be fired. Be on the lookout for enemy torpedoes, remembering possibility of going thru Jap torpedo waters before attack. Primary voice designated channel A to be used -- 3845 kilocycles. As secondary voice designated channel B use 3980 kilocycles. For CW communications use 575 kilocycles. Use -9 time. CTG 77.2 with left flank force in Louisville.
Type "A" Battle Disposition for Small Task Forces A-2 Light Forces Equally Divided Figure 8.
any responsibility for covering the exit of SAN BERNARDINO STRAITS, either by reconnaissance or by force, and in the absence of any information that this exit was no longer blocked, it was logical to assume that our northern flank could not be exposed without ample warning. 2. Had this T.U. had any reason to suspect that an enemy sortie could be made through SAN BERNARDINO Straits undetected by other U.S. forces, a search to the northwest would have been launched from a more easterly position, and it is probable that a direct surface action could have been avoided. BATTLE EAST OF LUZON. Under PRELIMINARY EVENTS it was pointed out that Commander THIRD Fleet had decided to adopt the third alternative, (c); namely, "Strike the Northern Force with all of our own striking strength concentrated." Also, repeating, this PLAN or alternative was adopted because it maintained the integrity of the B LUE striking fleet, and it offered best possibility of surprise and destruction of enemy carrier force. it was particularly sound and necessary if the strength of the Northern Force proved to be the maximum reported. It was recognized that the Center Force might sortie and inflict some damage, but its fighting power was considered too seriously impaired to win a decision. Finally, it was calculated that the THIRD Fleet Forces could return in time to reverse any advantage that the Center Force might gain and Commander THIRD Fleet was firmly convinced that (c) would contribute most to the overall PHILIPPINES campaign even if a temporarily tight situation existed at LEYTE. it was a hard decision to make, and having made it, Commander THIRD Fleet was gravely concerned until he received word that the Center Force had given up in the face of the valiant efforts of the SEVENTH Fleet CVE groups. At 2022 Task Groups 38.2, 38.3 and 38.4 were given orders to assemble and make night run toward Northern Force preparatory to dawn attack. The Jap knows how to shuttle from carrier-to-target-to-airfield and all of Commander THIRD Fleet plans had for weeks been predicated on denying the enemy that advantage by closing promptly. Narrative Battle of Surigao Strait Commander Task Force 77 summarizes briefly: 1. About 0030I/25 PT boats between BOHOL and CAMIGUIN sighted, reported, and delivered an attack against a fast approaching enemy force on a course for SURIGAO STRAIT. At 0123I/25 PT boats at the southern entrance to SURIGAO STRAIT reported strong enemy forces moving north at high speed in two groups (see page 78-18 ), the first group consisting of 6 to 8 ships including several heavy units, and a second group about four miles astern of the first group and composed of about 8 ships. As the enemy moved north, PTs drove into the attack, but, so far as can be determined, without effecting any material damage. Our Surface forces closed the enemy to form a semi-circle around the northern end of the strait -- battleships in the center, cruisers and destroyers equally divided on each flank. 2. The action was opened at 0305I/25 by a destroyer torpedo attack delivered by picket destroyers, and torpedo attacks from both east and west against the enemy heavy ships by our destroyer attack groups. This was an excellently executed night torpedo attack by sections of three destroyers each. The torpedoes were seen to hit, the enemy column was slowed and many explosions noted. The destroyer attack was completed about 0400I/25 and at 0405I/25 our PT's and cruisers on easterly courses opened fire simultaneously at range of sixteen to seventeen thousand yards. By 0445I/25 the remaining enemy had turned away and was in flight, hotly pursued by our surface forces. A few of his units were successful in escaping westward through southern SURIGAO STRAIT. (See page 78-19 ). 3. from the best information presently available, it is believed that the enemy's southern force which moved into SURIGAO STRAIT, commanded by Vice Admiral Shapi Nishimura, was organized as follows: First Group -- Batdiv 2 Fuso, Yamashiro Mogami 2 BB 1 CA-XCVS Desdiv 4 Michishio, Yamagumo Asagumo, Shigure 4 DD About four miles astern of the above:
SEQUENCE OF CONTACTS AND REPORTS OF ENEMY SHIPS ATTEMPTING ENTRY OF LEYTE GULF NIGHT OF 24-25 Oct. 1944
TRACK CHART of NIGHT ACTION SURIGAO STRAIT Night of Oct. 24-25, 1944
Second Group - Ashigara Kiso, Kinu or Isuzu Unidentified 1 CA 2 CL 6 DD 4. Of the first group, only the damaged Mogami is thought to have escaped the early morning action. In this action also the Ashigara (CA) and two DDs of the second group were damaged, and the damaged Ashigara was probably sunk by aircraft of Task Unit 77.4.2 south of PANAON Island about 0857I/25, while between 0750 and 0841 the damaged Mogami and several destroyers were further damaged by air attack at the entrance to SOGOD Bay. As experienced by Cruiser of Left Flank (CO Denver reports): 1. A Japanese force, believed composed of 2 BB's, 2 CA's, 2 CL's and 10 DD's, was engaged and decisively defeated in SURIGAO STRAIT in the early morning of 25 October by a Task Group under the tactical command of Rear Admiral J.B. Oldendorf, U.S. Navy, this ship being a unit under Rear Admiral R.W. Hayler in the left flank forces of the above Task Group. Vice Admiral T. C. Kincaid commanded the force. 2. Submarine and plane sightings throughout the 23rd and 24th showed the enemy to be concentrating in the MINDORO area for what could only mean an attempt in strength to destroy our fleet units protecting LEYTE Gulf and thus cut off and annihilate our land forces on LEYTE and nearby islands. 3. Soon after 0100 on the 25th, contacts from PT boats stationed at the southern entrance reported sightings of several ships entering the straits from the southwest between CAMIGUIN and BOHOL Islands. 4. As the enemy ships, disposed in two columns, one leading the other by about 4 miles, proceeded north, attacks were made by our PT boats and picket destroyers with several torpedo hits claimed. Many amplifying reports were made by these ships to the O.T.C. During the three hours which intervened between their first contact and the time of commencing gunfire by Admiral Oldendorf's forces deployed at the north end of the strait. 5. Tactically the situation could hardly have been more unfavorable for the enemy. He ran a gauntlet of our PT boats and destroyers in order to arrive at the northern end, to find on first contact his "T" capped by a superior force already deployed. It must be assumed that from his plane observations during the previous days he had accurate knowledge of the composition of the forces opposing him. 6. Almost from the time of commence firing at 0350 the enemy ships appeared to observers in this ship to be a continual mass of flame and explosions, with the exception of two which appeared to CIC to countermarch and escape at high speed to the southward. 7. After daylight, the forces of the left flank made a sweep down the channel to polish off the cripples and sank what appeared to be a Katori class cruiser with her bow missing. observed also were four other ships sinking which could not be identified because of the heavy oil smoke and flames surrounding them. (See Photographic Section V .) This sweep was discontinued when word was received that an enemy force of 4 BB's, 8 CA's, and several DD's had been sighted off Samar, attacking our CVE's. If this second force had entered SURIGAO Strait east at the same time that force one was coming up the southern strait the battle might have taken a disastrous turn since all our ships were low on ammunition, this ship having entered the action with only 1200 rounds of A.P. Such may have been the enemy's intent, changed by the fight put up by the CVE's. But regardless of his intent, the desperate effort to destroy our naval forces in LEYTE Gulf was frustrated and his fleet was dealt a crushing blow. As experienced by Cruiser of Right Flank (CO Boise reports): 1. Earlier in the day (24th), about 30 PT boats of Task Group 70.1 were ordered south and deployed so as to observe the southern approaches to SURIGAO Strait, with orders to report and attack with torpedoes if the enemy appeared. These units were on station by early evening. At 2310 PT 127 made contact with and reported an enemy force 10 miles off the southeast tip of BOHOL Island. Later, at 0040 25 October, this same boat reported two contacts bearing 310°T, distance 10 miles from CAMIGUIN Island. A third PT contact at 0123 reported by Wachapreague placed the enemy bearing 140°T, distance 18 miles from TAANOAN Point. These contacts indicated that an enemy force was approaching SURIGAO Strait. This was made certain when a fourth report, this time by PT 13 at 0202, placed the enemy off the southern end of PANAON Island and standing up the strait. The enemy force appeared to be composed of at least two very large targets and several smaller ones.
2. Boise's first radar contact with the enemy was made at 0252, bearing 164°T, range 47,900 yards. A track was immediately established and the plot from 0252 on is shown on page 21B. At 0254 a second contact was made with a force astern of the initial contact about 4000 yards. From the radar screen there appeared to be two columns of three or four ships each, with a large ship in the lead of each column. (The ships astern of column leaders did not separate on the screen until several minutes later). Prior to contact, own forces deployed for battle had patrolled on an east-west line at the northern exit of SURIGAO Strait. After contact, destroyers headed down channel to attack with torpedoes. Their attacks commenced at about 0300 and continued intermittently until about 0400. Several hits were reported. 3. The gunnery phase of the battle was fought in the classic style of the formal battleline engagement. By 0350 the enemy van was well within range and OTC ordered commence firing, the battleline opening up at about 0350. Boise opened fire on order from Commander Right flank forces (CTG 77.3) at 0351 with main battery to starboard on the largest target in the van, range 18,100 yards, bearing 053°T. A steady rate of fire was maintained and many hits were observed on the target. The enemy continued to advance up the Strait at first, but by 0400 all units appeared to be veering off to the west and south; the enemy was being heavily hit. At about 0401, shell splashes were observed near HMAS Shropshire. The splashes were all short initially, then all overs. A few moments later, several salvos were heard passing directly over Boise. Boise ceased firing on order at 0410 with target bearing 154°T, range 12,800 yards, having expended 439 rounds of 6"/47 calibre armor-piercing projectiles. Shortly after commence firing, fires were seen to break out on several of the targets, some of an apparently serious magnitude. At 0420 orders were received from Commander Task Group 77.2 to resume fire. However, no suitable targets were within effective gun range of Right Flank cruisers. The target (battleship) which had been the object of our fire was by this time apparently retiring down the Strait and rapidly drawing out of range. All other enemy units also appeared to be in full retreat down the Strait. As experienced by Destroyer of Right flank (CO Daly reports): 1. Shortly after sunset our own forces formed battle disposition A-2, U.S.F. 10A, with light forces on both bows in the van of the battleline axis 135 (T), deployment course 225 (T). Task Group 77.3 occupied the van position to starboard of the fleet axis, with cruisers on the 14,000-yard circle. DesDiv 47 occupied a position 8,000 yards ahead of the cruisers. This group of destroyers was divided into two attack groups: Section I -- Hutchins, Daly, Bache. Section II -- HMAS Arunta, Killen, Beale. 2. The entire force maneuvered at slow speeds, fleet center in vicinity of Latitude 10°34'N., Longitude 125°19'E. The entrance from the strait to LEYTE GULF was completely blocked. Thirty PT boats were stationed in ten groups of three each at the southern entrance of SURIGAO STRAIT, operating south of Latitude 10°17'N. 3. The weather during the early part of the night was far too beautiful to serve our purpose. The moon shone brightly with visibility to at least 8,000 yards; light breezes were blowing, and the sea was calm. Fortunately, before the enemy arrived the moon had set. Local squalls visited the area, bringing low overcast clouds and a dark black night. Zero visibility was interrupted only by intermittent vivid flashes of lightning which transpired around us. 4. Commencing at 0920, when they reported an enemy force ten miles southeast of BOHOL ISLAND, contact reports were received regularly from the PT boats. At 0132 they reported the enemy force nine miles southwest of PANAON ISLAND, and at about 0240 five miles west of KANIHAAN ISLAND steaming north at twenty knots. Numerous star shells and occasional sweeping searchlight beams could be seen over the southern horizon from this vessel, indicating that the PT boats were harassing the enemy. 5. Ships of DesRon 54 started south, down SURIGAO STRAIT, about 0230. Remey, McGowan, and Melvin steamed down the eastern shore. Monssen and McDermut steamed down the western shore, passing near ships of DesDiv 47 which were at that time three miles due east of HUNUNDAYAN. The eastern group executed the first torpedo attack of the battle, followed by the two ships west about 0310, and commenced retirement to the north at high speed. A large explosion was seen to the southeastward by Daly personnel at 0316; this explosion was probably a result of the torpedo attack by DesRon 54. 6. Daly made radar contact on the enemy force at 0248 from a position two miles east of HINUMDAYA. (See page 78-22). At time of first plots, Daly's position was Latitude 10°21.3'N., Longitude 125°16'47"E. Enemy bearing was 164 (T), range 30,400 yards, with several targets on a
U.S.S. Daly Battle of Surigao Strait October 25, 1944
northerly course at 17 knots. Contact was reported to CTG 77.3 on the task group common circuit, 2748 KCs. 7. DesDiv 47 turned and started south in column at 0307, speed 15 knots. HMAS Arunta was directed to lead her group eastward to attack, and at 0314 Arunta, Killen and Beale commenced approach for torpedo attack on course 140 (T) at 25 knots, laying funnel smoke during approach. The Arunta's attack unit fired torpedoes at 0327 from a position about 7,000 yards on the port bow of the enemy formation and then reversed course, retiring to the northwest. 8. At 0321 Hutchins, Daly and Bache increased speed to 25 knots on course 180 (T) and commenced approach for torpedo attack, laying funnel smoke. We passed Monssen and McDermut close aboard to starboard as they retired to northwest at high speed. 9. Leading enemy ships were bearing 115 (T) at 13,000 yards. Only the van units could be seen on the short range PPI scope at this time. There appeared to be four large ships in an approximate line of bearing normal to their course, 010 (T). The enemy was attempting to illuminate this attack unit with starshells, but all stars burst short until 0326 when one bright greenish star burst a thousand yards broad on Daly's starboard bow. Hutchins turned left to 050 (T). Daly and Bache followed in her wake, all three ships standing by to fire a half salvo of torpedoes to starboard. 10. Seen on the SG radar PPI, the enemy disposition consisted of two groups of ships: Four large ships abreast, interval about 500 yards, were out ahead. Two thousand yards astern was a second group of three large ships (the largest pips on the radar scope), formed on a line of bearing normal to the course, 010 (T), interval about 500 yards. One (or more) smaller targets was a few hundred yards west of these ships. Evaluator's original estimate of the enemy force was nine ships in this northern group. 11. At 0329 Hutchins altered course left to 000 (T) and fired five torpedoes to starboard. Daly followed in her wake. At 0330 two torpedoes crossed Daly's bow, the closest not more than 50 yards ahead, from starboard to port, on approximately course 280 (T). The wakes of these torpedoes could be seen forming as they approached. Bubbles were just rising as Daly's bridge crossed torpedo track number two with the water still sizzling. A light trail of smoke could be seen rising from the bubbles. Bubbles from torpedo track number one were rising just forward of the stem at the same moment. Both of these torpedoes were first detected by underwater sound equipment. They were too close, however, to permit evasive maneuvers. 12. Hutchins reversed course to the left after firing torpedoes. Daly held course and at 0332 fired five torpedoes to starboard, using as target an enemy ship of the second group (largest pip visible on SG radar), bearing 099 (T), 10,700 yards, course 010 (T), speed 16 knots; torpedo course 055 (T), speed 27 knots, depth six feet. After firing, reversed course to left, Bache fired five torpedoes to starboard at 0335 and followed in Daly's wake. Stopped funnel smoke at 0338. 13. Main battery trained on enemy vessel in vicinity of second enemy group, a relatively small pip. Commenced firing to port at 0341 on this target, bearing 025 (T), range 11,000 yards. Target appeared to have reversed course, making 16 knots. Small bursts could be seen at the target as salvos landed. FD and SG radars indicated salvos were hitting. Checked fire at 0344 as Hutchins turned left to cross our bows. 14. At 0344 three large explosions, unmistakably torpedo hits, in quick succession were observed by all bridge personnel and repair parties bearing about 045 (T). Each explosion was a round ball or dull orange flame which subsided and disappeared almost immediately. The ship which was hit by these torpedoes immediately opened fire with major and minor calibre guns, frantically throwing steel through 360°, and initiating general gun action between both forces. 15. It is certain that these three torpedo hits were made by Daly's torpedoes fired at 0332, twelve minutes before, for the following reasons: radar plot shows a large target in Daly's torpedo water at a range of 10,800 yards from point of firing, the exact distance a 27-knot torpedo will travel in twelve minutes. Subsequent plots reveal that this target decelerated and was making only 2 knots at 0400. Hutchins' torpedo course was 120 (T). She fired at a different target to southeastward three minutes prior to launching of our torpedoes. Bache apparently fired at same target as Daly but three minutes later, so that her torpedoes could not have arrived at point of contact at 0344. It is entirely possible that she also registered hits.
DesRon 54 conducted first attack with "torpedoes away" prior to 0320, since the last destroyers of that group to attack ( Monssen and McDermut ) passed Daly to westward on retirement course at that time. From PPI tracing their firing range was close to 7,000 yards, so that their torpedoes hit long before 0344. Section III ( Arunta, Beale, Killen ) launched torpedoes at 0327 at a range of 6500-7000 yards. Their torpedoes reached their marks within the maximum time of 9 minutes or prior to 0336. Torpedoes fired by DesRon 56 were fired after 0350. In addition, these ships were on the eastern flank and there would be little chance of seeing torpedo hits on the other sides of large enemy ships from our western position. Our TBS log shows that these ships were ordered to fire a half salvo at 0348 with "standby to fire" at 0354. 16. Daly resumed gunfire to starboard on first gun target at 0347 after turning left in Hutchins' wake to 050 (T). Further hits were observed on radar scopes but no further visual results noted other than small flashes at target, apparently caused by projectile impact. Resumed laying funnel smoke. 17. At 0352 checked fire and changed course left to 310 (T). Cruisers of TG 77.3 opened fire on enemy, firing north to south. Daly shifted to new target bearing 032 (T), 7,500 yards, and commenced firing at 0355. Target was hit on the first salvo. Tracers could be followed into the hull of this vessel. On the third salvo this target exploded and burst into flames. Bache also took this target under fire and the continued salvos of both destroyers continually hitting in rapid succession brought results which were gratifying to see. The light from the fires and explosions positively identified this ship as a heavy cruiser. Our fire forced the enemy to turn away. Target angle on opening fire was 045 (T), changing slowly to 160 (T). After the first explosion, target flashed two large searchlights and fired a red very star. It continued to be hit repeatedly by Daly and Bache. Debris flew into the air as each salvo hit. After it burst into flames, this target was taken under fire by B LUE heavy units to the north, and it is certain that it never escaped. Through descriptions of this target by bridge and director personnel, particularly through description given by rangefinder operator, it has been established that this target was a Furutaka class heavy cruiser. Since we were clearing the area in order not to foul the range of our battleships and cruisers, it was necessary to cease firing on this cruiser and shift to a target farther north. 18. At 0402 picked up a large enemy ship bearing 043 (T), 11,000 yards, our third and last gunfire target, and commenced firing at 0403. Changed course right to 330 (T) and increased speed to 30 knots. This ship had apparently been firing at our group for some time with its secondary battery. In the lightning flashes at least three salvos, which were only from 50-100 yards over in range, were seen to land midway between Hutchins and Daly. Some salvos were also heard by director crews and after 40 MM and 20 MM battery crews, passing overhead. No "shorts" were observed. 19. Immediately after we opened fire on this ship, a salvo with one tracer was fired at us. It was definitely on in deflection for it gave the sensation of standing in center-field waiting for a fly-ball which will land in one's glove. Fortunately this salvo passed overhead, landing from 200-300 yards over. 20. This enemy vessel was a heavy cruiser or battleship for it was firing major calibre guns at our heavy units to the northward and was under heavy fire from our ships. It is certain that its escape was impossible. 21. It is possible, from the fact that three or more successive salvos landed midway between Hutchins and Daly, that the enemy has some type of fire control radar and that he experienced a bleeding or convergence of pips from our two ships. 22. At 0405 ceased firing and proceeded on northerly course past B LUE forces which were advancing southward toward the disintegrating enemy. At 0425 slowed to 20 knots and at 0431 slowed to 15 knots, operating several miles north of CABUGAY GRANDE ISLAND. Enemy ships which were still afloat and retreating in a damaged condition were sunk one after another by our battleships, cruisers and destroyers. This job was completed shortly after daylight. 23. At 0509 formed anti-aircraft disposition with Task Group 77.3 and steamed southward toward KANIHAAN ISLAND. At daylight seven heavy pillars of billowing black smoke could be seen on the horizon ahead. One by one these pillars of smoke disappeared as the ships from which they originated sank under the gunfire of our ships. (See Photographic Section V .) Hundreds of survivors were reported in the water, almost all of whom refused to be rescued and were left to their fate.
24. No enemy ships remaining by 0730. Task Group 77.3 reversed course to northward, retiring from SURIGAO STRAIT. Increased speed to 27 knots. 25. At 0744 enemy aircraft were reported approaching, and at 0811 fifteen Japanese dive-bombers (V ALS attacked the force five miles east of HIBUSON ISLAND. The planes were driven away by gunfire after at least four had been shot down. Daly expended 33 rounds of 5"/38 AAC ammunition but the planes were at all times at maximum range and results were negative. 26. Task Groups replenished fuel and ammunition in LEYTE GULF during the day in preparation for an anticipated enemy surface attack on LEYTE GULF on the night of 25 October. This threat, presented by strong enemy surface force operating east of SAMAR ISLAND, did not materialize. Battle East of Samar Commander Task Force 77 summarizes briefly: 1. At 063I/25 [ sic ] aircraft anti-submarine patrol of Task Unit 77.4.3 (Northern CVE Group) reported many enemy battleships, cruisers, and destroyers on a southerly course about 15 miles north and westward of the Task Unit. The first news of this enemy force was received on board the flagship about 0724I/25 when Commander Task Unit 77.4.3 reported that he was under gunfire attack by four battleships, eight CAs and many destroyers, at a range of about 30,000 yards. This was the first indication that the enemy's Central Force had succeeded in passing through SAN BERNARDINO Straits. Up to this time, from information available to Commander SEVENTH Fleet, it was assumed that THIRD Fleet forces were guarding the SAN BERNARDINO Straits in position to intercept and destroy any enemy forces attempting to come through. To confirm this assumption, Commander SEVENTH Fleet had sent a despatch to the Commander THIRD Fleet asking if he was guarding the SAN BERNARDINO Straits. Reply was not received until after the enemy surface forces were attacking our Northern CVE Group. 2. At this point, the situation appeared very critical. Our surface combatant forces were deep in the southern part of SURIGAO Strait after the battle of the early morning, and after five days of almost continuous bombardment of shore objectives and fighting a naval action, they were exceedingly short of ammunition and fuel. Moreover, the destroyers had expended almost all their torpedoes. Nevertheless, all of our available surface forces were ordered to concentrate at eastern entrance LEYTE Gulf, preparatory to moving to the support of the retiring CVEs, and an urgent call for assistance was sent to Commander THIRD Fleet. All aircraft were recalled from support missions and were directed against the enemy's Central Force attacking our CVEs. Task Units 77.4.1 and 77.4.2 moved northward to support of Task Unit 77.4.3 and the enemy was hit with every conceivable form of plane attack, including dummy torpedo runs by planes without torpedoes. 3. At about 0730, in response to orders to cover a retirement of the northern carrier task Unit, two destroyers -- Hoel and Johnston -- and the Roberts (DE) reversed and delivered a daylight half-salvo torpedo attack against the enemy battleships at a range under 10,000 yards, then turned and delivered the other half salvo against enemy heavy cruisers at a range of about 7,000 yards. After one of the most gallant and heroic acts of the war, all three ships were sunk, although the Hoel continued to withstand concentrated enemy fire for about one hour before finally sinking. As a result of continuing air action by our CVEs and the destroyer attack, the enemy momentarily turned away and several of his ships were seen to be hit and in trouble. 4. The enemy, however, resumed the action and about 0900I/25 the Gambier Bay was badly hit, dropped astern, and later blew up and sank as a result of enemy shell fire. (See Photographic Section VI .) The Saint Lo was sunk about 1050I/25 as a result of an enemy dive bomber crashing into the flight deck and starting a tremendous fire. This fire caused several violent explosions on the ship and the Saint Lo sank without further enemy action. (See Photographic Section VII .) At 1255I/25 the enemy force turned away and commenced retirement towards SAN BERNARDINO Strait on a course of 105 and speeds of 15 to 20 knots, leaving several damaged ships behind. Throughout the morning and continuing into the afternoon, our CVEs were the primary target of incessant and strong enemy air attack. As a result of these attacks and of enemy surface gunfire, many of our CVEs were severely damaged and were unable to land or service their planes. In this extremity, the partially completed TACLOBAN airfield was put into use and CVE planes were skillfully landed on that partially completed airfield, serviced, and returned to the attack, thus saving many planes and pilots who would otherwise have been lost due to water landings. it is remarkable that in these landings on an unknown and ill-kept field no serious injuries were sustained by our air personnel, which speaks very highly for their skill. 5. Planes of Task Group 38.1 arrived over the retreating enemy at about 1330I/25 and delivered their first attack about 1400I/25. As
the enemy continued to retreat northward, they were continually attacked and harassed by the planes of 38.1 and by the planes of the CVE Force. The enemy's remaining forces consisting of about 14 ships, including his four battleships, were last reported entering SAN BERNARDINO Straits at 2200I/25, leaving several cripples far to the rear. These were finished off the next day by the forces of Task Force 38. Except for the pursuit phase, this ended the Battle of LEYTE Gulf in which the enemy's major fleet was decisively defeated with heavy loss. CTU 77.4.3 (Unit of Northernmost Station CarGrp) reports: 1. On the morning of 25 October TU 77.4.3 was operating off the east coast of SAMAR providing routine support for the LEYTE Landing forces, when it was surprised and attacked by a major part of the Japanese Fleet. WAR INSTRUCTIONS, (F.T.P. 143(A)), PAR. 233 (f), STATES IN PART, "A FORCE SURPRISED IS AT LEAST PARTIALLY DISORGANIZED AND DEMORALIZED AND HAS DIFFICULTY IN REGAINING THE INITIATIVE AND COORDINATING AND CONCENTRATING ITS PHYSICAL STRENGTH. IT FOLLOWS NATURALLY THAT OUR OWN COMMANDERS MUST NOT BE SURPRISED."
T.U. 77.4.3 Track Chart Battle East of Samar 25 October 1944
Composite Plot of TU 77.4.1, 77.4.2, 77.4.3 Tracks Battle East of Samar 25 October 1944
be observed were directed at the heavy cruisers to port, and this, considering the circumstances, seemed remarkable both in rate of fire and accuracy, being well on in deflection and good although tending to be slightly under in range. 10. As the Japanese cruisers gained on the port flank the Task Unit was forced continually to veer to the right toward the shoreline. In this process, and consequent to individual maneuvers and differences of speed, the disposition became scattered out along the southwesterly course line with White Plains, Kitkun Bay and Fanshaw Bay in the lead. As a result, the heaviest fire was directed on the other CVEs and the screen and many near misses and straddles were observed. 11. At 0754 a vessel of the screen reported torpedoes approaching the carriers from the starboard quarter. TIMELY WARNING OF APPROACHING TORPEDOES HAS SAVED SHIPS.
DYE-LOADED SHELLS ARE FREQUENTLY USED BY JAPANESE.
SMOKE SCREENS ARE EFFECTIVE AGAINST OPTICALLY-CONTROLLED GUNFIRE.
THE GRAVENESS OF THE SITUATION IS EMPHASIZED BY THESE HEROIC ACTS.
23. The surviving CVEs and four escorts continued on a southwesterly course and made preparations for launching further air attacks on the retiring enemy. 24. No further attack by surface units was experienced, but reports of bogies over the next half hour culminated in scattered but determined attack by enemy dive bombers. (See Photographic Section VII .) At 1050 Kitkun Bay suffered minor damages and a small gasoline fire when a T ONY Made a suicide dive through the catwalk on the port side forward. About five minutes later St. Lo (ex- Midway ) was dive bombed by a plane which, hit by AA, flamed as it passed across the deck and splashed on her port beam. A burst of fire was seen on board St. Lo, caused either by the bomb explosion or by parts from the burning plane; it died down rapidly but was followed in the next few minutes by a series of extremely heavy explosions which threw smoke and debris high into the air and by violent flames showing from the hangar deck. When last seen, personnel were abandoning ship over the starboard side forward. At 1114 the surviving ships of the screen were ordered to stand by St. Lo to pick up survivors and from this time the CVEs proceeded without a screen. 25. Kitkun Bay was subject to a further attack at 1120 when a J UDY carrying a heavy bomb dove into the water just off the bow, throwing tons of water and considerable shrapnel over the bridge and the forward part of the ship. 26. Shortly after this attack, the Kitkun Bay launched 4 TBM with the torpedoes remaining on board to strike the retiring Japanese Fleet. A little later radio contact was established with the first fast carrier striking group who were vectored toward the enemy. 27. What remained of task unit 77.4.3 -- Fanshaw Bay, White Plains, Kalinin Bay and Kitkun Bay -- retired south and southeast throughout the afternoon, recovering aircraft as practicable, and headed for an evening rendezvous that had been arranged with TU 77.4.1. This latter unit was within TBS range when at 1938 a single skunk was observed closing the formation from the quarter. Identification proving impossible, request was made to CTU 77.4.1 for screening ships to investigate the contact. At 2050 three destroyers assigned to this task were closely approaching the contact when it disappeared. One DD reported sighting a conning tower and attacking with depth charges, after which contact was not again made. 28. Enemy snoopers were overhead during the early part of the night and one was shot down by the destroyers investigating the previously mentioned contact. No attack on this unit developed, however, and without further incident the four CVEs accompanied by a "borrowed" screen departed LEYTE Area. CTU 77.4.2 (Southernmost Station CarGrp) reports: At 0814 TU 77.4.3 reported his position as 11° 34' N, 126° 25' E and changing course to 205°T. Also "We have been straddled for last half hour"; "We have not been hit yet, their shooting is very bad". TU 77.4.2 at 0800 was at 11° 13' N, 126° 49' E (11° 13.5' N, 126° 32.5' E) on course 160°T, speed 17 knots except when into wind launching aircraft which required a heading to the northeast. The enemy force was between the two Task Units, at a position estimated to be abaft the port beam of TU 77.4.3 and on the starboard quarter of TU 77.4.2. ComDesDiv 94 (Captain Reynolds) in Haggard, with the Hailey and Franks took position about 3 miles astern of the carriers to intercept any light forces in the van of the enemy's main force attempting to attack. When shell fire fell near our DDs, CTU 77.4.2 ordered them to close the formation. The five DEs took station ahead of carriers for screening. The enemy was estimated to be about 20 to 25 miles astern, closing at the rate of 1000 yards every ten minutes, speed 30 knots. Enemy shell fire was reported falling short of the destroyers at 0817. 2. At 0833 changed course to 037°T to launch Strike No. 2 and land 6 VT from TU 77.4.3. The launching and landing was completed by 0844 when course was changed to 140° T. Strike No. 2 consisted of 8 VF and 16 VT, the latter loaded with torpedoes. At 0834 a pilot observing in the air reported that TU 77.4.3 on southerly course was on bearing about 300°T distance 17 to 19 miles from this unit, that cruisers were firing off TU 77.4.3's port quarter, and that a battleship and two heavy cruisers were astern of TU 77.4.2 about 20 miles with another battleship 30 miles astern. At 0841 this Task Unit was again taken under shell fire by heavy enemy ships astern. This fact and the Task Unit position, 11° 13' N, 126° 52' E. were reported to CTG 77.4 and CTG 77. CTU 77.4.2 estimated the shells to be 8-inch. Shells straddled the destroyers astern the formation with no hits. An enemy plane was reported to the west. A VT from this unit attacked a submarine NW of and 20 miles distance from TU 77.4.3.
3. At 0855 Strike No. 1 initiated its attack on the enemy. Part of this flight attacked 2 heavy cruisers and 1 light cruiser, which had TU 77.4.3 under close fire, and successfully scored two torpedo hits, one on each of the heavy cruisers. The balance of Strike No. 1 supported by Strike No. 2 attacked the two heavy cruisers and one battleship directly astern of Task Unit 77.4.2, obtaining two torpedo hits on one of the heavy cruisers. 4. The main weight of this attack struck the enemy between 0910 and 0930. At 0924 the nearest ship had closed to sixteen miles, shell fire was coming closer to the CVEs (a salvo falling about 1700 yards astern), and enemy masts were observed on the horizon. Unprecedented valor was displayed by the pilots in executing attacks against these heavy combatant ships. FMs were the only support for the VT as they persistently attacked. Evaluated reports and photos indicate that two torpedo hits on a heavy cruiser ( Tone Class) and one torpedo hit on a battleship ( Kongo ) were scored in these important first two strikes. The effect of the attacks caused the enemy to circle immediately and discontinue gunfire on this Task Unit. CTU 77.4.3 states in a subsequent dispatch that the enemy at about this time turned away from bombarding his unit for no apparent reason. It is believed these attacks were responsible to a great extent for the enemy turning away and discontinuing fire at least temporarily. 5. The enemy ships at this time were too close for this unit to risk turning into the wind, which was from 049°T, 7 knots. Consequently, a decision was reached by CTU 77.4.2 to launch the third strike of 12 VT, one of which carried o torpedo, the balance 4 - 500# SAP bombs each, and 8 VF on course 120°T. As the CVE catapult tables call for 22 knots of apparent wind down the catapult for launching a heavily loaded VT, such a decision was somewhat risky but the launch went off without casualty at 0935 with 20 knots of apparent wind 20° on the port bow. The radar screen showed that this Task Unit was opening the range from the enemy ships which evidently were taking evasive action during the attacks of Strikes 1 and 2. Strike No. 3 immediately threw its weight against the enemy and the resultant three bomb hits on the previously twice torpedoed heavy cruisers are believed to have forced upon the enemy unit commander the decision to discontinue further attacks on TU 77.4.2. One heavy cruiser was subsequently observed by pilots to retire to the west and the battleship to the north at extremely slow speed, with a badly damaged destroyer close by. 6. In the meantime, while the Third strike was attacking, the Task Unit changed course at 0945 to 050°T into the wind to land Strike No. 1. For the next hour bogeys were picked up on the radar and two B ETTYS were reported sighted 12 miles to the northwest. Interception was not accomplished. However, at 1045 one J ILL carrying a bomb or torpedo was shot down 20 miles to the southwest. The Combat Air Patrol during this period pursued numerous reported bogeys, evidently snoopers covering the Jap fleet. 7. At 1051 CTU 77.4.3 reported that he was under heavy air attacks and also that elements of the Jap fleet were closing again. The attacking Jap planes were reported by CTU 77.4.3 to have hit three of his CVEs. No further report was received at the time as to whether the elements of the fleet closed TU 77.4.3. Subsequent radio interceptions at 1325 and later dispatches indicated that the fleet did not close again. 8. At 1115 Strike No. 4 was launched, consisting of 19 VF and 37 VT of which 11 carried torpedoes and the balance SAP and GP bombs. This large strike effectively hit the main Jap force which was about 45 to 55 miles on bearing 305°T from this Task Unit. Pilots reported the position of the enemy's main force as 11° 43' N, 126° 13' E with a crippled battleship and heavy cruiser 20 to 30 miles to the east of the main force. This information and positions were immediately sent to CTG 77.4 and CTF 77. Pilots further reported the enemy to be on course 225°, which indicates he might have started to run back against our forces prior to this large strike arriving. On the other hand it is highly possible he was engaged in evasive maneuvers and his base course was confusing to the pilots. In either case, after being attacked by this strike any indication that the enemy considered returning to the south was eliminated and there was no doubt as to his heading, which was north, at top speed. The damage inflicted during this attack is estimated to have included several bomb hits on a heavy cruiser, a bomb hit and a torpedo hit on a battleship, and continued effective strafing attacks on the escorting destroyers. 9. At 1200 TU 7.4.2 was at 11° 12' N, 127° 02' E (11° 11.3' N, 126° 57' E) on course 120°T. A reported was received from pilots at 1230 that several hundred survivors, evidently from a ship of TU 77.4.3 were in the water in the vicinity of 11° 12' N, 126° 30' E. This information was immediately sent to CTF 77 and subsequently a rescue unit was dispatched from LEYTE Gulf. At the same time radar picked up a large group of
friendly planes approaching this disposition from the northeast and subsequently voice communications were established over VHF with these planes which were from CVs of Task Group 38.1. The flight leader requested latest position of the Jap fleet. CIC on the flagship Natoma Bay gave these planes a vector commencing at 1255 and continued to direct this appreciated support until the flight leader "tallyhoed" the main enemy force at 1302. The result of their attack is not known. 10. By this time Strike No. 5 was ready to be launched by TU 77.4.2. Up to this time a total of 80 VT and 55 VF had been launched against the enemy's force by this Task Unit and all available SAP bombs and torpedoes expended. By 1331 Strike No. 5 consisting of 11 VT armed with GP bombs and rockets and 8 VF was airborne and after the fleeing enemy. CSA for CTF 77 sent the following voice transmission to CTG 77.4 at this time: "Appears Jap force seriously weakened. Keep striking". Pilots of the Task Unit reported 1 heavy cruiser dead in water and sinking, 1 battleship dead in water, with 1 destroyer in comparable condition at about 11° 25' N, 126° 33' E. This was reported to CTF 77 and CTG 77.4 at 1458. During this period base course of the Task Unit was 120°T but when conducting air operations course was to the northeast, resulting in a mean almost dead easterly track. This heading was maintained to reduce danger of enemy air attacks interfering with our operations against the enemy. 11. The last strike for the day was launched commencing at 1508 and consisting of 26 VT and 24 VF. The VF carried 250-lb. GP bombs and the VT 500-lb. GP bombs and rockets with instructions to attack the light units of the Jap force. Upon completion of launching, several bombers (SB2Cs) from TG 38.1 were landed along with the Task Unit's returning flights, including Strike No. 5. Pilots reported that the Jap main force was at 12° 05' N, 125° 45' E on a northerly course at 1420 when they executed their attack. One cruiser was reported lagging behind damaged. The results of Strike No. 5 are unknown but it is felt that it must have been primarily harassing due to the loadings which were all that were available and the small number of planes. The position of the enemy and composition, which was reported to be three battleships, three heavy cruisers and seven destroyers, was forwarded immediately to the higher echelons (at 1538). (See page 78-33 .) At this time a second attack group from TG 38.1 was picked up on the radar and reported four enemy ships, one a battleship or heavy cruiser dead in the water in the vicinity of the previously reported cripples, thereby confirming the effectiveness of the CVE strikes. Part of this attack group attacked the cripples at 1550 and the balance, on being given the position of the retiring main enemy force, proceeded after them. The results of their attacks are not known. 12. CTU 77.4.2 decided to alter course to the west at this time in order to render aid in recovery of personnel in the water and, if practicable, send the three destroyers on a night attack to finish off the cripples. At 1549 course was 290°T and subsequently changed to 250°T at 1617. However, at 1632 the appearance of a large group of bogeys on the radar screen bearing 310° distance 70 miles on course 130 necessitated a reevaluation of the immediate situation. At this time a pilot reported the main enemy force at 12° 30' N, 125° 25' E course 310° speed 18. This position was passed to CTF 77 and CTG 77.4. Upon receipt of further information confirming CIC's report that the bogey consisted of 30 or more enemy planes, CTU 77.4.2 ordered the Task Unit to change course into the wind and launch VF. The current airborne CAP were already on vector toward the incoming raid. By 1650 28 VF had been launched, subsequently followed by 12 more. It was not too late to launch any more strikes and no better use for the VF could be foreseen. At 1705 the Task Unit turned from 050°T out of the wind to course 120°T and formed disposition 5V for defense against air attack. With Fighter Director Control in CIC on the flagship, interception of an estimated 25 to 35 enemy fighter bombers stacked at altitudes from 17,000 feet down to 1,000 feet was successfully accomplished with the initial "tallyho" occurring at exactly 1700, distance 35 miles from the formation. In the ensuing aerial engagement 16 enemy planes were confirmed as shot down, an estimated ten additional planes damaged, and the attack completely and adroitly broken up by the excellent combination of teamwork and skill between the VF pilots and CIC personnel. No enemy planes came within 17 miles of the formation. The value of this successful interception is the more significant as reports from the other Task Units indicated the enemy air force was executing suicidal air attacks where possible. 13. At 1734 CTU 77.4.2 sent his last contact report on the enemy for the day: "Our last strike hit Jap force at 1723, position 12° 35' N, 125° 32' E, course 300, speed 10 knots. Results still unknown." This position placed the Jap force off northeast coast of SAMAR heading for SAN BERNARDINO Straits. Subsequently pilots landing from this strike at 1825 stated that the force appeared to consist of four battleships, 3 heavy cruisers, two light cruisers and seven destroyers, with two battleships trailing oil and seemingly in trouble, three destroyers and one light cruiser lagging behind and one heavy cruiser apparently damaged.
Probable Formation of Jap Fleet East of Samar 25 Oct. 1944 - 1500 ITEM
14. Recovery of Strike No. 6 and the CAP was commenced at 1808 on course 080°. The last plane was landed aboard by 1831, including the dusk CAP, and course was set at 210°T, speed 15 knots, zig-zagging using Plan #6. Upon receipt of information that a special surface rescue group had sortied from LEYTE Gulf to pick up the previously mentioned survivors, and in view of the information that the heavy surface units of TF 38 were enroute south to intercept any cripples, CTU 77.4.2 abandoned his previous intentions of heading to the west and set course to the southwest to close CTG 77.4. As experienced by CVE of Northern-most Station CarGrp -- CO Kalinin Bay reports: 1. A plane on anti-submarine patrol from U.S.S. Kitkun Bay reported to the OTC a task force composed of four enemy battleships, six cruisers, and numerous destroyers bearing 270° (T), a distance 20 miles from this formation at 0654. The pilot of the plane definitely identified the task force as enemy. This information was conveyed to this ship over the Inter-fighter Director Net (37.6 mcs.). Immediately after this report excited Japanese voices were heard over the IFD Net. A frequency test was made and it was found that the Japanese were directly on 37.6. mcs. On orders from the OTC, General Quarters was sounded at 0658 and speed increased to flank. 2. Acting in pursuance to orders all available aircraft were launched, the pilots having been instructed to attack the Japanese task force and proceed to the TACLOBAN airstrip, LEYTE, to re-arm and re-gas. By 0725 we had launched three TBM-1C's loaded with 500-lb. GP bombs and 8-5" rockets, six TBM-1C's loaded with 10 100-lb. GP bombs and 8-5" rockets, one TBM-1C loaded only with service load ammunition, and ten FM-2's with full service load ammunition, all planes having been previously loaded in accordance with the scheduled missions. Two TBM-1C's temporarily out of commission on the hangar deck were made ready loaded with torpedoes. The damage to the catapult prevented the launching of these planes. At about 0750 launched three additional FM-2's. During the entire launching operations this ship was under incessant fire from the heavy enemy surface units. Only one FM-2 returned aboard this ship at 1745; the other planes landed at TACLOBAN airfield, on other ships of the formation, and some of them are unaccounted for. 3. At 0705 three heavy Japanese cruisers were sighted bearing 270° (T), distance 34,500 yds. Salvos were fired by the cruisers at this force, many shells exploding close aboard. Destroyers and carriers were ordered to make smoke screen. Several hits were observed on the Gambier Bay, who at the time was off the port bow. Many salvos had been fired since 0705 and when U.S.S. Gambier Bay had been severely hit, the enemy cruisers increased their fire on this vessel and began to close the range and deploy off the port quarter. This ship was, for a considerable time during the shelling, the ship in the formation nearest to the enemy--"Tailend Charlie", which probably accounted for such intense fire being directed at this ship by the enemy. Used various evasive courses so as to present a smaller target to the enemy units. 4. At about 0750 received a direct hit on the starboard side just aft of the forward elevator on the hangar deck; several near misses at the same time. No units were visible off the starboard side at this time; this hit may have come from the Japanese battleships observed to be firing on us by a fighter pilot of U.S.S. Kalinin Bay who was attacking the enemy units. Fragments of a large calibre shell were found on the hangar deck. 5. The three heavy cruisers on our port quarter were definitely identified by the Recognition Officers and other officers of the ship to be one heavy cruiser of the Nachi Class and two heavy cruisers of the Tone Class. When the enemy cruisers closed the range to 18,000 yds. at about 0800, the 5"/38 cal. gun of this ship was ordered to open fire. The cruisers intensified their fire on this ship immediately and two direct hits were received forward and many salvos exploded close aboard. Received a hit from 8" shell on water line at Frame 78 port side. The shell went down through the first platform deck, through the GSK storeroom and into the Aviation Lube-Oil Tank where it exploded. A fuel oil tank and the forward bulkhead of the forward engine room were ruptured and the evaporator system was disabled. The shell missed going through the bottom of the ship by a narrow margin. 6. The cruisers closed to 17,300 yds. Fire was continued from the 5"/38 cal. gun on the Japanese cruisers. At about 0825, at a range of approximately 16,000 yds. a direct hit was scored on the No. 2 turret of the Nachi Class heavy cruiser by this vessel. The five-inch gun commenced rapid fire after observing this hit, and another hit was made on the same cruiser just below the previous one. After the first hit the No. 2 turret was observed to be slowly enveloping in flames and the second hit caused a quick burst of flames which completely obscured the turret. The cruiser then turned hard to port and withdrew from the formation temporarily. 7. At about 0830 five destroyers were sighted
on the starboard quarter--"head-on-view"--approaching in column formation. Their identity was not known, and at first they were thought to be friendly units coming to assist. It was not until they opened fire on our formation from a range of approximately 14,500 yds. That they were known to be hostile. At this time the heavy cruisers attacking from the port quarter were obscured from view by a smoke screen laid down by friendly escorts. The fire of the five-inch gun was immediately shifted to the Japanese destroyers attacking us and closing from the starboard quarter. Fire was continued and the Japanese destroyers closed the range to 10,500 yds., at which time they were definitely recognized to be of the Terutsuki Class, with high bow and two gun mounts forward and a heavy tripod foremast and mainmast. Many salvos from the destroyers attacking us exploded close aboard. A number of the shells passed directly overhead. This ship continued to fire on the attacking destroyers with the five-inch gun. 8. The enemy cruisers continued their attack from the port quarter, and due to the fact that the destroyers were shelling from the starboard quarter, evasive courses were not used. Several more hits and many near misses were made on this ship by the enemy cruisers. Since the attacking destroyers were rapidly closing the range, fire was continued on them and never again during the battle shifted to the cruisers. Several of the escorts of this formation closed the cruisers and the range on them began to open. 9. At about 0930 a direct hit amidships was scored on one of the Japanese destroyers, and it immediately was enveloped in white smoke. The enemy destroyers made radical maneuvers and began to withdraw, but continued their fire on this vessel and other ships of the force. A friendly destroyer crossed our stern at about 500 yds. and made smoke, and closed the Jap destroyers as she approached. firing of the five-inch gun was ceased because of the presence of this friendly destroyer and because the enemy destroyers were no longer visible through the smoke screen. The time of cease firing was about 0935. 10. A TBM aircraft, believed to be from U.S.S. St. Lo, that had been circling the formation made a steep glide astern of the ship and strafed in the wake of the ship about 100 yds. astern, exploding two torpedoes which had been fired from the enemy destroyers. TORPEDO WAKES HAVE BEEN PREVIOUSLY MARKED BY AVIATORS BUT THIS MARKSMANSHIP IS OUTSTANDING.
A SUFFICIENT JAR TO UPSET THE GYRO IS INDICATED.
COMBING THE WAKES PROVES SUCCESSFUL.
AN OUTSTANDING PERFORMANCE OF THE FIRE FIGHTING PARTY.
IN COMMENTING ON DAMAGE CONTROL THE COMMANDING OFFICER STATES THAT DAMAGE CONTROL WAS SUPERB, WHICH IS HEARTILY CONCURRED IN. HE ALSO STATES THAT THE USE OF WOODEN PLUGS TO STOP UP WATER-LINE HOLES SAVED THE SHIP.
As experienced by screen Destroyer of Northern-most station CarGrp -- CO Raymond reports: 1. At 0730 we commenced systematic firing on an enemy cruiser bearing 310° (T), range 14,000 yards, closing. At this time there was a moderate and intermittent heavy rain with heavy clouds settling low overhead. This, and the fact that all ships were making smoke, reduced our visibility considerably. Between 0735 and 0740 a torpedo wake was observed to be approaching and passed this vessel approximately 20 yards to port. No torpedoes were observed to have hit any of the ships in the formation. We continued to make smoke using both F.M. generators and funnel smoke. 2. At 0743 CTU 77.4.3 ordered the destroyer escorts to make torpedo attack on enemy cruiser. We immediately checked fire on our 5" battery and came to course 000° (T) to close range on enemy cruiser. This target was then dead ahead and we commenced firing with our forward 5" gun, while the range decreased rapidly to 10,000 yards or less. At this time the enemy launched a major torpedo attack at a range of approximately 14,000 yards from this vessel. The enemy employed eight or nine destroyers in this attack. Torpedo wakes were observed coming toward this vessel, one wake was observed to have passed close to port and another passed under this vessel heading for the CVE group. None of these torpedoes were observed to have hit any of our vessels. 3. At 0756 we fired a spread of three torpedoes at an enemy cruiser at a range of 10,000 yards and closing fast. The target at this particular time was making an effort to close the formation, also to outflank the formation on the port side. The DRT tracing of this action indicates that after we fired our torpedoes evasive action was taken by the enemy cruiser. This evasive action succeeded in closing the range at least 1,000 additional yards and made conditions more favorable for our torpedo attack. Several observers stated that we hit this cruiser however, visibility was so reduced that there is uncertainty as to who may have hit the cruiser. 4. On the run in for this torpedo attack we were under fire from the enemy cruiser and numerous straddles were obtained by them on us. Just after we fired our torpedoes and before we changed course and returned to the formation, the commanding officer observed a destroyer escort, which appeared to be the " [Samuel B. ] Roberts, on our starboard beam under heavy fire from the enemy. The Roberts was firing rapid fire from her 5" guns and she appeared to be taking direct hits from the enemy. A curtain of flashes was observed surrounding this vessel and when we changed course to return to formation we could no longer locate the Roberts. 5. Returned to formation at speed of 24 knots. We opened fire on enemy cruiser bearing 058° (T) at 0814 (ITEM), initial range 11,000 yards. The 5" guns were in automatic director (Mk. 51) control. Radar ranges were used and Mk. 6 computer solution was applied to the gun order corrector. Target was observed to be crossed four times and five direct hits were obtained. 6. At 0828 CTU 77.4.3 ordered this vessel to intercept enemy cruiser approaching the formation on the port quarter. This target appeared to be the one we were firing at all of this time and we immediately changed course to intercept cruiser. At this time the last of the FM smoke supply was exhausted and we had no torpedoes left. At the start of the run the commanding officer is of the considered opinion that changing course toward the cruiser saved this vessel because most of their salvos at that time were overs rather than shorts; however, they did manage to straddle us at least once on the way in. The bearing of the cruiser at this time was 113° (T), initial range 12,600 yards by radar, which decreased rapidly to 5,700 yards. The method of fire was still automatic director (Mk. 51) control; target speed was about 24 knots. After the range decreased to 5,700 yards, the target changed course to port and the range increased rapidly. A casualty occurred to the Mk. 6 computer when the range was 16,000 yards, at which time the guns were ordered to shift to local power control and the spotting, as heretofore, was all done by the gunnery officer. Ranges continued to be obtained by radar and spots were applied to them. The firing was continued until the range exceeded 18,000 yards at 0950. The enemy cruiser, which was definitely identified as the Nachi class, and a battleship retired on course 070° (T) at 25 knots. Numerous observers and the gunnery officer reported that the enemy cruiser was crossed a minimum of five times and at least fifteen hits were obtained. During the interception period, enemy cruiser shifted fire from carriers to this vessel. 7. The enemy fire was not too accurate. The commanding officer was impressed with the following facts: The salvos landed with what appeared to be no dispersion and a beautiful pattern was obtained by the enemy. The colored dye-loaded projectiles used in almost all instances observed were brilliant. The following colors were seen: yellow, red and purple. The pattern consisted of five rounds each.
The commanding officer was impressed by the fact that the enemy cruisers either did not open up rapid fire or were not capable of maintaining rapid fire. The enemy cruiser did not maintain a continuous barrage against this vessel, but shifted fire from time to time to other vessels and shifted back to us apparently only when they were bothered by our fire. The enemy ships did not take advantage of the several opportunities to close the range and finish us with their superior fire power. Our smoke screen was very effective. 8. No damage was sustained by this vessel during this action; although one salvo, in particular, which landed short, close aboard on our port bow, raised the sound dome, turning it around 360°. After the action the sound dome was again lowered and no damage was observed as the sound beam appeared to be normal. In several instances, this vessel was about to maneuver successfully to avoid very systematic ranging salvos on the part of the enemy cruisers. 9. At the conclusion of the action and while this ship was still at general quarters, enemy planes, identified as V ALS , approached the formation at 1050 (ITEM) and five planes were observed to make suicide dives on our carriers. Unfortunately, this happened so suddenly that this vessel was unable to take a position where our anti-aircraft fire could be effective. Two planes were observed to miss the carriers and plunge into the sea. Only one plane of the group was within range of our 40mm and 5" guns and fire was opened on this plane which may have deflected it. One plane was successful in diving through the after elevator on the main deck of the USS St. Lo (ex- Midway ) which caused a violent explosion. After five internal explosions the St. Lo broke in two and sank. Another carrier was hit by an enemy suicide plane; damage was not ascertained by observers. At 1105 enemy planes concentrated on USS Fanshaw Bay, attempting suicide dive attacks. We were ordered by CTU 77.4.3. To assist in rescuing survivors from USS St. Lo (ex- Midway ). Carriers left the area on southeasterly course. Battle East of Luzon Commander Task Force 38 comments: 1. About 0030(I) 25 October the Independence launched a night search to the north 320 to 010. About 0205 a radar contact was made by one of our search planes at Lat. 16-42 N., Long. 125-32 E. (See page 78-39 .) This contact reported 3 large and 3 small ships on course 110, speed 15 knots. At 0235 the same search plane made contact with a second group of six large ships at Lat. 17-10 N., Long. 125-31 E. This put the closest enemy group almost due north, an estimated 80 miles distance. About 0255 TF 34 was formed, course changed to 000 and speed 25. At 0300 night tracking plane had to return to base because of engine trouble. Radar contact was never regained during darkness due to difficulties with radar equipment in relief search plane. 2. Prior to dawn all TG's armed planes and at 0555(I) a search 350-090 was launched, followed immediately by attack groups from all three task groups. The attack groups were stationed 50 miles ahead of the TF on bearing true north to await a contact. At 0730 the enemy carrier task force composed of 1 CV, 3 CVL, 2 XCV/bb, 1 CA, 4 CL and 6 DD, was sighted on a true bearing 015, distance about 130 miles from TF 38. Obviously the enemy had changed course to about 010 and proceeded at high speed after the radar search plane had contacted him. 3. At 0840 the first attack groups struck the enemy forces. At 1115(I), TG 38.2 and TF 34 left the battle and headed for SAN BERNARDINO STRAITS. At 1500 CTF 38 formed a striking group composed of cruisers and destroyers available in TG's 38.3 and 38.4. This force was ordered to close enemy cripples. This they did, finishing off a CVL damaged in the first air attack at 1730. At 2035 the same force sank a large DD or CL. The last air attack struck about 1750. The results of the day's action were 1 CV, 3 CVL's, 1 CL, and 1 DD definitely sunk. All other ships were heavily damaged and it is believed that at least one DD and one CL probably sank. The enemy BB's received several torpedo and bomb hits but were not too greatly affected by them. At 2200 our forces reversed course and departed for a fueling rendezvous at Lat. 16 N., Long. 129-30 E. CTG 38.3 reports: 1. At 0205 the Independence night searches reported the enemy forces in two groups, one at Lat. 16-42 N., Long. 125-36 E., and the other 26 miles due north of that position. Both groups were reported on course 110° -- speed 15 and the nearest was 85 miles, bearing 352° from our formation. At 0253 TF 34 units withdrew from the carrier Task Groups and took station 10 miles North of Task Group 38.3. Course was set at 000°, speed was reduced to 10 knots to allow heavy ships and their escorts to clear ahead. Massachusetts, South Dakota, Santa Fe, Mobile,
U.S.S. Lexington Track A+4 Day 24 October, 1944 A+5 Day 25 October 1944
C.K. Bronson, Cotten, Dortch and Healy were detached from this group to join TF 34. 2. At 0220, in accordance with instructions previously received from ComTaskFor 38, Lexington was ordered to send out dawn searches on bearings from 290° to 330° to a distance of 350 miles. Essex was ordered to furnish two communication relay units of 2 VF(N) each stationed at 100 and 200 miles from the launching point. Similar missions were to be carried out in sectors 330° to 360° by Task Group 38.4, and 190° to 220° and 250° to 290° by Task Group 38.2. 3. It was considered certain that regardless of whether the enemy continued his southeasterly course or headed north in an attempt to escape he would be within easy range of air attack at dawn. With this in mind, orders were sent out at 0340 to arm the first deckload strike immediately and launch the CAP, searches, and first attack at earliest dawn. Plane availability, after taking into account necessary patrols and searches, was such that only one well balanced strike group could be mustered. At 0543 ComTask Force 38 advised that there was no recent information of the enemy's position and therefore ordered initial strike planes to take station 50 miles to the north, where they were to await target data and further instructions. 4. Fortunately, the weather was excellent -- clear with only a few clouds on the horizon and wind from 050° at 16 knots. There was sufficient light to commence launching at 0555, and soon afterward search planes took departure from Lat. 16-06 N., Long. 125-55 E. Since it appeared likely that the enemy might be east of assigned search sectors, one division of Essex CAP was vectored out on orders of CTF 38 to conduct a high speed search to the northeast. The decision paid rich dividends, for it was those pilots who first sighted the Jap task force at 0710 in Lat. 18-37 N., Long. 126-45 E., bearing 020°, 135 miles from our formation, on a northeasterly course. Although forced to climb steadily to avoid intercepting fighters, our CAP performed a magnificent reconnaissance job. For a full fifty minutes they circled over the enemy ships, reporting their position, composition and maneuvers. The force consisted of seventeen ships: 1 Zuikaku class CV 2 Chitose class CVL 1 Zuiho class CVL 2 Ise class XCV (battleships with flight deck aft) 1 unidentified CA 1 Oyodo or Agano class CL 2 Natori class CL's 1 unidentified CL 6 DD 5. At time of original contact, strike #1 planes were already orbiting fifty miles north of our formation and thus were only some 85 miles from the enemy. Half an hour later they had the Jap ships in sight and at 0800 their attack was in progress. About fifteen enemy fighters attempted interception but they were quickly eliminated. As a result it was possible to keep a target coordinator over the ships almost continuously throughout the entire day, directing each attack, assigning targets and reporting results. 6. Task Group 38.3 sent five air strikes against the enemy forces -- three full-scale attacks launched at 0555, 1145 and 1615, and two small groups of remaining available planes which took off at 0835 and 1315 and joined Task Group 38.4 strikes. (See Photographic Section VIII .) Also in midafternoon 4 cruisers and 12 destroyers were sent to find and destroy any cripples within practicable range. Detailed evidence of sinking and damage is contained in individual ships' reports. A brief narrative of the day's events follows: 7. Reports of Essex CAP, target coordinator, and pilots of strike #1 confirmed the original enemy composition as stated in paragraph 5. As the first strike approached, one Chitose class CVL pulled out of formation, apparently attempting to launched planes by the Japanese version of "method Baker". This carrier received at least three torpedoes and several direct 1000# bomb hits from Task Group 38.3 planes. Many violent explosions occurred and the ship was left dead in the water, burning furiously. The other Chitose class CVL was also left dead in the water from several direct bomb hits. One torpedo was put into an Ise class XCV and another into one of the Natori CL's. Damage was also reported on two DDs. Nine enemy fighters were shot down. 8. At 0925 the returning Essex strike leader was heard reporting best available targets to pilots of Strike #2. He said that when he left there were four carriers still afloat, two of them badly damaged. However, by the time the second strike arrived over the Jap force about 1015 only three carriers could be found -- Zuikaku, Zuiho and one badly damaged Chitose class CVL. In the interval between attacks the other Chitose class CVL, left burning and exploding by Strike #1, is estimated to have sunk. Lexington and Langley planes, which had joined with Strike #2 from Task Group 38.4, reported making two torpedo hits on the Zuikaku and one on an Ise class XCV. Fires were started on one Natori class cruiser by strafing.
9. Meanwhile, urgent requests for assistance had been intercepted from Task Force 77 CVEs which were under attack by Japanese surface forces to the east of SAMAR Island. At 1100 ComTHIRDFlt ordered Task Group 38.2 plus all the battleships, Vincennes, Miami, Biloxi and DesRon 52 (units of TF 34) to reverse course at 1115 and proceed south. TG 38.3 and CTG 38.4 were directed to continue strikes against the enemy carrier forces. 10. Shortly after strike #3 took off at 1145, Belleau Wood target coordinator reported that the enemy ships were then in two groups. One to the south, thereafter known as "The Cripples", was composed of an Ise class XCV, one CL and 2 DD's, all circling the second Chitose class CVL which was still dead in the water and burning as a result of the first attack. The other group was some 20-30 miles northwest of the cripples. It consisted of Zuikaku, Zuiho, the other Ise XCV, 3 cruisers and 2 or 3 destroyers. The enemy ships were approximately 102 miles, bearing 351°, from our formation and TG 38.3 planes were ordered to strike the northern group, which was apparently still heading 000° at 15-20 knots. Their attack at about 1310 put finishing touches on Zuikaku with nine direct 1000# and 2000# bomb hits. In addition, one torpedo was put into the northern Ise class XCV. Planes from TG 38.4 were soon to make several good hits on Zuiho, which was also left dead in the water burning badly. At about 1400 Lexington target coordinator watched Zuikaku go under -- a very gratifying sight. The "cripple group" was not attacked by Strike #3, but at about 1410 a division of Lexington CAP, which had been ordered to keep an eye on those ships, reported the XCV, CL and 2 DD's were abandoning the damaged CVL and heading north to join the main group. 11. Remaining available planes from Lexington and Langley (designated Strike #4) were again launched at 1315 to join a TG 38.4 attack. Their assigned target was the northern Ise class XCV and three torpedo hits were obtained in a well coordinated attack. The ruggedness of this enemy ship is shown by the fact that she stopped dead in the water for only about 10 minutes and then got underway again. Pilots reported that they observed Zuiho listing heavily and burned almost the water level. Langley target coordinator saw her sink at 1520. 12. The final attack of the day -- full deckloads from Essex, Lexington and Langley -- took departure at 1615, with the enemy ships bearing 327°, 92 miles. Pilot reports, substantiated by photos, indicate that only ten vessels were still afloat -- 2 Ise XCV's, 1 unidentified CA, 1 Oyodo or Agano CL, 1 Natori CL, 1 unidentified single stack CL and 3 DD's all underway -- plus the crippled Chitose class CVL dead in the water and abandoned by the other ships. As a result of well coordinated attacks, two torpedoes and six direct bomb hits were obtained on the XCV's. One of them slowed to 8 knots temporarily, but later was reported still heading north at 20 knots. A destroyer was confirmed sunk and one 250# bomb hit was obtained on the stern of a CA. 13. In the course of the day's strikes it rapidly became evident that there might be several Jap cripples which could best be finished off by ship's gunfire or torpedo attacks after dark. At 1340 CTG 38.3 requested permission from CTG 38 to organize a cruiser and destroyer attack against enemy cripples after dark. At 1342 he directed me to prepare for such attack but stated he expected with 1 BB in each group it might be a little tough and he desired to take the force out without towing damaged ships. On this information I directed ComCruDiv 13 and Comdr. Screen to prepare for this attack, leaving Reno and 4 destroyers to remain with carriers and Essex to furnish 2 night fighters for snooping. I felt that the tactical situation warranted this reduction in the carrier screen. We ruled the sea in our vicinity, there were no enemy aircraft in the air to bother us, the enemy was in full retreat, and the only remaining objective was to prevent his cripples from getting away. However, ComCruDiv 13 returning from TF 34, although close to the disposition, never reported to me for duty. At 1412, CTG 38 directed him to proceed north with cruisers and DD's. I did not issue him any further orders although I sent ComDesRon 55 in Porterfield with Callaghan at 1454 to join him and just before dusk had the Essex send two night fighters to report to him to the north. 14. This cruiser-destroyer group consisted of the Santa Fe, Mobile, Wichita, New Orleans, and DD's Porterfield, C.K. Bronson, Cotten, Dortch, Healy, Cogswell, Caperton, Ingersoll, Knapp, Callaghan, Bagley and Patterson. At 1615, ComCruDiv 13 reported he had in sight the final enemy CVL, still dead in the water and listing badly. Our ships opened fire at long range. There was some ineffective return fire from the carrier but at 1700 it turned turtle and sank in Lat. 19-08 N., Long, 126-32 E. Further north at 1840 radar contact was established with three enemy ships which had been spotted and kept under observation by Essex VF(N). They were estimated to be 2 DD and 1 CL dead in the water, probably picking up survivors. As soon as our ships opened fire the two enemy destroyers fled north at high speed. Neither the VF(N) or our ships were able to regain contact with these vessels, but the Jap CL put up stubborn resistance and maneuvered at speeds up to 26 knots. Finally, after receiving many hits from our gunfire, she was seen to explode
and sink at 2055 in Lat. 20-14 N., Long. 126-11 E. By then our VF(N) had contacted the remainder of the enemy force (reported as 5-6 ships) some 45 miles further north on course 000° speed 20. ComCruDiv 13 considered it impracticable to close and withdrew. He reported enthusiastically on the performance of Essex VF(N). 15. From the tactical point of view of this Task Group Commander, the situation during the day had been ideal. We had wiped out the enemy air on the day before and we had him within striking range of our aircraft. We were proceeding towards him at 25 knots, he could not get away, and a good fresh breeze for air operations was only 45° on my starboard bow. It was a happy situation. The enemy was between 80 and 100 miles away, an ideal distance for aircraft strikes. We pounded him from dawn till dark with everything we had. The only untoward incident was at 1328 when I received orders from CTF 38 to proceed no further northward. At that time I felt we almost had the enemy cripples in sight. In accordance with these orders I headed 270°, which, with operations into an easterly wind, kept me in the same general locality. However at 1417 I requested permission from CTF 38 to proceed to northward again to insure getting in my last strike of the day before dark. Upon receiving affirmative from this transmission, we headed north again. 16. At 1800 the Task Group turned southeast toward assigned fueling rendezvous and at 0915 the following day our cruisers and destroyers rejoined from their cripple hunt. The action of 25 October had been gratifying to say the least -- the Japanese Navy had been dealt blows from which it is safe to say they will probably never recover. Our losses for the day of 6 planes, 3 pilots and 4 crewmen had been very minor compared to the total effort employed. As experienced by a Cruiser -- CO Mobile reports: 1. At about 0300, 25 October the Heavy Surface Striking Force (Task Force 34, Vice Admiral W.A. Lee, Jr., Commander Battleships, Pacific) was formed from units of Task Force 38 present and stationed ten miles due north of Task Group 38.3. At the same time, the fleet course was changed to north to close the enemy. By 0430, Task Force 34 was formed up in Cruising Disposition Four-NAN. The six fast battleships were in three columns with the guide in Massachusetts in the formation center, and with order from the right: Battleship Divisions 7 ( Iowa and New Jersey ), 8 ( Massachusetts and Alabama ), and 9 ( South Dakota and Washington ). Cruisers were stationed with Cruiser division 13 ( Santa Fe and Mobile ) as the Left Flank, Cruiser division 6 ( Wichita and New Orleans ) and the Center, and Cruiser division 14 ( Vincennes, Biloxi, and Miami ) as the Right Flank. The eighteen destroyers of the task force formed an anti-submarine screen ahead. 2. The three Carrier Task Groups launched searches and strikes on the enemy carrier force to the northward as early as light conditions permitted, the planes passing over TF 34 while en route to and from the target. The Heavy Surface Striking force continued on ahead, first forming Cruising Disposition Four-SUGAR, in which the cruisers were spaced in the forward semi-circle on circle 6 and the battleships on circle 2, then forming the anti-aircraft disposition, Cruising Disposition Four-VICTOR. Massachusetts remained as guide in the formation center; the remaining battleships and the cruisers were evenly spaced on circle 6. The destroyers remained as an anti-submarine screen on circle 13, then somewhat later formed as sections. The task force course was modified only slightly throughout the morning; speed was increased to 20 and finally to 25 knots. 3. There were no enemy air contacts in the vicinity during the morning, and TF 34 did not remain organized long enough to make surface contact. At 1115, new orders were received from Commander THIRD Fleet, based on information of the enemy action off SAMAR Island during the morning, particularly on the sortie of enemy battleships and cruisers by way of SAN BERNARDINO Strait. TF 34 was reduced to include only the fast battleships, Cruiser Division 14, and Destroyer Squadron 52; all other units, on detachment from TF 34, were directed to rejoin their assigned Carrier Task Groups. TF 34 and TG 38.2 reversed course to the southward; TGs 38.3 and 38.4 were directed to continue strikes on the enemy carrier force. Mobile formed column on Santa Fe and, screened by Destroyer Squadron 50 (less Gatling ), Cruiser Division 13 set a course to rejoin TG 38.3. Cruiser Division 6 ( Wichita and New Orleans ), screened by Bagley and Patterson, took a parallel course to rejoin TG 38.4. At about 1300 when within super-frequency radio range of the Carrier Task Groups, CTF 38 directed the two cruiser-destroyer groups to join and take station north of TG 38.3; TG 38.4 was to the southward. Wichita and New Orleans then formed a column astern of Mobile, and the destroyers formed a ten-station screen. 4. The weather throughout the 25th had scattered lower broken clouds, with light scattered showers. Visibility was 20 to 30 miles; the surface wind was northeasterly at 14 to 18 knots. The sea was light to moderate. Moonset (first quarter) was at 0055, 26 October 1944.
5. At 1415, CTF 38 directed ComCruDiv 13 to "Take your cruisers and destroyers on a northerly course to the crippled group, and we will give you information as further data is received from target observers over the target." Complete information was not available, but it was believed that the carrier air strikes conducted since early morning had been successful in sinking three of the four enemy carriers and in damaging the fourth carrier and several other ships of the enemy force. The cruiser-destroyer group immediately set course 000°T., at 25 knots, to close the reported position of enemy cripples. At about 1515, the cruisers launched planes for search and for possible rescue missions. TG 38.3 provided fighter cover during daylight, and two night fighter-snoopers beginning at sunset. 6. At 1612 a surface contact was picked up by radar, bearing 028°T., distant 31,000 yards; at about the same time, the destroyers formed attack groups astern of the cruisers. At 1615, a Japanese CVL ( Zuiho or Chitose class) was sighted dead in the water; a check, both visual and by the cruiser planes, failed to reveal the presence of other enemy ships in the immediate vicinity. The heavy cruisers opened fire at 1625; Mobile commenced firing at 1634. Many hits were observed immediately, and firing was ceased at 1641. Destroyers were sent in toward the target to finish it off, but it sank, unaided, at 1700. The Mobile aviator, airborne over the area, reported an estimated 200-250 men were seen abandoning the CVL just before it sank. 7. Aircraft were recovered between 1730 and 1745; at about this time, Commander Destroyer Squadron 55 in Porterfield, with Callaghan, reported for duty and the twelve destroyers present were then stationed in four attack groups of three destroyers each, two attack groups on each quarter of the cruiser column. Night fighters reported the presence of enemy ships to the northward, and by sunset (1805), the cruiser-destroyer group was proceeding at 25 knots, on course 345°T., to close the reported position. 8. At 1835 radar contacts were picked up bearing 352°T., distant 14 miles, and, after a short period of tracking, the enemy ships were identified as three in number, one of which, the largest, was continuing on a course to the northward while the two others, medium-size pips, were closing our disposition, presumably for a torpedo attack. The light cruisers opened fire on the near targets and the heavy cruisers on the far targets, when in range; Mobile opened fire at 1852 on the nearest target, bearing 330°T., distant 18,870 yards. After about ten minutes, however, it became evident that only one enemy "cripple", accelerating to 34 knots, was planning to remain in the vicinity; the other one reversed course and joined the larger ship, retiring to the northward. THE JAPANESE ABILITY TO QUICKLY EFFECT TEMPORARY REPAIRS AND DEVELOP HIGH SPEED ON THEIR "CRIPPLES" HAS BEEN DEMONSTRATED BEFORE AND IS CONSIDERED OUTSTANDING.
THIS RUSE HAS BEEN REPORTED BEFORE AS LIKELY.
General Recapitulation
support for the Central Force (Main body of the Japanese Fleet) when it sortied out of SAN BERNARDINO Strait on the morning of the 25th. It will be noted from the track chart that this Central Force was somewhat delayed in making the transit through the MINDORO Strait where, on the afternoon of the 24th, it was attacked by carrier aircraft of the THIRD Fleet whose reports indicated that this Central Force was being effectively and heavily damaged, causing ships to temporarily turn west. After leaving SAN BERNARDINO Strait, the Central Force (Main Body) was to engage our covering force, while the Southern Force (Troop-laden reinforcement) emerged from SURIGAO Strait to clear out LEYTE GULF and land reinforcements on the flank of our beach-head. As it happened, the Central force (Main body) was detected, reported, and attacked by B LUE submarine stationed for that purpose by Commander Submarines SEVENTH Fleet and Commander Submarines PACIFIC Fleet. At this time, the CAs Atago and Maya were sunk. The Takao, heavily damaged, turned back. Short three heavy cruisers, this force continued on through MINDORO Strait, entering the SIBUYAN Sea on the morning of 24 October. Here this force underwent attack by THIRD Fleet carrier-based aircraft. A Yamato Class BB was damaged and not again seen in subsequent photographs of this force. Photos show one CA -- possibly the Haguro -- sinking during this action of the 24th. Commander THIRD Fleet reports that in the face of these continued strikes the Central Force kept coming with a determination that commanded respect. By dusk the following damage had been reported to him: At least 4 and probably 5 BBs torpedoed and bombed, one probably sunk; a minimum of 3 CAs torpedoed and another bombed; 1 CL sunk; 1 DD sunk; 1 DD probably sunk and 4 damaged. Some details of the foregoing information were not available at dusk, but flash reports indicated beyond doubt that the Central Force had been badly mauled with all its BBs and most of its CAs tremendously reduced in fighting power and life. Although the Central Force continued to move forward, Commander THIRD Fleet decided that this enemy force must be blindly obeying an Imperial command to do or die, but with battle efficiency greatly impaired by torpedo hits, bomb hits, topside damage, fires and casualties. Commander THIRD Fleet was convinced that the Central Force was so heavily damaged that it could not win a decision, while the possible maximum strength of the Northern Force, as reported by Commander Task Force 38, constituted a fresh and powerful threat. It was decided by Commander THIRD Fleet that earliest possible attack on the powerful Northern Force (Carrier Force) was essential for breaking up the enemy plan and retaining the initiative. In spite of damage, the Central Force continued on and transited SAN BERNARDINO Strait early on the morning of 25 October. Turning south toward the LEYTE beachhead, contact was made with light units of the SEVENTH Fleet east of SAMAR. Later, aircraft of the THIRD Fleet joined this engagement. The CA Zuzuya sank at 1330 (I) when fire aboard got out of control and exploded her own torpedoes. Later in the afternoon, the CA Chikuma is also known to have been sunk. While retiring through SAN BERNARDINO Strait late that night, THIRD Fleet surface forces caught a damaged straggler identified as a CL or DD and sank it. On 26 and 27 October, the retiring force was under attack by THIRD Fleet aircraft. Damage inflicted is still obscure, but it is believed that the CL Noshiro and probably one CA were destroyed. Remaining ships scattered and fled. Two CAs, one CL and four DDs were visually sighted in MANILA on 29 October. One damaged Tone Class CA was sighted on 3 November in BACUIT Bay (PALAWAN). The Southern Force (Troop-laden LEYTE reinforcement force) was attacked and damaged by search groups from TG 38.4 off the west coast of MINDANAO in the morning of the 24th. After undergoing this air attack this force continued east through the SULU Sea under attacks by planes from the CVEs of the SEVENTH Fleet. Although sightings are somewhat at variance, it would appear that this force consisted of 2 BBs ( Yamashiro and Fuso, comprising Batdiv 2), 1 CA ( Mogami ), possible 1 or 2 CLs and 7 DDs. Toward midnight, PTs sighted this force south of BOHOL Island, trailed, reported and attacked with torpedoes, claiming two hits. Enemy entered SURIGAO Strait about 1230 (I) in two columns, heavy ships leading each column, second column 4 miles astern of the first. In an action with SEVENTH Fleet units in SURIGAO Strait, at pre-dawn on the 25th, the three heaviest units are known to have been sunk. Reports indicated that the destroyers, Asagumo, Yamagumo, Michishio, Shigure and possible the Nowake were sunk. Reports do not account for other units present, but attacks in the MINDANAO Sea on the following morning (26 October) indicate that additional unidentified units were present and escaped. The Northern Force (Carrier Force) apparently departed the Empire on about 20 October with only a small proportion of its planes. The other planes were probably flown to northern LUZON and expected to land aboard the carriers on the morning of the 25th. On the morning of the 24th, THIRD Fleet units were under heavy air attack by shore-based planes; an estimated 150 Japanese planes were shot down and the USS Princeton was lost. About 1540 T.G. 38.3 search planes contact an enemy force reported to be 3 BBs, 4-6 CAs and 6 DDs at Lat. 18°-10'N., Long. 123°-30'E., on course 210°, speed
15. At 1640 a second contact was made by a search plane and reported to consist of 2 CVs, 1 CVL, 3 CLs and 3 DDs, course, 270°, speed 15, position Lat. 18°-25'N., Long. 125°-28'E. Commander THIRD Fleet reports that amplifying reports of this Northern Force varied. He concluded that this force was disposed in 2 groups, estimated to contain a total of at least 17 ships and possibly 24 ships. The reports at hand now indicate that this Northern Force was composed of 1 CV ( Zuikaku ), 3 CVLs ( Chitose, Chiyoda, Zuiho ) 2 XCV-BBs ( Ise, Hyuga ) 3-4 cruisers and approximately 10 DDs. A cruiser of hitherto unknown design was reported in this force and may have been the new CA Ibuki. This force was engaged by THIRD Fleet units during the early morning of 25 October east of LUZON. All carriers were sunk and at least 1 XCV-BB was damaged. During retirement late on the 25th, a B LUE submarine sank an Natori Class cruiser (possibly the Nagaro ). Highlights of Philippines Fleet Action A recapitulation of the information at hand indicates that the heavy cruiser Mogami, badly damaged at MIDWAY and subsequently virtually rebuilt in the Empire, had her after turrets removed and an aircraft handling deck constructed aft. The Mogami was believed sunk in the SURIGAO Straits action. Captured documents have described a projected eight-plane complement for Japanese CAs. It is possible that the new Oyodo and Ibuki were both built with a staging deck, paralleling the known conversion of the battleships Ise and Hyuga to XCV-BBs. A document captured on LEYTE from a crashed plane included an oporder dated 18 October, directing planes to rendezvous with the carriers Zuikaku, Chitose, Chiyoda, and Zuiho at an undisclosed locality on 20 October. In addition to air groups believed regularly assigned to these carriers, land-based units not normally employed on carriers were apparently to be used in the action, a further indication of the enemy's severe shortage of trained carrier pilots. Since the carriers started from the Empire about 20 October, the above order suggests that a fairly full plane complement was aboard, and that the heavy air strike on B LUE units East of LUZON on 24 October may have been (at least in part) a long-range attack from carrier units which then continued to MANILA, planning to return the following morning. This tactic, practiced by the Japanese in the Fist Battle of the PHILIPPINES Sea, would also explain the scanty carrier-plane opposition met by our forces on the early morning of 25 October. In an early summary of battle experiences in encounters off SAMAR and in the SURIGAO Straits, Seventh Fleet reports: (1) Anti-radar shells, having the effect of window; (2) Smoke and flame-throwers possibly used by Japanese ships to simulate damage; (3) Dye-loaded shells, making yellow, red, blue, pink and green splashes; (4) Three Jap BBs, one a Yamato Class, making 27 knots for 20 minutes; and (5) Japanese battleships opening fire at 33,000 yards, suggesting maximum range. It is no known that the Fuso and Yamashiro were organized into a division, BatDiv 2, and were apparently with the Japanese Second Fleet. The enemy was apparently forced to put these overaged units -- previously considered too slow and oil-consuming to be used in combat -- back on Fleet duty.
Table of Contents ** Next Section
The task force chief of Seoul City Hall and a con man work together to collect taxes from those who avoid paying large amounts. The task force chief of Seoul City Hall and a con man work together to collect taxes from those who avoid paying large amounts. The task force chief of Seoul City Hall and a con man work together to collect taxes from those who avoid paying large amounts.
Ahn Nae-sang
Song Wok-suk
Ma Dong-seok
4 User reviews
2 nominations
Episodes 16
Ahn Chang-Ho (2016)
Kang No-Seung (2016)
All cast & crew
Production, box office & more at IMDbPro
More like this
User reviews 4
Aug 31, 2021
How many seasons does Squad 38 have? Powered by Alexa
June 17, 2016 (South Korea)
South Korea
Official site (South Korea)
38 Revenue Collection Unit
InfinityOne Comics Entertainment
See more company credits at IMDbPro
Technical specs
Runtime 1 hour
Dolby Digital
Related news
Contribute to this page.
See more gaps
Learn more about contributing
More to explore
Recently viewed